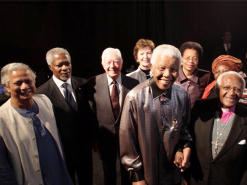 A comprehensive timeline of the life of Nelson Rolihlahla Mandela, activist, political prisoner, president of South Africa, statesman and world icon of peace and justice.
1920s | 1930s | 1940s | 1950s | 1960s | 1970s | 1980s | 1990s | 2000s
18 July 1918 – Nelson Mandela is born in Mvezo, Eastern Cape province, South Africa. His mother, Nosekeni Fanny, was one of four wives of his father, Gadla Henry Mphakanyiswa.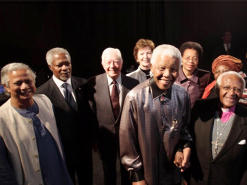 1920s
1925 – He begins primary school near his home village of Qunu, where a teacher unable to pronounce his African name of Rolihlahla gives him the name "Nelson" in honour of British naval hero Admiral Horatio Nelson.
1927 – His father Gadla Henry Mphakanyiswa dies; he becomes the ward of the Tembu regent, Paramount Chief Jongintaba Dalindyebo.
1930s
1934 – At the age of 16, Mandela undergoes the Xhosa initiation and circumcision ritual. Enrols in the Clarkebury Boarding Institute in Engcobo.
1937 – He enrols in Healdtown, the Wesleyan college in the Eastern Cape town of Fort Beaufort.
1939 – Enrols at the University College of Fort Hare in Alice, Eastern Cape, for a bachelor of arts degree.
1940s
1940 – Expelled from university for joining in a protest boycott.
1941 – Fleeing an arranged marriage, Mandela moves to Johannesburg and works briefly as a night watchman on a gold mine.
1941 – He meets Walter Sisulu, an active member of the African National Congress (ANC), South Africa's major anti-apartheid liberation movement and today the country's ruling party. Sisulu recommends Mandela for employment as an articled clerk at the law firm Witkin, Sidelsky and Eidelmana, and the two become firm friends.
1942 – Begins to attend ANC meetings.
1942 – Completes his bachelor of arts degree by correspondence through the University of South Africa.
1943 – Enrols for an LLB postgraduate law degree at the University of the Witwatersrand.
1944 – Mandela founds the ANC Youth League together with Anton Lembede, Oliver Tambo and Walter Sisulu.
1944 – Marries Evelyn Ntoko Mase, his first wife.
1946 – First son Madiba Thembekile (Thembi) born to Evelyn Mase.
1947 – First daughter and second child Makaziwe born to Evelyn Mase; the baby died nine months later.
1948 – He is elected national secretary of the ANC Youth League.
1948 – The whites-only electorate votes the racist National Party into power in South Africa. Apartheid becomes official government policy.
17 December 1949 – The ANC adopts its Programme of Action, inspired by the Youth League, which advocates the weapons of boycott, strike, civil disobedience and non-cooperation with authority.
1950s
26 June 1950 – The government passes the Suppression of Communism Act, which formally bans the South African Communist Party and proscribes the ideology of communism, defined by the government as any scheme aimed "at bringing about any political, industrial, social, or economic change within the Union by the promotion of disturbance or disorder" or encouraging "feelings of hostility between the European and the non-European races".
1950 – Mandela's second son and third child Makgatho born to Evelyn Mase.
1951 – Elected president of the ANC Youth League.
1952 – ANC launches the Campaign for Defiance of Unjust Laws. Mandela is elected as the ANC's national volunteer-in-chief and travels South Africa organising resistance.
1952 – Arrested and tried with Walter Sisulu and 18 others under the Supression of Communism Act for his role in the campaign. Sentenced to nine months' imprisonment with hard labour, suspended for two years.
1952 – Elected president of the Transvaal region of the ANC, and as the first of ANC deputy presidents.
1952 – Opens South Africa's first black-owned law firm in downtown Johannesburg in partnership with Oliver Tambo.
1953 – Devises the M-Plan – or Mandela Plan – for the ANC's future underground operations.
1953 – Second daughter and fourth child born to Evelyn Mase, and named Makaziwe in honour of her dead infant sister.
26 June 1955 – The Congress of the People, and alliance on anti-apartheid movements that includes the ANC, adopts the Freedom Charter at Kliptown in Soweto. The charter declared fundamental tenets of a free South Africa, such as " South Africa belongs to all who live in it, black and white, and that no government can justly claim authority unless it is based on the will of all the people".
5 December 1956 – Mandela and 150 others arrested and charged with treason. The marathon Treason Trial of 1956 to 1961 followed, with all defendants eventually being found not guilty.
1958 – Mandela divorces Evelyn Mase and marries Winnie Madikizela.
1959 – Third daughter and fifth child Zenani (Zeni) born to Winnie Madikizela-Mandela.
1959 – The Africanist faction of the ANC breaks away to form the Pan Africanist Congress under the leadership of Robert Sobukwe and Potlako Leballo.
1960s
21 March 1960 – Police open fire on a peaceful demonstration against the pass laws organised by the PAC in the township of Sharpeville, killing 69 people – many of them shot in the back. The reaction is immediate, with demonstrations, protest marches, strikes and riots across South Africa.
30 March 1960 – The South African government declares a state of emergency, detaining more than 18 000 people, and banning the ANC and other liberation movements.
1960 – Fourth daughter and sixth child Zindziswa (Zindzi) born to Winnie Madikizela.
1961 – The Treason Trial ends with an acquittal for Mandela and his co-defendants.
1961 – The ANC decides to move from nonviolent to violent means of opposing apartheid. The movement's armed wing, Umkhonto we Sizwe ("spear of the nation"), is formed, with Mandela as commander-in-chief.
1961 – In the face of government repression, Mandela goes underground, becoming a master of disguise and managing to evade arrest with such success the media nicknames him the Black Pimpernel.
5 August 1962 – After travelling abroad, and being on the run for 17 months, Mandela is arrested near Howick in Natal and imprisoned in the Johannesburg Fort. He is charged for unlawfully exiting the country and for incitement to strike.
25 October 1962 – Mandela is convicted and sentenced to five years on Robben Island, the notorious political prison off the coast near Cape Town.
11 July 1963 – While Mandela is in prison, police arrest prominent ANC leaders at their hideout on Liliesleaf Farm in Rivonia, north of Johannesburg.
1963 – Mandela and his arrested ANC comrades are charged with sabotage and other crimes in the Rivonia Trial.
20 April 1964 – At the opening of the defence case at the Pretoria Supreme Court, Mandela makes his famous Statement at the Rivonia Trial, in which he lays out the reasoning in the ANC's choice to use violence. In his conclusion to the statement, Mandela says: "I have cherished the ideal of a democratic and free society in which all persons live together in harmony and with equal opportunities. It is an ideal which I hope to live for and to achieve. But if needs be, it is an ideal for which I am prepared to die."
12 June 1964 – The Rivonia Trial ends with Mandela and all his co-accused – excluding Rusty Bernstein – being found guilty and sentenced to life imprisonment. Mandela is sent to Robben Island. As a D-group prisoner, the lowest classification, he is allowed one visitor and one letter every six months.
1965 – Mandela's book No Easy Walk to Freedom is published by Heinemann.
1969 – Plot to spring Mandela from jail is infiltrated by secret agent Gordon Winter on behalf of South African intelligence, who want the prisoner to escape so they can shoot him during recapture. The plot is foiled by British Intelligence.
1969 – Oldest son Thembi Mandela dies in a car crash, aged 25. Mandela, on Robben Island, was not allowed to attend the funeral.
1969 – Winnie Madikizela-Mandela jailed at Pretoria Central Prison, where she will spend the next 18 months in solitary confinement.
1973 – Daughter Zenani Mandela marries Prince Thumbumuzi Dlamini, elder brother of King Mswati III of Swaziland.
1973 – A nuclear particle discovered by University of Leeds scientists is named the "Mandela particle".
16 June 1976 – In Soweto, South African police open fire on schoolchildren protesting against the use of Afrikaans as a medium of instruction. The Soweto uprising begins, quickly spreading across South Africa and leaving huge damage to property and loss of life in its wake. In response, a significant number of black youngsters leave South Africa to join the ANC's forces in neighbouring countries.
1980s
March 1982 – Mandela is transferred from Robben Island to Pollsmoor Prison in Cape Town, along with other ANC leaders Walter Sisulu, Andrew Mlangeni, Ahmed Kathrada and Raymond Mhlaba. It is speculated that this is to remove their influence on a new generation of young black activists imprisoned on Robben Island.
26 June 1983 – Sculpture in a city park by Elisabeth Frink dedicated to Mandela unveiled in Dublin, Ireland. As second sculpture was unveiled in Dublin a year later.
20 August 1983 – The United Democratic Front (UDF), a coalition of about 400 civic, church, students', workers' and other organisations, formed to fight apartheid inside South Africa. With the slogan "UDF unites, apartheid divides", its 3-million members were a powerful force in the internal anti-apartheid struggle.
1984 – English ska band release the song Free Nelson Mandela, which reaches number nine on the British charts. The song was banned in South Africa, but bootleg tracks found their way into many parties.
February 1985 – President PW Botha offers to free Mandela on condition that he unconditionally rejects violence as a political weapon. Mandela spurns the offer, saying in a statement: "What freedom am I being offered while the organisation of the people remains banned? Only free men can negotiate. A prisoner cannot enter into contracts.".
28 October 1985 – Statue of Mandela unveiled in London by Oliver Tambo, exiled president of the ANC.
November 1985 – Minister of Justice and Prisons Kobie Coetsee meets Mandela in Volks Hospital in Cape Town, where Mandela is recovering from prostate surgery. This is the first meeting between Mandela and the National Party government and is followed by a series of tentative meetings that lay the groundwork for future negotiations. But little real progress is made.
1985 – Stevie Wonder dedicates his Oscar for the song I Just Called to Say I Love You to Mandela. His music is then banned by the South African Broadcasting Corporation.
9 January 1987 – Mandela becomes the first person to be awarded the freedom of the city of Sydney, Australia.
1988 – Mandela is transferred from Pollsmoor Prison to Victor Verster Prison near Paarl in the Western Cape. Various restrictions are lifted, and friends and family are able to meet him.
1988 – The Nelson Mandela 70th Birthday Tribute concert held at London's Wembley Stadium. It was a focal point of the external anti-apartheid movement, with prominent musicians – including Simple Minds, Santana, Tracy Chapman, Salif Keita, Annie Lennox and Whitney Houston – voicing their support for Mandela.
1989 – President PW Botha Botha suffers a stroke and is replaced by FW de Klerk.
1989 – South African singer Brenda Fassie releases a song dedicated to Mandela, Black President. The song is banned on local radio but in 1994 Fassie performs it for Mandela at his inauguration.
1990s
2 February 1990 – President FW de Klerk announces Mandela and other political prisoners will be released and the ANC and other resistance movements unbanned.
11 February 1990 – In the full glare of international media attention, Mandela walks free from Pollsmoor Prison in Cape Town.
4 May 1990 – Negotiations to end apartheid between the ANC and the government begin at the presidential residence, Groote Schuur. They issue the Groote Schuur Minute, a joint commitment to resolve the existing climate of violence and intimidation and to remove practical obstacles to negotiation, including indemnity from prosecution for returning exiles and the release of political prisoners.
6 August 1990 – The ANC and the government extend their consensus in the Pretoria Minute, which includes the suspension of the armed struggle by the ANC's military wing Umkhonto we Sizwe.
1991 – The first national conference of the ANC held inside South Africa in decades elects Mandela as president of the party. Oliver Tambo, the previous president, becomes national chairperson.
20 August 1991 – The United Democratic Front is disbanded.
14 September 1991 – The National Peace Accord is signed by representatives of 27 political organisations and national and homeland governments, preparing the way for the Convention for a Democratic South Africa (Codesa) negotiations.
20 December 1991 – Plenary session of Codesa at the World Trade Centre in Kempton Park, near Johannesburg.
18 March 1992 – After the National Party begins to lose by-elections to the pro-apartheid Conservative party, a referendum of white voters is held to determine if FW de Klerk has their mandate to end apartheid. An overwhelming 68% votes "yes", allowing negotiations to proceed.
April 1992 – Mandela and Winnie Madikizela-Mandela separate.
May 1992 – Codesa II begins the second round of negotiations.
17 June 1992 – The Boipatong massacre. During the night, a heavily armed band of Inkatha Freedom Parties raid the Vaal township of Boipatong and kill 46 people. Mandela accuses the government of complicity in the atrocity and withdraws the ANC from negotiations. The ANC instead takes to the streets with a programme of "rolling mass action".
7 September 1992 – The army of the spurious "homeland" of Ciskei opens fire on protest marchers near Bisho, killing 28. The Bisho massacre brings a new urgency to the search for a political settlement.
26 September 1992 – Negotiations resume when the government and ANC agree on a Record of Understanding dealing with a constitutional assembly, an interim government, political prisoners, hostels, dangerous weapons and mass action.
1 April 1993 –  The Multiparty Negotiating Forum (MPNF) gathers for the first time, with political groupings on the more extreme right and left taking part, as well as traditional African leadership.
10 April 1993 – Chris Hani, the leader of the South African Communist Party and a senior member of the ANC, is assassinated outside his home by right-wingers intent on derailing negotiations. Instead, faced with a country on the brink of civil war, the main parties pushed for a settlement with increased determination. Polish far-right immigrant Janusz Waluś and senior Conservative Party leader Clive Derby-Lewis are later jailed for life for the crime.
4 July 1993 – US President Bill Clinton presents Mandela with the Philadelphia Liberty Medal.
18 November 1993 – The MPNF ratifies the interim Constitution in the early hours of the morning. Thereafter, a Transitional Executive Council overees the run-up to a democratic election.
10 December 1993 – Mandela and FW de Klerk are jointly awarded the Nobel Peace Prize for their different roles in ending apartheid.
December 1993 – Mandela is named Person of the Year by Time magazine, together with FW de Klerk, Yasser Arafat and Yitzhak Rabin.
27 April 1994 – South Africa's first democratic elections are held, and Mandela gets to vote for the first time in his life. The ANC wins 62% of the vote.
10 May 1994 – Mandela is inaugurated as South Africa's first democratically elected president.
1994 – Publishes his autobiography, Long Walk to Freedom, which he started writing in prison. The book is an extended version of his 1965 work No Easy Walk to Freedom.
1995 – The Truth and Reconciliation Commission is set up in terms of the Promotion of National Unity and Reconciliation Act. It is headed by Anglican Archbishop Desmond Tutu.
1995 – South Africa hosts, and wins, the Rugby World Cup. Rugby was previously seen as a whites-only sport, but Mandela gave the country's team much high-profile support. After the Springboks won an epic final over New Zealand, Mandela presented the trophy to captain Francois Pienaar, an Afrikaner, wearing a Springbok shirt with Pienaar's own number 6 on the back. This was widely seen as a major step in the reconciliation of white and black South Africans.
14 December 1995 – Receives Harvard Business School Statesman of the Year Award.
March 1996 – Mandela and Winnie Madikizela-Mandela divorce.
18 July 1998 – On his 80th birthday Mandela marries Graça Machel (née Simbine), widow of Samora Machel, the president of Mozambique until his death in 1986.
2 September 1998 – Appointed 19th Secretary General of the Non-Aligned Movement.
14 June 1999 – Thabo Mbeki succeeds Mandela as president.
1999 – Listed as one of the 100 most influential people of the 20th century by Time magazine.
2000s
2000 – The first Nelson Mandela Invitational charity golf tournament, hosted by Gary Player, is played. It has since raised over R20-million (US$2.8-million) for children's charities.
July 2001 – Diagnosed and successfully treated for prostate cancer.
2001 – Mandela becomes the first living person to be made an honorary Canadian citizen.
9 July 2002 – US President George W Bush awards Mandela the Presidential Medal of Freedom, that country's highest civilian award, in Washington.
2003 – Mandela lends his name to the 46664 Aids awareness and fundraising campaign, named for his former prison number.
2003 – Mandela's death prematurely announced by CNN when his pre-written obituary, along with those of several other famous figures, was inadvertently published on the channel's website.
31 March 2004 – Sandton Square in Johannesburg is renamed Nelson Mandela Square with the unveiling of a 6-metre bronze statue.
June 2004 – Aged 85, Mandela announces that he will be retiring from public life. Citing failing health and the need to spend more time with his family, he said he wanted to be in a position of "calling you to ask whether I would be welcome, rather than being called upon to do things and participate in events. My appeal therefore is: Don't call me, I will call you.".
2004 – Mandela's first wife Evelyn Mase dies.
6 January 2005 – His oldest living son Makgatho Mandela dies of Aids, aged 54.
22 May 2006 – New Statesman places Mandela at number two on its list of 50 heroes of our time. At number one was Aung San Suu Kyi, the Burmese pro-democracy campaigner.
18 July 2007 – On Mandela's 89th birthday, he, Graça Machel and Desmond Tutu convene The Elders, a grouping of world leaders set up to contribute their wisdom and independent leadership to solving the world's toughest problems. Other members include Kofi Annan, Ela Bhatt, Gro Harlem Brundtland, Jimmy Carter, Li Zhaoxing, Mary Robinson and Muhammad Yunus.
29 August 2007 – A statue of Mandela is unveiled at Parliament Square in London by Richard Attenborough, Ken Livingstone, Wendy Woods (the widow of Donald Woods) and Gordon Brown.
18 July 2008 – Mandela's 90th birthday is marked across the world, with the main South African celebrations held at his home town of Qunu. A concert in his honour is held in Hyde Park, London.
27 August 2008 – A statue of Nelson Mandela is unveiled at Groot Drakenstein Correctional Centre near Paarl. Formerly known as Victor Verster, this is the prison where Mandela spent the last of his 27 years in jail.
November 2009 – The UN General Assembly announces that Mandela's birthday, 18 July, is to be known internationally as Mandela Day, or Nelson Mandela International Day, to give it its full title.
11 June 2010 – His great-granddaughter Zenani is killed in a car accident while returning home from the opening concert of the 2010 Fifa World Cup. Her funeral is held on 17 June.
11 July 2010 – Mandela and Graça Machel make a surprise, and warmly acclaimed, appearance at the World Cup final in Johannesburg.
October 2010 – Mandela's second book, Conversations with Myself, is published.
26 January 2011 – Mandela is admitted to hospital with an acute respiratory infection. An international media frenzy over the former president's health ensues. Three days later, on 28 January, he is discharged for treatment at his home in Houghton, Johannesburg.
16 May 2011 – Mandela votes in the local government elections.
June 2011 – His official book of quotations, titled Nelson Mandela By Himself: The Authorised Book of Quotations, is published
21 June 2011 – Mandela is visited at home by American First Lady Michelle Obama and her daughters Sasha and Malia.
18 July 2011 – He celebrates his 93rd birthday with his family in Qunu, Eastern Cape.
21 October 2011 – Mandela is officially counted in South Africa's Census 2011
25 February 2012 – He is admitted to hospital for an abdominal complaint, and discharged after one night.
18 July 2012 – Mandela turns 94, and celebrates the day with his family in Qunu.
8 December – Mandela is admitted to hospital to undergo tests. He is discharged on 26 December after treatment for a lung infection and gallstones, having spent the longest period in hospital since his release from prison.
9 March 2013 – Mandela is admitted to a Pretoria hospital for a scheduled check-up.
28 March 2013 – Again Mandela is admitted to hospital for treatment of pneumonia. He is released nine days later, on 6 April.
8 June 2013 – For the third time in 2013, Mandela is admitted to hospital. He again spends a lengthy period there, receiving treatment for his recurring lung problem.
Compiled by Mary Alexander
Source: www.mediaclubsouthafrica.com