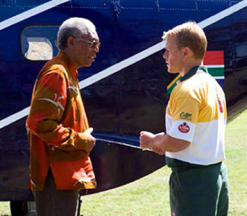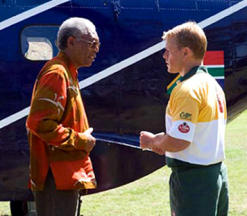 Standing 6ft 4ins – 1.93 metres – tall, Nelson Rolihlahla Mandela is a giant of a man whose life will again be immortalised on the silver screen, this time with the focus on his earlier years through to his inauguration as the first democratically elected president of South Africa.
The political activist not only united a nation divided but also put his country on the international map, and now another part of his life's journey will be packaged in a form for all generations to appreciate. British actor Idris Elba stars in the latest film on the former president of South Africa, titled Mandela: Long Walk to Freedom.
It is a videoed chronicle of Mandela's journey, by producer Anant Singh, from his childhood in a rural village through to his inauguration, and covers the period from 1924 to 1994.
Stars in the film – scheduled for release on 29 November 2013 – include Elba and Atandwe Kani as Mandela at different ages, Tony Kgoroge as Walter Sisulu and Riaad Moosa as Ahmed Kathrada. Other cast members include Zolani Mkiva (Raymond Mhlaba), Gys de Villiers (FW de Klerk), Simo Magwaza (Andrew Mlangeni), Fana Mokoena (Govan Mbeki), Thapelo Mokoena (Elias Motsoaledi), Nomfusi Gotyana (Miriam Makeba) and Naomie Harris (Winnie Madikizela-Mandela).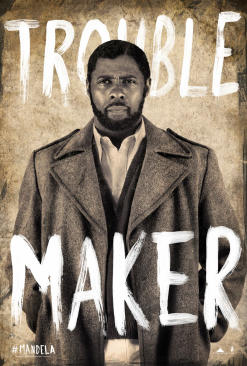 Under director Justin Chadwick (The Other Boleyn Girl), principal photography began in KwaZulu-Natal at the end of May 2012 before moving to Cape Town, and later to Johannesburg, the Eastern Cape and then back to KwaZulu-Natal.
In 1963, the South African government found Mandela, or Madiba as he is fondly called after his clan name, guilty of sabotage for his anti-apartheid activities, and he was imprisoned for 27 years, first on Robben Island and later in Pollsmoor Prison, also in Cape Town, and then Victor Verster Prison outside Paarl, from which he was released on 11 February 1990.
With then-president FW de Klerk, he was jointly awarded the Nobel Peace Prize in 1993 for his role in ending apartheid peacefully. Finally, he became the first black president and first democratically elected leader of South Africa in 1994, showing his incredible ability to lead a nation once so divided.
Elba, born in East London, in England, starred in popular television show Luther, among other productions. He joins an illustrious group of actors who have played Mandela in previous films, including Morgan Freeman, Terrence Howard, Sidney Poitier, Dennis Haysbert and Danny Glover.
Winnie also honoured in film
Howard plays the former statesman in Darrell Roodt's biopic of struggle stalwart Winnie Madikizela-Mandela, which was selected as the opening film for the eighth Montreal International Black Film Festival on 19 September 2012. The formidable Madikizela-Mandela was reportedly not consulted for the film, and in an interview published in UK newspaper The Guardian, described it as "an insult".
Winnie is based on the book Winnie Mandela: a Life by Anné Mariè du Preez Bezdrob. It stars Jennifer Hudson as Mandela's wife and chronicles the life of the struggle heroine from her childhood through her marriage and her husband's incarceration.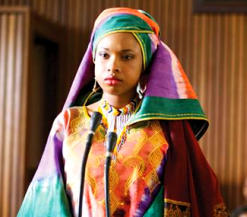 It and Long Walk are expected to tussle at the box office with their release into mainstream cinema towards the end of 2013 – Winnie hits the big screen later than its originally scheduled release date because initial criticism and negative feeling towards the film caused the producers to take it back into the studio for more work.
Madikizela-Mandela's life was the subject of another film titled Mrs Mandela. It was released in 2010 as a television drama on the BBC and starred British actress Sophie Okonedo as the one-time first lady of South Africa, with David Harewood as Mandela. Local faces in this production included Rika Sennett, Vusi Kunene and François Stemmet.
Then there is Winnie: The Opera, which premiered on 28 April 2011 at Pretoria's State Theatre with Soweto-born soprano Tsakane Maswanganyi in the title role.
Mandela at the movies
Another blockbuster film portraying South Africa's first black president is the high-profile Invictus (2009), a biographical sports drama directed by Clint Eastwood and starring Freeman and Matt Damon.
The storyline is based on the John Carlin book Playing the Enemy: Nelson Mandela and the Game That Made a Nation, which centres around events in South Africa before and during the 1995 Rugby World Cup, hosted in the country after the dismantling of apartheid. South Africa won the tournament.
Eastwood's son Kyle wrote the score for the film, which earned Golden Globe, Screen Actors' Guild and Academy Award nominations for Freeman as best actor and Damon as best supporting actor.
Also released in 2009 was the film Endgame, starring William Hurt as Prof Willie Esterhuyse, Chiwetel Ejiofor as Thabo Mbeki, Clarke Peters as Mandela and John Kani as Oliver Tambo. It's based upon the book The Fall of Apartheid by Robert Harvey and focuses on the secret talks which took place in Somerset, UK, between the then-ruling National Party and the African National Congress (ANC) at the end of the apartheid years. Mbeki was the ANC's director of information at the time and philosophy professor Esterhuyse was a well-known apartheid critic. He received a national order for his role in the negotiations.
In Goodbye Bafana, released in 2007, American actor Dennis Haysbert played Mandela and Joseph Fiennes played James Gregory, a prison guard who became his close friend during the years the two were together on Robben Island and at Pollsmoor and Victor Verster. The film was based on Gregory's book Goodbye Bafana: Nelson Mandela, My Prisoner, My Friend, and was released in the US as The Color of Freedom.
Poitier portrayed the statesman in the 1997 television release Mandela and De Klerk, with veteran Michael Caine as FW de Klerk. The film revealed the events leading up to the transition to democracy and also starred Gerry Maritz as De Klerk's predecessor PW Botha, Ian Roberts as National Party politician and negotiator Kobie Coetsee, Ben Kruger as James Gregory and Jerry Mofokeng as Walter Sisulu.
It was filmed in South Africa and, as far as possible, most of the locations were where the actual events took place.
Back in 1987 the television film Mandela starred Danny Glover in the title role, supported by Alfre Woodard as Madikizela-Mandela, John Matshikiza as Sisulu and John Indo as Tambo. It was filmed in Zimbabwe and followed Mandela's progress after his graduation as a lawyer as he evolved into a political activist.
However, the repeated casting of overseas actors to play South Africans has been criticised locally. Mabutho "Kid" Sithole, former president of the Creative Workers Union of South Africa, said recently of Long Walk: "There's always some reason to avoid using South African actors and having other people tell our stories. You tell me now, how will this actor pronounce Qunu, where Mandela was born, or Rolihlahla, his real name?"
Internationally acclaimed actor and playwright John Kani is reported to have said, when asked by Freeman about how he felt to see Mandela portrayed by an American, that he understood why the producers chose a big Hollywood name but was saddened that "I wasn't even asked".
Sello Maake Ka Ncube, a local actor, did portray Mandela in the 2011 local stage production Rivonia Trial, which opened at the State Theatre in April that year. It was written by Mpumelelo Paul Grootboom and directed by Aubrey Sekhabi.
In 2014 the Rivonia Trial marks its 50-year anniversary.
By: Romaana Naidoo
Source: www.mediaclubsouthafrica.com