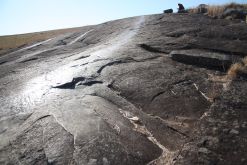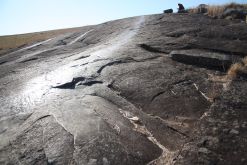 Nelson Mandela calls Qunu in the Eastern Cape home, and it is where he has asked to be buried. In his autobiography Long Walk to Freedom, the struggle veteran describes leaving the village as a nine-year-old, to travel with his mother to an unknown destination. "I could see the simple huts and the people going about their chores; the stream where I had splashed and played with the other boys … My eyes rested on the three simple huts where I had enjoyed my mother's love and protection … I rued the fact that I had not kissed each of them before I left."
Qunu may be Mandela's spiritual home but he was born at Mvezo, close to Mthatha, the capital of the former Transkei, on 18 July 1918. When his father, Gadla Henry Mphakanyiswa, the chief of Mvezo, was deposed by a vindictive magistrate, the young Nelson went with his mother to live in Qunu. There Nosekeni Fanny, Gadla's third wife, had friends and family on whom they could rely.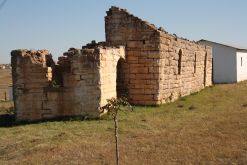 In his book, Mandela tells how he did not get to spend much time with his father as Gadla died when he was just nine. While still alive, the chief spent about one week a month with each of his four wives and their 13 children – the youngest son being Rolihlahla, later to be named Nelson.
"Apart from life, a strong constitution and an abiding connection to the Thembu royal house, the only thing my father bestowed upon me at birth was a name, Rolihlahla," is the poignant first sentence of Mandela's autobiography. The name literally means "pulling the branch of a tree" but the anecdotal meaning of Rolihlahla, he explains, is "troublemaker". Then he adds, with characteristic dry wit and understatement: "I do not believe that names are destiny or that my father somehow divined my future, but in later years, friends and relatives would ascribe to my birth name the many storms I have both caused and weathered."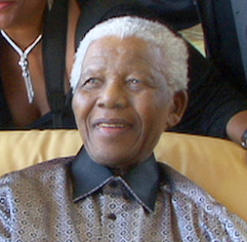 Gadla was a counsellor to the Thembu royal house and an acknowledged custodian of Xhosa history. It was from him, says Mandela, that he developed a fascination with the great Xhosa warriors who resisted domination by white settlers. He defined himself by his father, he writes, and when he died, rather than experiencing great grief he felt "cut adrift".
At his mother's fireside he heard different stories – the Xhosa legends and fables, which, he writes, "stimulated my childish imagination, and usually contained some moral lesson".
Life in Qunu
In Qunu he led a simple life. The villagers grew all their own food and the young boys, clad in blankets, became herders as soon they were old enough – in Nelson's case, this was at the age of five. He describes a rough and carefree childhood, spending most of his days "playing and fighting" in the veld with the other village boys – "A boy who remained at home tied to his mother's apron strings was regarded as a sissy." With his friends he made clay animals and became a skilled stickfighter, and says he dates back to those days "my love of the veld, of open spaces, the simple beauties of nature, the clean line of the horizon".
He came across few white people in Qunu and when he did chance to see a white policeman, magistrate or traveller, "these whites appeared as grand as gods to me, and I was aware that they were to be treated with a mixture of fear and respect".
The Christian faith, however, had a strong influence as his mother had converted – Fanny is her English name – and had her young son baptised into the Methodist church. None of Gadla's children attended school but after a friend pointed out to Fanny that her youngest son was "a clever young fellow" she relayed the message to her husband and he agreed that Nelson should be educated.
His description in the book of the cut-off trousers his father secured around his waist with a piece of string – his first school "uniform" – makes for amusing reading. On his first day of school he received, like all black African school pupils at the time, an English name. He writes: "That day, Miss Mdingane told me that my new name was Nelson. Why she bestowed this particular name on me I have no idea." Perhaps, he adds, it had something to do with the English sea captain, Horatio Nelson. One wonders what Miss Mdingane thought about her choice of name – and her former pupil – in later years.
Children did not question adults – they learned by observation and emulation, he writes. So when his mother told him he was moving again he did not ask why or where – he packed his few belongings and said a tearful farewell to Qunu, firmly believing there could be no better place on Earth. It was a tiring journey on foot – only made bearable because his mother was by his side – to his new home, Mgekhezweni, "The Great Place", the capital of Thembuland and the seat of Chief Jongintaba Dalindyebo, the acting regent of the Thembu people.
A turning point
Mgekhezweni was a different world. Whereas Qunu was a village of about 100 huts, with a shop and two small schools, The Great Place had at its centre Jongintaba's large and gracious home, as well as seven stately rondavels and other buildings. There were fruit trees, flower gardens, vegetable patches and maize fields, and when the regent came driving up in an enormous car, the boy felt "a sense of awe mixed with bewilderment". Jongintaba was to be his guardian and, "suddenly a new world opened up before me".
The adult Mandela realised this was a turning point in his life – the move that enabled him to begin building the foundation he needed to become the lawyer Mandela, the activist and struggle icon known affectionately and with reverence across the world as Madiba.
Nelson's mother – who would not have been expected to reject the offer for her son to be raised in the regent's home – said a quiet goodbye and returned to Qunu. Her only words to him were: "Brace yourself, my boy!" Like any youngster dazzled by a new toy he writes that he felt prepared for anything, as "I was wearing the handsome new outfit purchased for me by my guardian". Fanny understood, he adds, that he was to be groomed for a larger world and in the same spirit, did not protest when the regent later discouraged Nelson from visiting Qunu lest he "regress".
The young boy's fortunes had changed markedly and he was enjoying everything – from the horse-riding to the chores – that Mgekhezweni, a Methodist mission station, had to offer. He instantly acquired a new "brother" and "sister" – Justice and Nomafa, the regent's children. Justice, four years older, handsome and a fine sportsman, became the young Nelson's hero.
As at any mission station, religion was a big part of life and he attended church regularly to hear fire-and-brimstone sermons by Reverend Matyolo. And whereas Nelson admired the influence the reverend had over the people, he was more impressed by the unlimited power wielded by the regent, and the unwavering respect he received.
"I saw chieftaincy as being the very centre around which life revolved," he writes. "My later notions of leadership were profoundly influenced by observing the regent and his court." Tribal meetings – presided over by Jongintaba and his councillors and attended by any man who wanted to raise an issue or simply participate – were "democracy in its purest form". Women did not attend, however: "I am afraid [women] were deemed second-class citizens."
A leader is like a shepherd
Jongintaba's habit of listening to all voices and allowing his subjects to offer criticism formed the basis of the leadership principles Mandela later adopted. "I always remember the regent's axiom: a leader, he said, is like a shepherd." Jongintaba took the same approach with his children and he and his wife, No-England, became like parents to Nelson. But perhaps the new addition to the family was a little less spontaneous than the other children because he earned the nickname Tatomkulu – "Grandpa".
At this stage, he says, he dreamed of training as an interpreter or a policeman – jobs traditionally done by African men – though he had been singled out to be groomed to become the counsellor to the future Thembu king, Sabata. But perhaps it was hearing from the chiefs and headmen who came to The Great Place about other great African leaders – such as Sekhukune, Moeshoeshoe and Dingane, who built strong nations – that inspired him to reach for a higher goal.
One such chief, Joyi, railed against the whites for dividing the Xhosa tribe and the young Nelson began to weigh up what he said against what was printed in his British textbooks at school. Another chief, Meligqili, gave a doom-laden speech after Nelson had joined several other youths for the customary initiation ritual, saying that though they were now officially men, they had "no control over their destiny". His words "had sown a seed" in his mind, Mandela writes.
The problem with girls
Girls were a bit of a problem, and the early encounters stung. Reverend Matjolo's daughter Winnie – not the Winnie who later would become his wife – invited Nelson around for a meal on the instigation of her scheming older sister, to see how the country lad fared with a knife and fork. He could not pin down the skinny chicken wing he had been given, though he tried and tried and became "wet with perspiration". Afterwards, he writes, the older sister warned Winnie off "such a backward boy". She had more mettle, however and: "I am happy to say the young lady did not listen – she loved me, backward as I was."
Winnie subsequently went to a different school and they lost touch. But the first female he related to as an equal and a close friend was Mathona, though again it was not a good start. Wearing new boots on his first day at the Clarkebury Institute, where he would complete his high school education, he says he felt "like a newly shod horse… As I clomped into the classroom, my boots crashing on that shiny wood floor, I noticed two female students in the first row." One of the girls said to her friend: "The country boy is not used to wearing shoes," at which, he says, "I was blind with fury and embarrassment," and vowed never to speak to her. But they became the best of friends and he found the clever and mischievous Mathona was someone with whom he could "share secrets". She was a lucky find because he writes that she became a role model for his future relationships with women, "for with women I found I could let my hair down and confess to weaknesses and fears I would never reveal to another man".
And indeed, Mandela's marriage partners have been strong, supportive women – ANC activists Evelyn Mase and Nomzamo Winifred Madikizela, and former Frelimo activist and human rights campaigner Graça Machel.
The teachers were of a good calibre at Clarkebury, and Nelson participated enthusiastically in sport, if not shining at it. It was only later, at Healdtown, the Wesleyan College in Fort Beaufort, that he found his talent for boxing. Mathona was a good study mate and adviser and the Reverend Harris, the school governor, a man worthy of respect. He was serious, however, and "ran Clarkebury with an iron hand". But again, just as it appeared Nelson would be in for trouble, fate stepped in: he was tasked with working in the reverend's garden, where he met a gentler man, who was broadminded and unselfishly devoted to educating his African charges. He was able to get to know the school governor better and hone his skills in growing vegetables.
Beyond Thembuland
The young man was developing his talents and acquiring the skills that would later equip him to lead. But, he concedes that though being at Clarkebury broadened his horizons, he still had a parochial outlook: "I would not say that I was entirely an open-minded, unprejudiced young man when I left … My horizons did not extend beyond Thembuland and I believed being a Thembu was the most enviable thing in the world."
Much more water would flow under the bridge before the activist Nelson Mandela would emerge to fight for a non-racist, non-sexist South Africa.
By: Yvonne Fontyn
Source: www.mediaclubsouthafrica.com