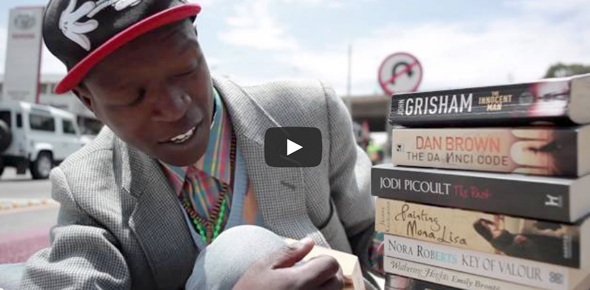 A wonderful story of inspiration is unfolding in Empire Road and other streets of Johannesburg where a well-known South African storyteller has discovered an unknown book-lover.
Three days ago South African director, cinematographer and storyteller Tebogo Malope (29) posted a video interview with an unlikely bookworm – 24-year-old homeless man, Philani. The story of the "Pavement Bookworm", as Philani is known, is now being spread virally and reported on globally.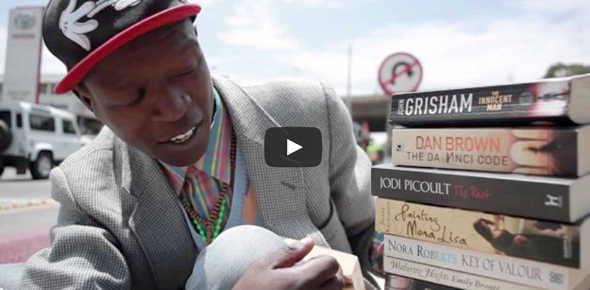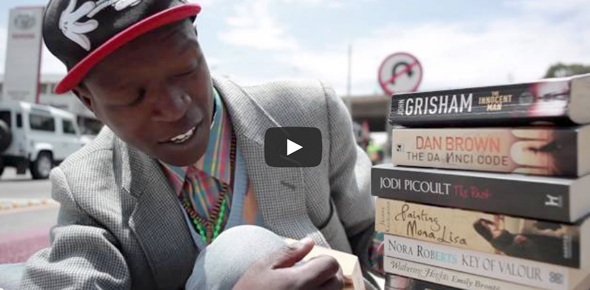 Philani is a bookworm who has chosen to review and sell books rather than resort to begging. He shows up on different streets of Johannesburg with a pile of books, and on request he will review the books, the authors, the publishers.
"He has read all the books in his collection and is always seeking for more to read," says Tebogo. "He then sells some of his books as a way to raise money for himself and some of his homeless friends. I'm appealing to anyone that can contribute somehow into his life.
"He's a great role model on the power of reading and can be an amazing ambassador for our young people."
In the video (see below) Philani notes that "reading is not harmful. There is no thing as harmful knowledge" and highlights the virtues of reading, reminding us how much better a book can make a person's life, a child's life, and the life of someone in an old age home.
Thanks to Tebogo's video, motorists who had previously driven past Philani, are now stopping to talk to the Pavement Bookworm. He's even had a visit from 'Entanglement' author Steven Boykey Sidley who gave him his latest book.
Apparently Philani's favourite author is John Grisham because "he touches on social justice and I think that's the one thing lacking in the world".
Philani's appreciation for the value of books was apparently inspired when he managed to rescue himself from drug addiction by reading self-help books.
As for the man who has 'discovered' Philani – as a child in Soweto, Tebogo always knew he wanted to be a storyteller, and his career has been filled with directing music videos, publishing photographs and directing TV dramas such as 'Skeem Saam 2'…but this may be the greatest story he's told so far.
2015 UPDATE
Philani Dladla's inspirational story has gained international attention – which he hopes to channel into real support for his literacy project and Book Reader's Club for underprivileged children in Johannesburg. He now has a website: www.pavementbookworm.co.za/
DONATE BOOKS:
The Pavement Bookworm is based in Johannesburg, South Africa. Books can be dropped off at or sent to the address below. If you are in the Johannesburg area, send an email to pavementbookworm@gmail.com to arrange for collection.
23 Kerry Street
Parkview
Johannesburg
2122
Video Interview with The Pavement Bookworm, Johannesburg, South Africa:
If you would like to donate books to Philani, please contact Tebogo on Facebook.