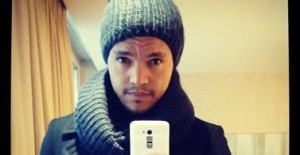 After Bafana Bafana crashed out of the 2014 African Nations Championship (CHAN) last weekend, and were subsequently criticised by the SA Minister of Sports (for being "a bunch of losers")…South African comedian Trevor Noah posted a video with this message on his Twitter page yesterday:
"I'm not as funny as our minister of sports, but here's a little video about our national football team Bafana."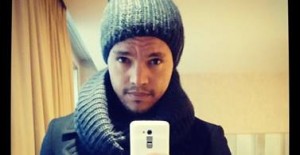 The controversial reaction of Sports Minister Fikile Mbalula came after  the soccer team's 1-3 loss to Nigeria.
In Trevor's "It's my Culture – Springbok Bafana" video – which was filmed before this latest Bafana loss – he compares the usual reactions of South Africans to the Springbok rugby team's losses ("depression") to those after "our special child" Bafana Bafana loses…concluding that "we've become so complacent" with Bafana that anything is good enough, even "drawing is a win for us"!
Trevor is currently touring London (and trying not to freeze)!
Watch the "It's My Culture – Springbok Bafana" Video here:
For those who missed the remarks by South African Sports Minister Mbalula:
And if you're new to Trevor – this is a must-see: Trevor Noah: Live at the London Apollo
Message from Trevor:
BUY "IT'S MY CULTURE" NOW: http://trevornoah.com
Trevor on Twitter: http://twitter.com/trevornoah