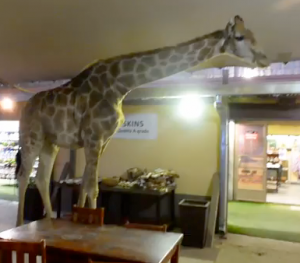 What do you do when a giraffe walks into a bar? Film it of course! And that's what a user by the name of 'Tambako' did back in September 2013. This week her video has gone viral since newspapers in the UK and Australia discovered her unique upload on YouTube.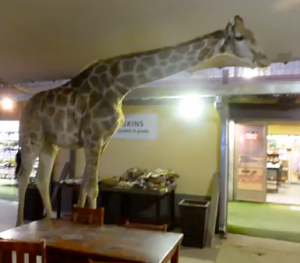 The video shows a giraffe – by the name of Perdy – sauntering casually in to a restaurant – to the surprise and amusement of tourists – at the Lion Park near Johannesburg.
It seems the Lion Park really means it when they say on their website that the Park " allows animals access to all areas" and offers visitors a chance to "experience the thrill of being 'up close' with many of the wild animals."
Tambako was working as a volunteer at the Lion Park at the time she filmed this.
"The tame female giraffe used to walk through the restaurant of the park at dusk, to the great astonishment of the guests, volunteers and personnel!" she says on YouTube.
"For her size, she was quite careful! She visited us almost every day. Sorry about the quality, but it was quite dark…"
In the video you can hear nervous and giggling – but excited – tourists trying to work out how they're going to tell this to their friends back home. Luckily there's the video! (Note to South Africans: this makes it a lot harder to convince foreigners that we don't really have wild animals roaming the streets!)
The Lion Park was chosen by Newsweek as one of the Top 100 Destinations in the world.  
Perdy the Giraffe Walks into a Restaurant in South Africa: 
And here's just a little more as she navigates her way out: