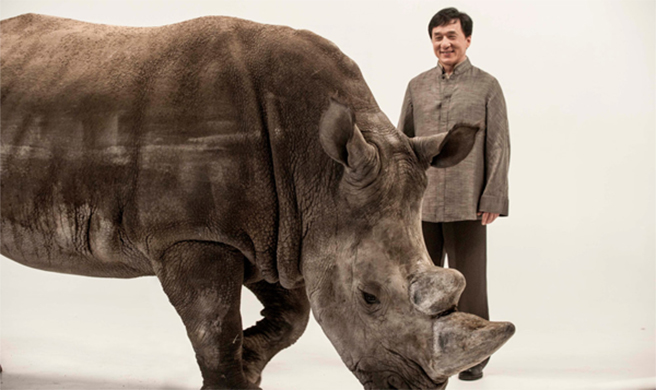 Action star Jackie Chan has teamed up with a unique co-star, Spike the Rhino, in his latest video – Tools of the Trade. Their mission is to deliver an anti-rhino horn message, and the Chinese media are on side.
With 1004 rhino slaughtered in South Africa last year, this message could not be more urgent.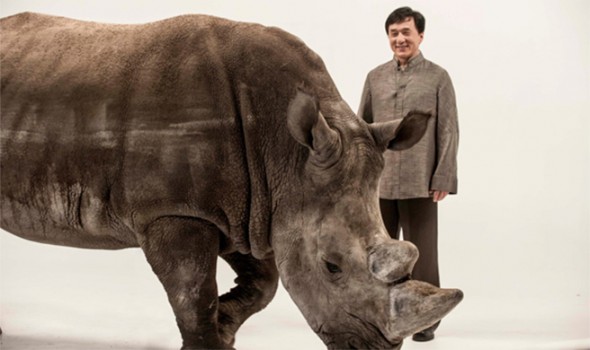 The video's release comes as leaders from about 50 countries – including the presidents of Botswana, Chad, Gabon, Tanzania and a delegation from China – have gathered in London for the International Wildlife Trafficking Symposium, organised by United for Wildlife. It's hoped that this two-day summit at the Zoological Society will mark a turning point in the fight against the illegal poaching and trade of specifically elephant, rhino and tiger products.
The aim of the summit is to produce a declaration of political commitment from countries around the globe for a unified response to illegal wildlife trade – focusing on improving law enforcement, reducing the demand for poached and illegal wildlife products, and developing sustainable alternative livelihoods.
Coinciding with the summit, WildAid has released two video messages as part of what is apparently the world's largest campaign to reduce the demand for endangered species' products: "Whole World" and "Tools of the Trade".
TOOLS OF THE TRADE – JACKIE CHAN & SPIKE THE RHINO VIDEO
"Tools of the Trade" with Jackie Chan and Spike, a white rhino, was co-produced with the African Wildlife Foundation (AWF). A computer-generated rhino made of weapons also stars. This video will receive multiple screenings in China and Vietnam, along with a billboard campaign.
Longtime WildAid ambassador Jackie Chan is in London to urge officials to increase their efforts to combat illegal wildlife trafficking.
"If you are buying rhino horn you may be paying for more than just the horn," he says. "You're paying for guns, bullets, poisoned arrows, chainsaws, axes, and machetes to hack off the face of the rhino.  And you are paying for the life of a beautiful creature."
WHOLE WORLD – DAVID BECKHAM, PRINCE WILLIAM, YAO MING
The "Whole World" video features appearances from Prince William, football 'legend' David Beckham, WildAid ambassador and former NBA star Yao Ming (who has witnessed poaching first hand during two trips to Africa), and a 'crash' of rhinos thanks to GreenScreen Animals.
In "Whole World", Prince William announces that "sadly all the wild rhinos in the world can [fit into Wembley Stadium] with room to spare." He adds that "together we can save our wild rhinos. When the buying stops, the killing can too." (Well, Beckham says the last bit.)
Beckham also calls on the public to "ask your friends and family never to buy rhino horn".
ADDRESSING THE DEMAND & USING CELEBS & THE MEDIA
The Chinese media have donated well over $100-million of media space to the campaign! (Thank you!) Along with a government ban, the media have already been instrumental in helping reduce China's shark fin consumption by 50 – 70 per cent.
WildAid's Executive Director Peter Knights, who is speaking at the Symposium, says that as with the drug trade "traditional focus on enforcement" has not worked. "We must address the demand side if we are to save these animals."
Dr Patrick Bergin, CEO of the AWF, who is also attending the Symposium, explains that from what they see on the ground in Africa, "law enforcement alone cannot protect Africa's wildlife from the demand of millions of consumers." He says this is a global problem that requires a global solution.
"We need the voices of Jackie, Yao, and others to help draw attention to this crisis in consumer countries like China and Vietnam before it's too late."
A recent survey by wildlife organisations found that the majority of Chinese people were not aware that rhino horn products comes from poached rhinos, yet a larger number of these people do support government-enforced bans.
Read the full rhino horn survey here: http://www.awf.org/sites/default/files/RhinoHornDemand2014.pdf)
More Info on this campaign:
www.wildaid.org/rhino or www.awf.org/sayno.