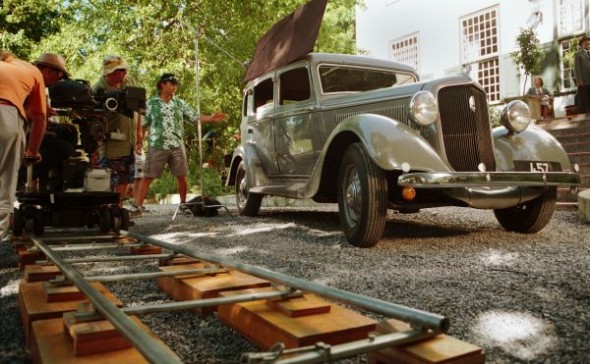 A group of Hollywood heavyweights has arrived in South Africa – looking to spend their film and TV production budgets in the country. With that as their mission, the four American executives met South African production professionals at National Film and Video Foundation (NFVF) headquarters in Houghton in Johannesburg, before travelling down to Cape Town for a second meeting.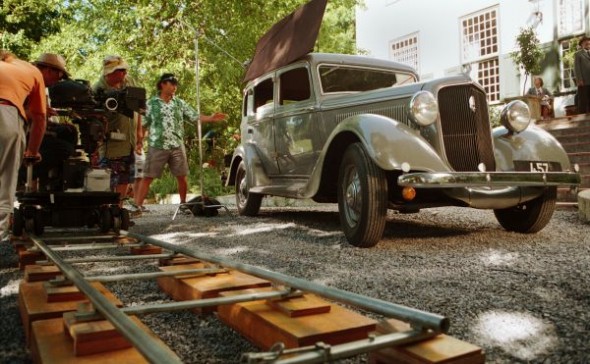 The high-profile LA producers are on a ten-day trip to South Africa, as guests of the NFVF, Brand South Africa, the Gauteng Film Commission, Wesgro, SAA and SA Tourism.
Their trip is the result of a study conducted by the NFVF which found that of the 70 movies produced with the help of government incentives in South Africa in 2012, just seven were foreign productions. Those seven were responsible for 40.5% of all money spent by film crews.
Films Already Shot on Location in South Africa include (in reverse chronological order):
"Avengers: Age of Ultron" (the cast & crew left just a minute ago – you can watch some of the Avengers video footage here)
Oscar-nominated "Mandela: Long Walk to Freedom" (2013) – starring Idris Elba and Naomie Harris
"Chronicle" (2012) – starring Dane DeHaan and Alex Russell
"Dredd" (2012) – starring Karl Urban and Olivia Thirlby
"Safe House" (2012) – starring Denzel Washington and Ryan Reynolds
Oscar-nominated "District 9" (2009) – directed by South African/Kiwi Neill Blomkamp
Oscar-nominated "Invictus" (2009) – directed by Clint Eastwood, starring Morgan Freeman and Matt Damon
"The Last House on the Left" (2009) – based on a book by Wes Craven
"10,000 BC" (2008) – fantasy adventure movie
Oscar-nominated "Blood Diamond" (2006) – starring Leonard DiCaprio, Jennifer Connelly and Djimon Hounsou
"Ask The Dust" (2006), starring Colin Farrell and Salma Hayek
"Lord of War" (2005), starring Nicolas Cage and Ethan Hawke
Oscar-winning "Tsotsi" (2005), directed by South African Gavin Hood, starring Presley Chweneyagae and Terry Pheto
And more!
South African Locations and Changes in South African Films
At the very spirited – but genial – meeting this morning in Houghton, NFVF's chief executive Zama Mkosi pointed out that the South African industry was a mature one which offers international crews professional, experienced technicians and a diversity of environments that have stood in for multiple locations in the past.
"Locations in South Africa have been used to portray 57 different parts of the world, from Sierra Leone to the Middle East and Afghanistan," said Mkosi.
She went further to tout the local industry as a source for productions, noting that as South Africa's democracy had matured the ideas making it on to film had also changed.
For local film makers, movies like Tsotsi won rave reviews but did not earn money in the local market (in which comedies were always the biggest earners).
"We are moving away from politically-themed films to portraying the everyday ordinariness of life," said Mkosi.
South Africa has already signed co-production treaties with eight countries – Canada, France, Germany, Italy, UK, Ireland, Australia and New Zealand – which allow approved productions access to government incentives.
South African Government Incentives
Guy Macleod, an entertainment lawyer at South African firm Irish Inc, added that the government has made it easier and beneficial for foreign film crews to tap into local incentives such as no-fee permits, and cheaper costs through agreements which local film commissions have with local suppliers.
Government incentives include a 20 per cent rebate for foreign productions that shoot on location in South Africa, and a 22.5 per cent break if they conduct their post-production in South Africa.
Macleod said that the biggest challenge for foreign productions has nothing to do with the quality of technicians, a lack of talented actors or even locations. In fact, he said, there is an "over-abundance of creative talent in South Africa".
"What we are sorely lacking is experienced and knowledgeable professional services, especially lawyers capable of marrying international entertainment law with South Africa's legal system," he said, adding however that the government is commited to building the industry, and this therefore means that strong South African legislation around the arts is being enforced, especially when it comes to areas covering copyright and ownership of productions.
"Yes there are challenges," he acknowledged, "but the positives make South Africa the best option for producers looking for the biggest bang for their dollar."
Carol Coetzee, the chief executive of the KZN Film Commission, highlighted the opportunities available to anyone who wanted to shoot in KwaZulu Natal. From mountains to sea, the province provides various types of locations for various kinds of films, as evidenced by the region's rich film history which includes everything from family flick "Racing Stripes' to war drama "Zulu" has been filmed.
A crucial element for film productions is access to reliable high-speed connectivity that allows directors to send daily rushes to overseas bases. According to Coetzee, this is addressed in KZN, where "Durban is within 150 kilometres of three sea cables connecting Africa to the world, plus the province is spending millions building a technology hub at the Dube Trade Port."
Positive Feedback Already!
One of the Hollywood executives on this recce – Mary Ann Hughes (a Disney vice-president) – was involved in the recent "Avengers" filming in Johannesburg, and was able to report back this morning on its success (despite the traffic chaos!), saying:
"We will be back. The shoot came in on time and under budget, which never happens on these kinds of projects." ("Avengers" is being produced by Marvel, a subsidiary of Disney.)
Sara Spring, a senior VP at Paramount, who is also on the trip, said that South Africa has earned a good reputation with American crews and film companies. The television series Black Sails, an imagined prequel to the pirate novel Treasure Island, was recently filmed in Cape Town.
She said that thanks to the great experience that producer Jon Steinberg had in South Africa, fellow producer Michael Bay  (director of the Transformers movie franchise) is now interested in filming his next project in South Africa.
"Jon kept telling Michael what a great experience shooting Black Sails was. That got Michael thinking that South Africa would be a great location to shoot the Teenage Mutant Ninja Turtles," she said.

Vince van Petten, the executive director of the Producers Guild,  said he was on the trip to encourage more people to join the ranks of movie producers. In his opinion, producers are the entrepreneurs who drive the industry. Referring to the Producers Guild's Diversity Workshop programme, he said:
"We have 6 000 members and the fact there are no South Africans is an omission we would like to correct. If I find a [South African] producer who fits the criteria I would extend an invitation to them for our workshop."
To be eligible to join the workshop, a producer has to have produced a movie that has been sold to an international market. Van Petten explained that the reward will be "working with a producer in the US on a movie going into production. The opportunity provides you with a chance to not only learn the ropes of the art, but also to grow your network and give you access to an international market place."
The fourth Hollywood executive on the South African trip is Kate Bevda, a senior VP at Warner Bros.
NFVF's Mkosi ended this morning's meetings by saying to the four Hollywood players that South Africa "offers great opportunities. We know you want to make movies here and we want you to make movies in our country."
By: Sulaiman Philip
Source: www.mediaclubsouthafrica.com