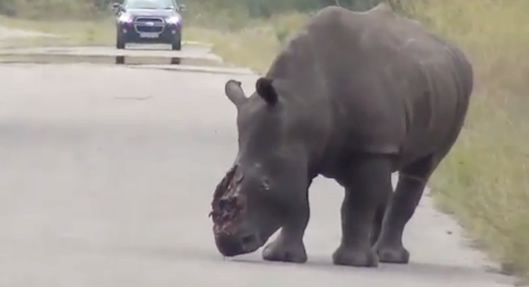 This is incredibly sad. A video has been uploaded to YouTube showing a young rhino – with its horn cut off – staggering helplessly in the Kruger National Park, before disappearing into the undergrowth.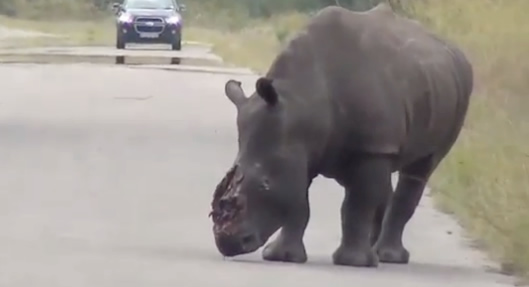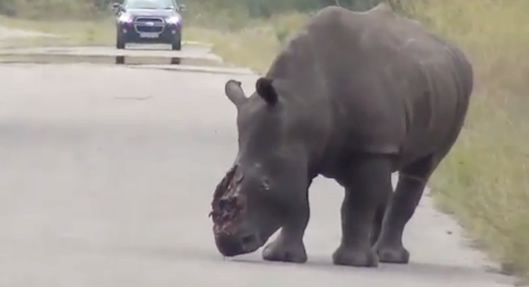 The video was filmed by tourists last week, on the 28th of February, near Phabeni Gate. They alerted the South African National Parks (SANParks) who immediately dispatched a helicopter and rangers to search for the animal.
It took five days to locate the mutiliated animal which had wandered quite far. Tragically it was still alive when found on Tuesday, but dying a slow, agonising death due to a bullet in the head and its horn having been hacked off by poachers.
Reynold Thakhuli, SANParks Acting Head of Communications, described the rhino's condition as bad.
"An assessment was conducted to determine the extent of the injuries and suffering. It was discovered that a bullet had lodged in the rhino's brain and therefore any chance of survival was slim," he said, adding that the Ranger in charge had assessed the animal and taken the decision to end its suffering.
"There was simply no chance of surviving for this poor animal and unfortunately it had to be put down," said Thakhuli.
SANParks extended its gratitude to the visitors who alerted the authorities about this heart-breaking incident, and to the Rangers for their "sterling job and dedication to finding the animal despite challenges with the weather conditions and tough terrain they had physically tackled in search of this animal."
Several roads in the Kruger Park were closed this week due to heavy rains.
SANParks said: "We will continue to work hard in the fight against the overwhelming scourge that is currently targeting the KNP…to us one rhino killed is one too many."
Last year a total of 1004 rhino were poached in South Africa. The Kruger National Park was the hardest hit, losing a total of 606 of the iconic animals to poachers during 2013. In the same year, 133 poachers were arrested in the Kruger Park.