When the going gets tough, South Africans helpmekaar. With the recent heavy rains causing road closures in and around Lephalale (formerly Ellisras), the town has been supplying food and petrol to farmers who have been cut off. UPDATE: The area is now on a flood warning as 4 dam walls have allegedly broken.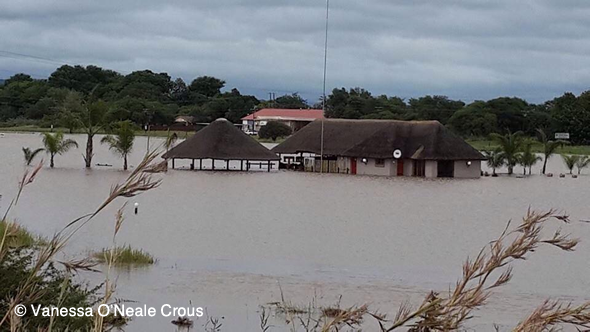 Local Lephalale resident Sandra Lopes, who sent in these dramatic photos (from Ellisras Saampraat via Noordelike Nuus), said the town has pulled together for the farmers since Lephalale – in the Limpopopo province – became stranded from the rest of South Africa.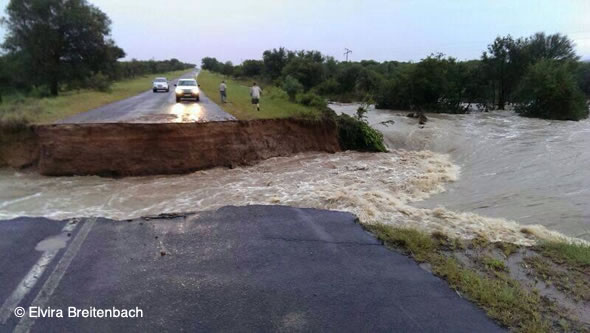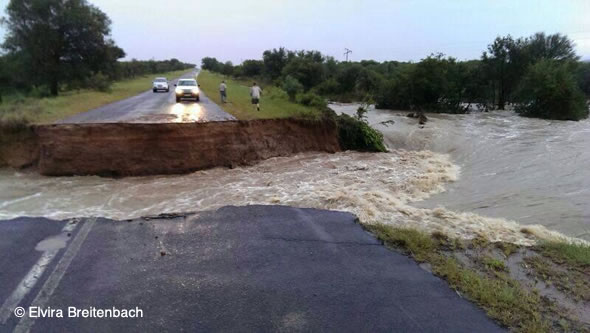 With the use of "choppers" (helicopters) flying in, and social media pages like Saampraat, as well as an organisation called Kupcakes (who have arranged for locals and shops to donate), the town people have been able to help the farmers.
In one exchange an Afrikaans resident asks a farmer: "Hi. Wat is die tyd vir aflaai. Hu laat is laaste. My seun wil dat ek tien brode koop. Ek sal ook brood en melk bring. Sal gaan net as pick a pay oopmaak. Sterkte met julle reelings en baie dankie vir cupcakes. Xxx"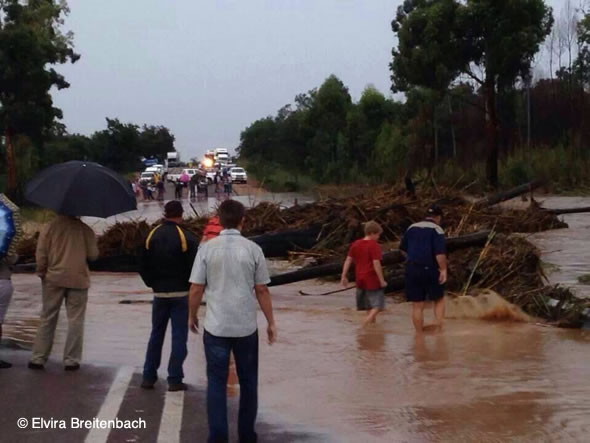 Modimolle (Nylstroom) and Vaalwater Road are confirmed closed. And there are reports that Thabazimbi and Marken are also closed.
The heavy rains (which also caused road closures in the Kruger National Park) ended on Saturday, but started again this afternoon.
Sandra said "this is not the first time Ellisras has come together. There is the Pippie case, of the little girl who suffered severe burns on New Year's Day; Michayla, the little girl bitten by a Mozambique spitting cobra and then there's Erica, the little girl who lost both her parents in a car accident in front of her school and everyone pitched together to help with medical expenses, especially a helicopter to fly her to Pretoria. I've been here three years and very proud of being an Ellisrasser".
The Kupcake caregivers is actually run by Charmain Wilson Robbertse, mother of the little girl Kayla who was bitten by the Mozambique spitting cobra. She has posted on her page requesting that all those who have been evacuated go to Mogol Club where they will receive food, and where sleeping arrangements will be made.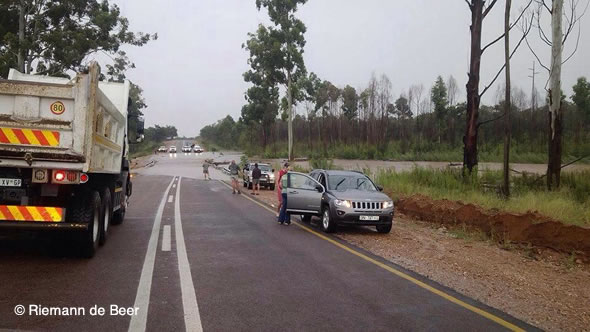 UPDATE: Photos from this morning (Tuesday 11 March 2014)
The waters continue to rise and Noordelike Nuus reported this morning that "The Lephalale Traffic Department confirmed (at 08h25) that the Markenroad may be closed within the next hour or two due to rising water levels. According to residents, the only open road out of Lephalale is the Medupi-Kapersbult road (turn right on the Afgunsroad and take the Afguns road to Thabazimbi). Thabizimbi police has confirmed (at 08h30) that the Crocodile bridge is still open. The roads between Vaalwater and Modimolle are all closed."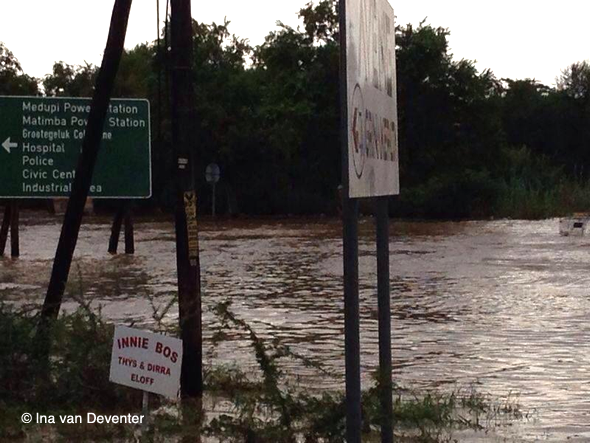 These photos show this morning's activity in front of Palm Palk Hotel, and at the T-junction at the Hotel.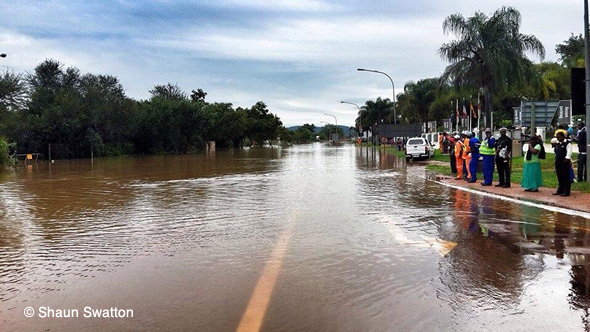 Below is the family entertainment area, next to Mogol River which is still rising.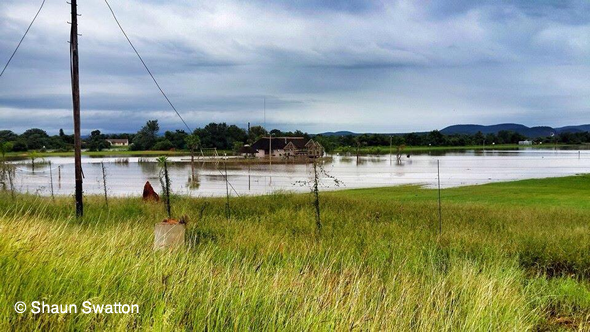 The situation is worsening as flood gates had to be opened and Mogol River is rising.
"People are starting to be alarmed as to how long we'll be in this situation," says Sandra.