Highveld Stereo 94.7 Producer Brad has created one of the first Oscar Trial parodies to go viral. The Barry Roux Parody Song started as an audio file on SoundCloud but has now been published on YouTube.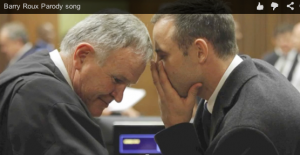 The video visuals include a collage of photos from the trial showing defence advocate Barry Roux in his most typical poses. Some pictures include Roux with with his client, athlete Oscar Pistorius who is standing trial for the murder of his former girlfriend Reeva Steenkamp in the early hours of Valentine's Day last year.
In this parody, producer Brad O'Regan impersonates the advocate's particular South African accent, his style of questioning and his favourite expressions.
The song starts with the words:
"I put it to you
That it's true
Everything you say,
I will misconstrue
I'm Barry Roux, and
I put it to you
Ten times in a row
Just to confuse you…"
And there's more… Watch the Barry Roux Parody Song below: