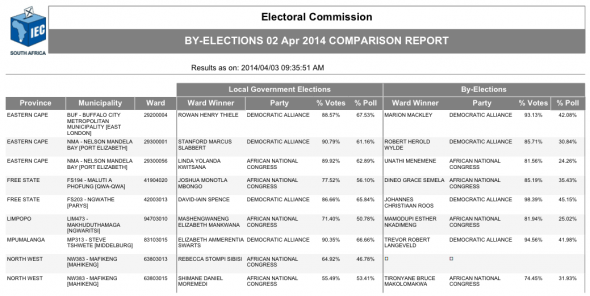 In the municipal ward by-elections yesterday, the Democratic Alliance and the ANC both fared well.
The by-elections took place in the Eastern Cape, Free State, Limpopo, Mpumalanga and North West on Wednesday, 2 April 2014.
A total of nine wards were contested and voting took place in 35 voting districts.
Of these, so far four have been won by the ANC, and four by the DA.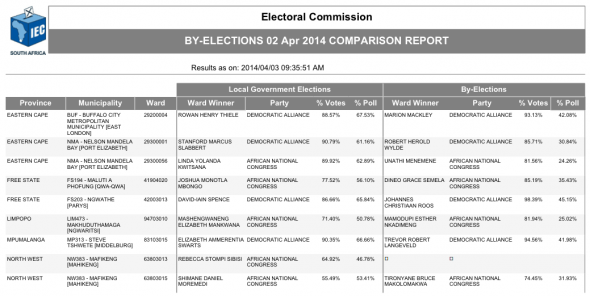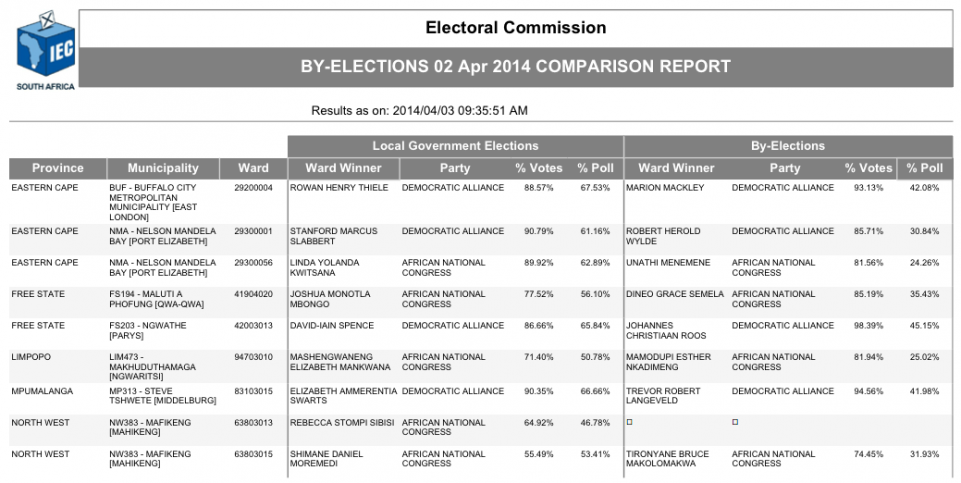 Allegedly concerned by the distraction of the Nkandla controversy during this election period, President Zuma submitted a report on the same day (ie. yesterday) in response to the Public Protector's report on the security upgrades at the South African President's Nkandla residence.
In the report to the Speaker of the National Assembly, Mr Max Sisulu, Zuma noted that  three state agencies or institutions – the Public Protector, the Justice, Crime Prevention and Security Cluster of Cabinet and the Special Investigating Unit (SIU) – have all inquired into  the same subject matter, and that he therefore has decided to give a full and proper consideration to all the matters before him and, upon receipt of the SIU report, will provide Parliament with a further report on the "decisive executive interventions that he would consider to be appropriate".
In a statement on the Presidency's website, it said "the President remains concerned about the allegations of maladministration and impropriety around procurement in the Nkandla project, in particular the allegations of cost inflation."
By the 5 pm deadline yesterday, the Electoral Commission had received over 40 submissions regarding objections to candidates of political parties for the national and provincial elections. Some of the submissions relate to more than one candidate and it is possible that more than one objection has been received for the same candidates.
The Commission has until 07 April 2014 to consider and finalise these objections.
In the by-election in KwaZulu Natal on 26 March, five by-elections took place (an extra one has been postponed). The African National Congress won three of the five wards contested. Of the remaining two wards, one went to the Inkatha Freedom Party and the other to the National Freedom Party. The voter turnout was an average of 38.16%.