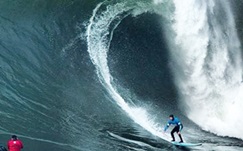 SA's Baker crowned Big Wave world surf champ
South African surfer Grant "Twiggy" Baker has been crowned the Big Wave World Tour (BWWT) world champion after racking up more than double the number of points of any of his competitors during the 2013/14 BWWT season. 'I gave it my all' "I gave it my all this year, basically put my personal life on […]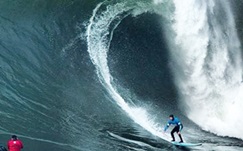 South African surfer Grant "Twiggy" Baker has been crowned the Big Wave World Tour (BWWT) world champion after racking up more than double the number of points of any of his competitors during the 2013/14 BWWT season.
'I gave it my all'
"I gave it my all this year, basically put my personal life on hold and went for it," said Baker after being confirmed as the champion on Monday.
"I only surfed big wave boards for almost nine months. I looked for the most testing, biggest conditions on every swell, even if I knew a perfect point around the corner was going off, and I worked on my mental and physical wellbeing, so I was in the best possible condition to compete."
Two victories
The 40-year-old from Durban won the opening two events on the tour at Punta Galea in Spain in December and Mavericks in California in January before placing third at Nelscott Reef in Oregon last month to take a virtually unassailable lead in the rankings.
With just one event remaining at Todos Santos in Mexico and his closest opponent, the USA's Ken Collins, mathematically able to overtake him if Collins won that event and Baker did not compete, Baker had to wait until the season closed on 31 March without the event running before being officially recognised as the world champion.
'The best part'
"It means quite a bit to have put the time into something and be rewarded for it. And to bring the world title back to South Africa is the best part," Baker said
"With Bianca (Buitendag) doing so well at the moment and Jordy (Smith) ready to pounce, I believe South African surfing is in a strong place and we can build the next generation from this base."
Baker, who is also the only big wave surfer to be nominated for two awards in the 2013/2014 Billabong XXL Global Big Wave Awards that will be announced next month, went into the season after losing his sponsor and knowing that he would have to raise his game in order to be able to continue competing internationally.
'A big motivating factor'
"In the past I was never really into the competitive side of surfing and preferred the more soulful aspect of the sport, but with losing my sponsor in July 2013, I realised I would have to compete and win in order to keep getting paid to surf and this was a big motivating factor," he explained.
"Since winning Mavericks and upping my profile, I have been fortunate enough to sign with VISSLA and Isurus wetsuits, along with upping my existing sponsors with BOS Ice Tea and Future fins, so right now I'm in a great situation and I can continue to surf for another three years."
2014/15 ASP Big Wave World Tour
The 2014/2015 ASP Big Wave World Tour commences on 15 April and showcases the world's premiere big wave surfers. There are three events in the Southern Hemisphere at Punta de Lobos, Chile, and Pico Alto, Peru, with Dungeons, off of Cape Town, being added for the first time.
The Northern Hemisphere leg includes Todos Santos, Mexico, and Punta Galea, Spain, with Pe'ahi (aka Jaws) on the Hawaiian island of Maui, also a new addition.
2013/2014 ASP BWWT FINAL RANKINGS
Grant Baker (RSA) 2 459.00 pts
Ken Collins (USA) 1 140.13
Nic Lamb (USA) 1 117.50
Shawn Dollar (USA) 938.50
Kohl Christensen (Haw) 864.88
By:  SAinfo reporter
Source: www.southafrica.info