Eish! This is what happens when you show off during a Porsche test drive…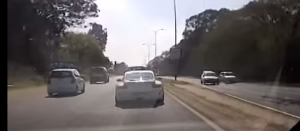 The driver of a white porsche in South Africa was filmed racing along Witkoppen Road…with unpleasant results!
The video is filmed and  narrated by Daniel Mellitchey, according to the video's notes on YouTube.
Please be warned – there is some bad language…and bad driving!