Mango Groove has been forced to cancel their forthcoming tour of Australia and New Zealand, leaving band members John Leyden "gutted" and Claire Johnston "disappointed beyond words".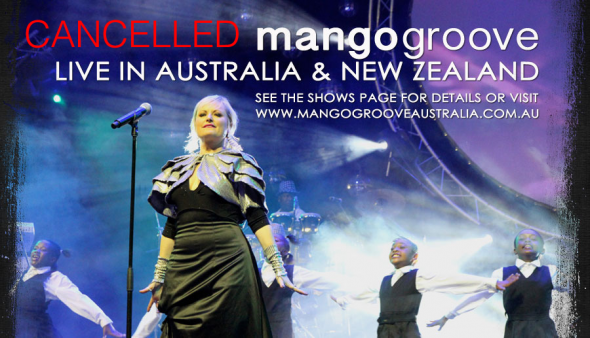 Leyden, guitarist and founder of the South African band, said: "What can I say? We are gutted. We have been looking forward to this tour for many months now, and are heartbroken at the fact that we will not be performing to all those loyal fans who were looking forward to the shows.
"At the end of the day, however, certain vital conditions were not met by the promoter, and it became clear that the tour would not be able to proceed in a way that was in accordance with our normal professional and logistical requirements.
"There is no bad blood at all with Mzungu Promotions, and in fact our sympathies go out to them: at a key juncture their main funder pulled out (for reasons unrelated to the tour), and this left them severely compromised in relation to fulfilling all their obligations. On this basis it became unworkable for us to continue."
Leyden's wife and Mango Groove's popular singer, Claire Johnston added "we are disappointed beyond words about this. I really hope this very regrettable development will not stand in the way of us visiting Australian and New Zealand shores again in the near future, and I truly hope that our fans will understand. This was a situation that was totally beyond our control and choice, but it doesn't make it any less devastating for us."
Unfortunately these incidents do sometimes occur in the world of music promotion. All parties concerned were apparently working together with the best intentions, but came across a stumbling block too big to climb over.
In a statement released today, the band's management said that "it is with huge regret that Mzungu Promotions and Mango Groove announce that Mango Groove's 2014 tour of Australia and New Zealand has been cancelled."
Mzungu Promotions extended a reassurance to all ticket holders that they will be refunded in full. Mzungu also took the opportunity to "apologize unconditionally for any inconvenience they may have caused to the thousands of Mango Groove fans who have already bought tickets for the shows."
All ticketholders will be contacted via email in due course.