A baby rhino who was tragically orphaned when his mother was poached last month, is winning hearts around the world…and raising awareness about the need to fight poaching which, by May 28, had already claimed 442 rhino in South Africa since the start of the year.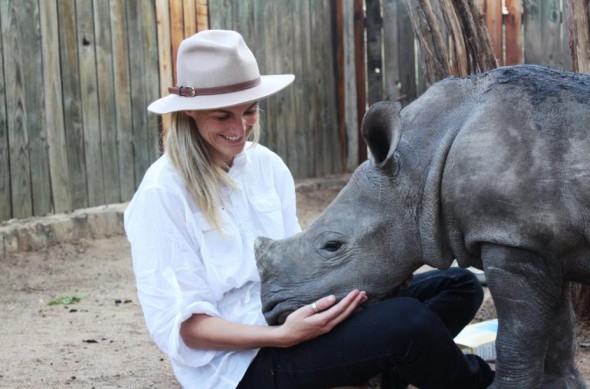 Gertjie, the little rhino who has been adopted by the Hoedspruit Endangered Species Centre (HESC), has been making newspaper and television headlines from the USA to the Netherlands.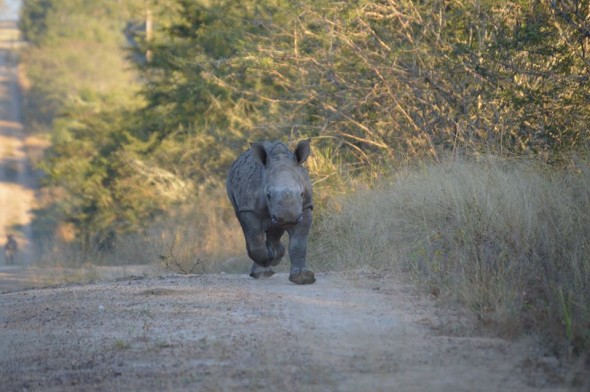 HESC first told the world about Gertjie on May 8 when they posted the following heart-breaking message on their Facebook page: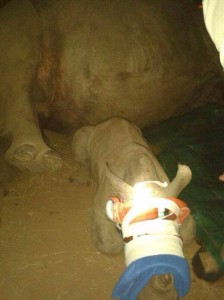 "We took custody of a very special animal last night. A 3-month-old baby rhino, anticipated to have been born on around the 19th February, was brought to the HESC after being found next to his dead mother who had been tragically and brutally poached for her horn.
"It was a devastating sight, as the tiny animal would not leave her side, and was crying inconsolably for her."
Gertjie's mother had been brutally mutilated by poachers at a nearby Game Reserve under the cover of darkness, and as with many of the rhinos who are poached, she died from her injuries. It is estimated that about two rhino are poached per day…and that if this current rate continues, rhinos will be extinct by 2025.
South African supermarket chain Pick n Pay have got involved to help raise much-needed funds for the expensive task of taking care of Gertjie who needs to be fed every three hours.
According to Pick n Pay's website "Gertjie is adapting well to life in the Centre and is slowly becoming more and more confident. He takes two long walks daily and absolutely loves his mud baths. And much like any child Gertjie is scared of sleeping alone at night. He spends sleep time snuggled up to a staff member and loves taking a snooze in one of their laps."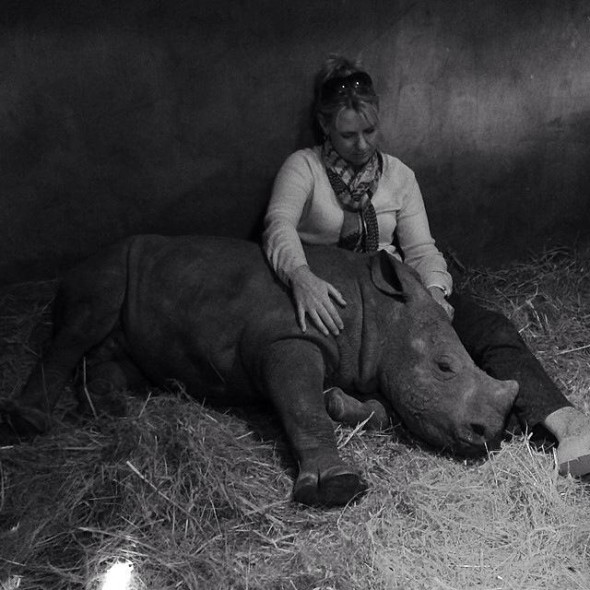 Due to the need to feed Gertjie for the next 18 months, HESC approached Pick n Pay for help .
"We were only too happy to be a part of this amazing story and began gathering as much powdered milk as we could. Along with our partners at Clover Dairies, we were able to donate 300kg of fat-free milk powder to HESC," says Pick n Pay.
Watch Video – Gertjie, baby orphaned rhino, has a Cuddle
Watch Video – Gertjie Chilling
How can you help?
Pick n Pay is appealing to smart shopper customers to donate their smart shopper points over the next two months to HESC. Points can be donated through the smart shopper kiosk in Pick n Pay stores or via the mobile app, and will be used to provide Gertjie with the milk he needs.
Pick n Pay Hypers will also have a trolley available for customers to drop off fat-free milk powder for Gertjie.
You can also donate directly to HESC: http://hesc.co.za/hesc_adoptions/adoptions_.php