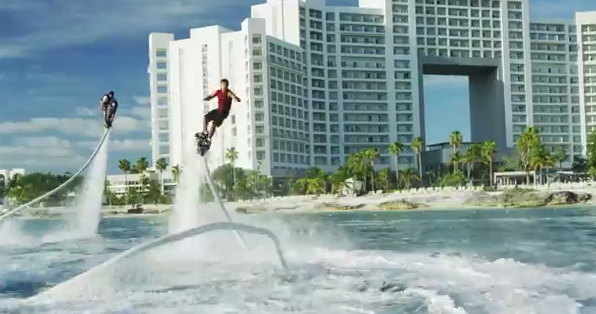 Is this not one of the greatest inventions ever?! Dad could have SUCH fun and adventure on Father's Day with this new hoverboard.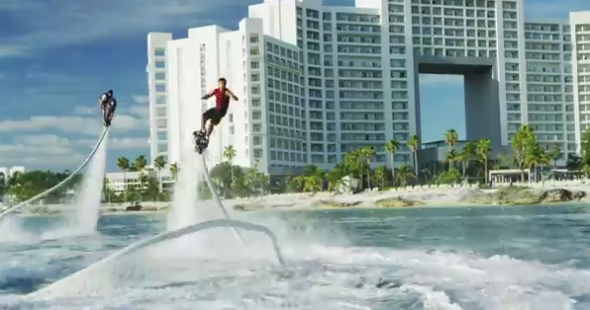 This new incarnation of the Hoverboard by Zapata Racing has been released this month…and with the awesome video below, is generating so much interest and sales that most of its creator's website pages are unavailable due to too much traffic.
The creator is Franky Zapata who invented the first flyboard back in 1996 when he was 17-years-old and entered the France Championship.
His latest evolution of the hoverboard is incredible and the footage captured on the video is beyond brilliant! This extreme watersport allows the riders to swim like dolphins and propel themselves 45-feet out of the water. Watch here:
Watch Video: Hoverboard in Real Life!
Two years ago Zapata actually did a show in Cape Town with an earlier version of his flyboard (see video below).
"All these years have been as beautiful as they have been difficult," says Zapata. "I often fought alone and against the biggest factories in the world."
He says that all the difficulties and "inequalities" he faced during the last few years, as well as the financial problems he had, have become his "main asset today". He was forced to work in all areas of the business – from being the sportsman to the designer, mechanic, marketing director and distributor – and by not being part of a big company was able to evolve the hoverboard his way and allow it to become "more accomplished and much more powerful than the ones of my competitors."
The video above was uploaded four days ago and has already received over 1-million views on YouTube! It was filmed in Mexico using GoPro cameras and a GoScope pole.
Watch Video – Franky Zapata in a show in Cape Town, December 2012
Start watching from about 1:40