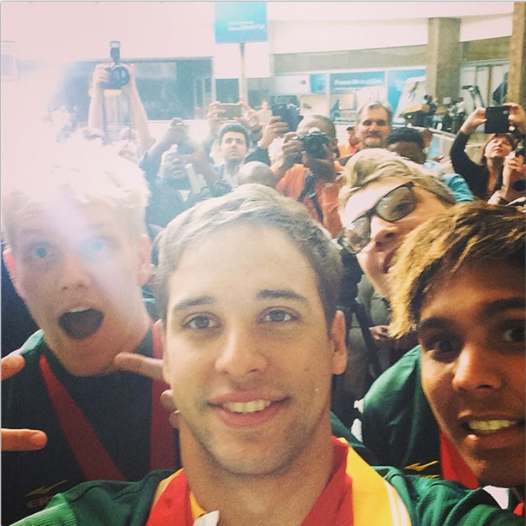 Chad le Clos returned to South Africa this morning an even bigger hero than when he left…having now made South African history by finishing the Commonwealth Games with seven medals!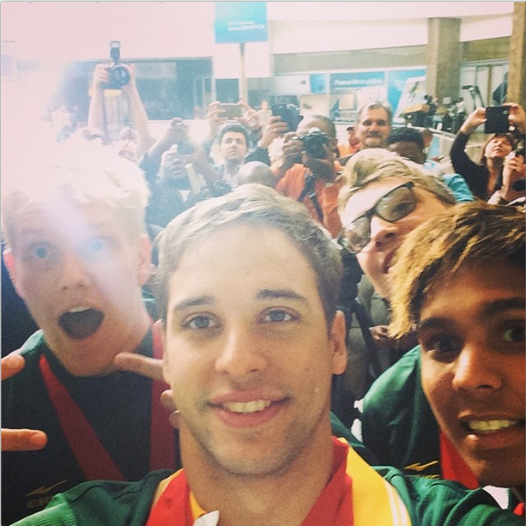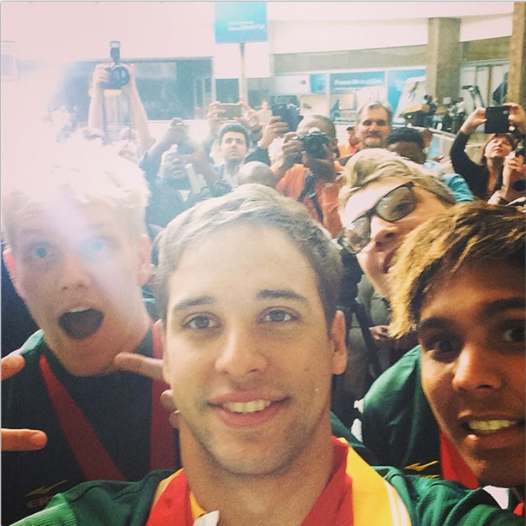 The 22-year-old sportsman was met at OR Tambo International Airport this morning by a throng of fans who were delighted when he posed with them for a selfie. He posted it a few hours ago on his Facebook page along with the caption: "Great reception this morning in JHB, big thanks to all for coming out #teamsa #ourtime."
An hour ago the swimming star posted another message on fb asking his followers to "read my exclusive interview where I talk about realising my dreams at the Glasgow 2014 games!"
In the interview – with GiveMeSport – Chad said he could never have achieved his dreams at the #Glasgow2014 without the support of the team around him.
"It is incredibly difficult and I must thank my team around me. My coach Graham Hill, physiotherapists and doctors that have been helping me recover in between races with massages and ice-baths. I would be lying if I said it was all down to me. I had a team around me which is great, so a big ups to them," he said.
During the interview he said he was feeling awesome. "It has been a dream of mine to make history right from four years ago when I got my first gold medal from the Commonwealth Games."
It planted a "hunger and desire" to win more and make history. He told GiveMeSport that he is "really, really proud".
Chad won gold in the 100m and 200m butterfly, silver in the 4×100 relay, and won bronze medals in 50m butterfly, 200m individual medley, 4x200m freestyle relay and the 4×100 medley relay.
Read and listen to the full interview here: 
http://gms.to/1lgdjEN