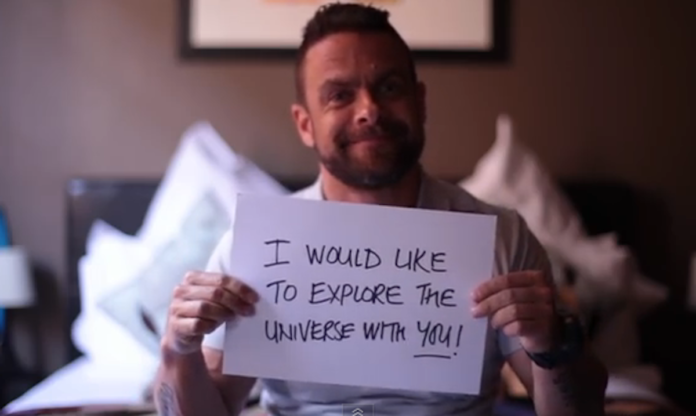 A South African movie director has created a romantic marriage proposal for his Trekkie boyfriend with the help of legendary British actor Sir Ian McKellen! And the video is now going viral around the universe.
Brett Lotriet Best turned to McKellen for help in making his proposal after McKellen's frequent co-star and best friend Patrick Stewart was unavailable.
Brett's boyfriend – and now fiance! – Khalid Shawwa (aka Mookie) is apparently a huge fan of Stewart's Star Trek character Captain Jean-Luc Picard.
In the video Brett, holding handwritten placards, says "we all know how you feel about Star Trek's Cpt Picard. So I searched the galaxy for Patrick Stewart…And finally asked his best friend for help!"
McKellen then delivers a wonderful heartfelt message to Khalid (whilst holding a movie clapboard that says "Mookie, will you marry me?"). The X-Men and Lord of the Rings star also reveals that Stewart is already married, and in fact that it was he who presided over his friend's wedding.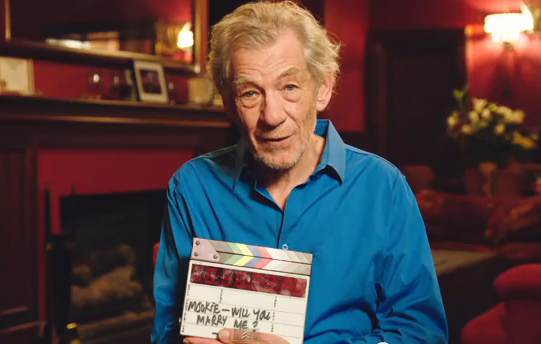 The video features Khalid performing a whimsical rendition of Anna Kendrick's popular 'Cup' song (Pitch Perfect's 'When I'm Gone') for Brett, and ends with Brett's message: "I would like to explore the universe with you."
Brett has worked on the South African version of 'The Biggest Loser', directed the documentary "Miracle Rising: South Africa" last year, and recently worked on "Nelson: Mandela Redrawn", a documentary about the former President featuring Charlize Theron amongst others.
Brett uploaded the marriage proposal to his Facebook page a few days ago with the message "I think I have a yes!"
Watch Video: Khalid Shawwa's question (The Proposal!)
Video – Nelson: Mandela Redrawn Promo
A Brett Lotriet Best documentary…
Video – Anna Kendrick – Cups (Pitch Perfect's "When I'm Gone")
For those who don't know the Cup song! (Or who love it so much they want to hear it again!)