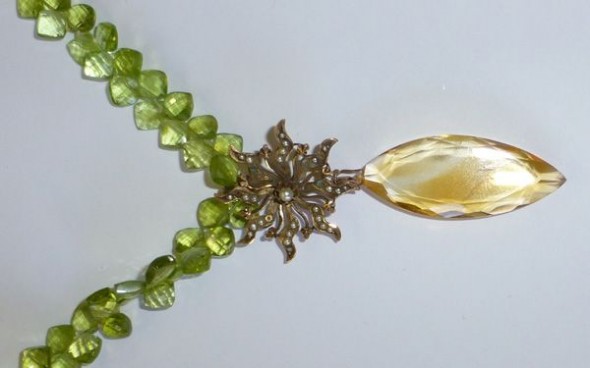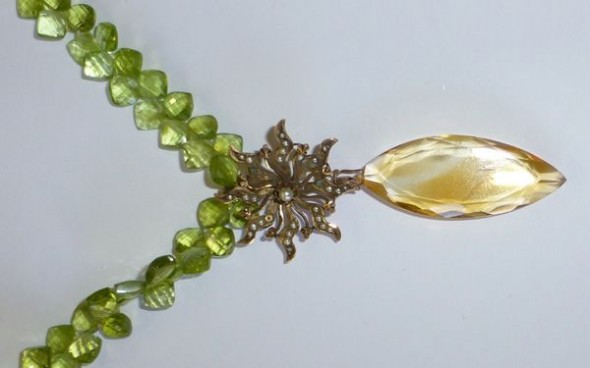 Theron modelled his bead and diamond choker at the 2012 London Fashion Week, in collaboration with the Ubuntu International Project. The piece, featuring a 4.18 carat emerald-cut diamond with 684 smaller diamonds, won him the De Beers Diamond International Award in 2000.
His Ponahalo necklace, created for the Geneva-based Steinmetz group, is composed of a 316.15 carat diamond which was cut into five stones, and together with glass beads and 276 safety pins, was made into a Marie Antoinette-style necklace. The diamond was found at the De Beers Venetia mine in 2005, and was given the name Ponahalo, a Sotho word for "vision", as the mine is in Limpopo Province where Sotho is spoken. The beads and safety pins are items that the Venda people in Limpopo use in religious rituals.
The necklace was shown at the Cannes Film Festival in 2007, and auctioned at the Monaco Grand Prix in the same year. This necklace and other jewellery items of Friedman's were featured in the US magazine LuxLife in 2008. He indicates that his items range in price from £1 to £20-million.
This global South African trained as a fine artist, and now describes himself as a "jewellery artist". For him if an item "has beauty it deserves to exist". So, if it's a tin can which he covers in beads, or a diamond, it has aesthetic and equal value, he states.
His pieces have featured in the US luxury speciality store Neiman Marcus, in luxury American home furnishings and home décor retailer Gumps of San Francisco, and Woman's Day magazine. He has also created a line of beadwork Christmas decorations for the Designers' Guild in London, as well as a line of pewter and wood desktop items for Tiffany & Co in New York.
Friedman uses found objects to create jewellery too. In 2010 he created his iRibbit collection for the iStore in Sandton, Johannesburg. Using Apple keyboard parts he created earrings and cufflinks. He combines the computer bits with precious metals and stones – the result is a rosary cut-out of motherboards, a neckpiece made from iPod earphone pieces, and a candle holder for Hannukah.
"Kevin is a renaissance man who draws on the world around him for inspiration and creativity," indicates Frankliwild.com, the studio, and online store, specialising in African-themed jewellery and home and office décor, from which Friedman works and exhibits.
He makes custom-designed pieces for corporate and private clients internationally, with a focus on clients in the US. His popular and award-winning Ndebele tree topper has appeared on eight re-issues of South African stamps.
Friedman is a seventh-generation jewellery maker. His grandfather Jack Friedman – originally from Riga in Latvia – set up a jewellery manufacturing factory in Johannesburg in 1934. He was a founding member of the South African Jewellery Council and he and his brother Frank were apparently influential in developing the South African jewellery industry. Frank won awards from the Gold Council and the Chamber of Mines.
"Kevin says that his father was particularly encouraging during the course of his career, allowing him to experiment and to push the envelope, while teaching him that education is the starting point of strength," records Frankliwild.com
Friedman believes women who are confident wear his pieces, "because the pieces are very strong and they do draw attention".
"I work in thought processes rather than collections, so every day is a new collection," he said at the 2012 London Fashion Week.
He has just produced a new range of jewellery, coming out of a recent trip to Cuba. He has changed his colour palette from bold African primaries to lighter greens, yellows, blues and pinks to "convey a sway of colour and light".
"There is a sense of musicality in the necklaces which are intended to mould sensually to the body, yet dance with it," he indicates. He has used flowers, shells, beads and long strands of brightly coloured cloth, and even a miniature dice on one necklace, "a throwback to Havana's wicked gambling past".
"My style has revealed a different kind of boldness. It is gentler but still bold, in a different way."
By: Lucille Davie
Source: www.mediaclubsouthafrica.com