As dignitaries, celebrities and fans around the world wish Archbishop Tutu a happy 83rd birthday today, one of the most fitting tributes comes from a fellow South African, Gauteng businessman Tshepo Motsitsi who published the following message on Facebook. It is republished here with his kind permission.
Happy Birthday Desmond Mpilo Tutu – by Tshepo Motsitsi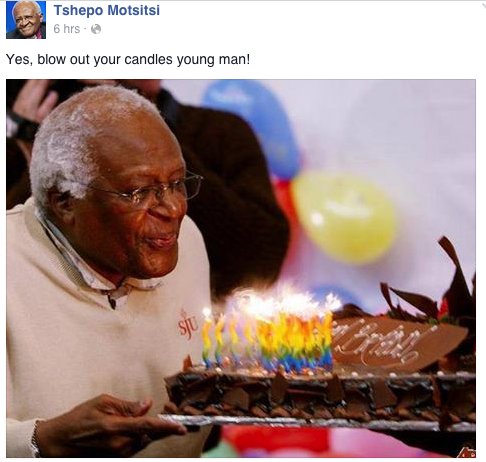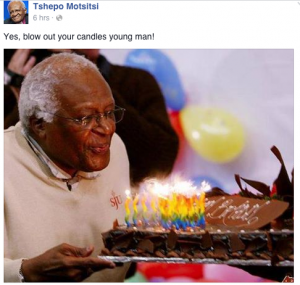 It is said that history is written by the victor. In modern day South Africa this is taken a step further in that current events are also tailored to fit the perception the victor wants to predominate.
The treatment meted out to Archbishop Emeritus Desmond Tutu by the ANC government is but one example of this.
Desmond Tutu's biography is stellar and has earned him global recognition, respect and adulation. It is, however, an autobiography some in the current ANC leadership want us to disregard.
Desmond Tutu's relationship with South Africa's democratic government plummeted from a loving relationship with Nelson Mandela to a cold non-relationship with the man who now occupies the Presidency.
Desmond Tutu has always had the courage to speak out against what ills our society, his outspoken nature does not sit well with those who have skeletons in the closet and are walking on thin ice or teetering on the precipice.
The Arch famously rebuked Nelson Mandela and Graca Machel when he pointed out that, by co habitating, they were living in sin and were setting a bad example. Nelson Mandela took this criticism on board and turned around and asked Tutu to officiate at his wedding to Graca Machel. But then Nelson Mandela was a principled and magnanimous man.
Now compare the above scenario to the current situation where after criticising the government and the president on numerous occasions Tutu is ignored, ridiculed and not accorded the respect and stature an elder would be accorded in healthy democracy.
The memorial service for Nelson Mandela was a poignant point in this frosty non-relationship. The close relationship between Mandela and Tutu was conveniently forgotten as Tutu was not included in the official program. To rub salt into the wound Tutu was requested to say a prayer after most dignitaries had left and the stadium was emptying.
Desmond Tutu's criticism of Jacob Zuma over the Nkandla scandal is justified. Tutu's calling into question Zuma's morality and leadership ability were justified by Zuma himself as he staggered from sexual scandal to financial scandal to corruption scandal, not to mention Zuma's ineptitude.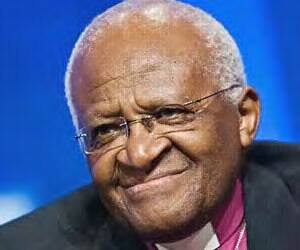 For the above and for commending Thuli Madonsela, Tutu is paying the price. For having an opinion counter to the ruling elite Tutu is being made out to be a pariah. For voicing his disappointment with the current ANC Tutu is insulted and disrespected.
Now I am not for one minute suggesting that Desmond Tutu is right 100% of the time, that would be assinine. The man is human and fallible but he has done better than most in maintaining an untarnished reputation.
Notwithstanding the shoddy treatment meted out by his own government Desmond Tutu is revered globally. The respect the international community has for The Arch reflects upon South Africa, a very fortunate turn of events for our country.
But in true South African tradition the day Desmond Tutu finally departs this world he will be celebrated and feted. Millions in taxpayers money will be spent on lavish functions to "honour" The Arch. Insincere and deceitful politicians will read out empty words composed by sycophantic speech writers. And in true South African fashion some of this taxpayers money will be misappropriated.
For many of us Desmond Tutu occupies a special place in our hearts. He continues to inspire and to be a guiding hand.
Despite being vilified he continues to be a shining beacon of morality and hope in a country plagued by corruption and lacking a moral compass.
He will not be with us forever and as such it is incumbent upon those of us who are able to rise above petty party loyalty to celebrate a man who has given tirelessly and so selflessly to building our beloved South Africa.
Happy Birthday Desmond Mpilo Tutu.
***
Watch Video: HipHopSavesLives – Happy Birthday Arhbishop Tutu
Illustrating Tshepo's point, here's a wonderful video created especially for Archbishop Tutu's birthday by HipHopSavesLives and admirers from around the world.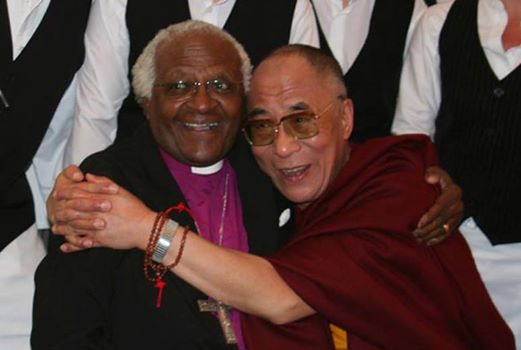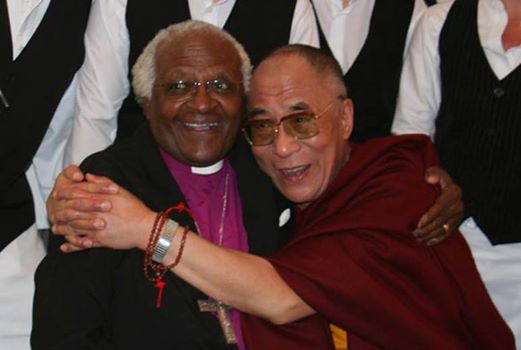 Tutu's Wisdom – Ten of our Favourite Quotes
1. We humans can tolerate suffering, but we cannot tolerate meaninglessness.
2. Young people, dream! You have to go on saying that peace is possible. Dream that this world can become better.
3. Many people ask me what I have learned from all the experiences in my life, and I say unhesitatingly: People are wonderful. It is true. People really are wonderful.
4. A person is a person through other persons.
5. Without forgiveness, there's no future.
6. If you are neutral in situations of injustice, you have chosen the side of the oppressor. If an elephant has its foot on the tail of a mouse and you say that you are neutral, the mouse will not appreciate your neutrality.
7. We may be surprised at the people we find in heaven. God has a soft spot for sinners. His standards are quite low.
8. When a pile of cups is tottering on the edge of the table and you warn that they will crash to the ground, in South Africa you are blamed when that happens.
9. Children are a wonderful gift. They have an extraordinary capacity to see into the heart of things and to expose sham and humbug for what they are.
10. Do your little bit of good wherever you are; it's those little bits of good put together that overwhelm the world.
11. We can only be human together.
12. Nothing is too much trouble for love.