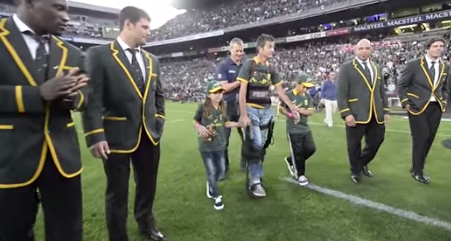 There was barely a dry eye at Ellis Park Stadium last Saturday (4 October) when former Springbok rugby legend Joost van der Westhuizen walked out on to the field at half-time. If you missed it, the video is below…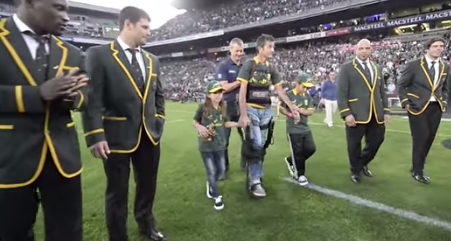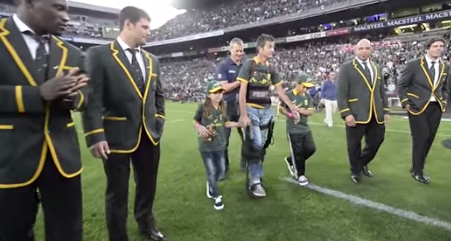 Last year, Joost – who was diagnosed with Motor Neuron Disease (MND) in 2011 – told BBC Sport: "I realise every day could be my last. It's been a rollercoaster from day one and I know I'm on a deathbed from now on.
"I've had my highs and I have had my lows, but no more. I'm a firm believer that there's a bigger purpose in my life and I am very positive, very happy."
And he has certainly been fulfilling that purpose, inspiring fellow South Africans and rugby fans around the world with his incredible courage and generosity of spirit.
Joost walked onto the field on Saturday – flanked by his children and a couple of Springboks – with the aid of a Rewalk Robotic suit, which comprises robotic leg braces developed by an Israeli company which act like an exoskeleton for people paralysed from the waist down.
His appearance inspired a standing ovation…and helped spur the Springboks on to a victorious 27-25 win over the All Blacks. Watch for his smile and acknowledgement of the crowd at the end. Phew…
Please click here to visit and support Joost's J9 Foundation