A barefoot 20-year-old street musician with a haunting voice – who hails from Kommetjie in the Western Cape – is drawing crowds in Berlin…and now, thanks to her breathtaking performance at a TEDx Berlin Talk, she is starting to gather fans on YouTube and across the globe. (See videos below.)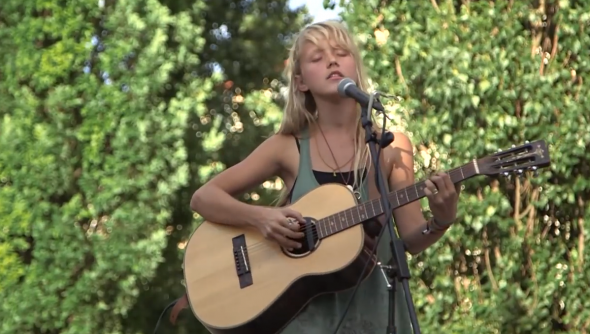 Alice Phoebe Lou always knew that when she finished school in South Africa she would head overseas to see the world.
So she packed up her things and travelled through Europe, until she found herself in the German capital with just 500 euros to her name. Hardly enough to afford the local trains for too long!
And so she looked around and saw the street musicians…and decided to join them.
"I could play some chords, and I'd been composing a couple of songs, so I went to the subways and I started playing," she says in a video interview (see below). She was incredibly shy at first, awkwardly staring at the ground…until she realised she had nothing to lose.
"Why be shy when you can just be open and enjoy it?" she says. "And as soon as you start enjoying it, the people around you start enjoying it…and [so] you start making a bit more money, a few more connections!"
And before you know it you're captivating an audience at a TedX Talk! Alice performed on stage at last month's TedX Talk in Berlin, after the speakers had finished, playing a selection of songs (including her self-penned 'Girl on an Island') which she hoped would be cathartic for the audience to help them "process" what they'd just learnt.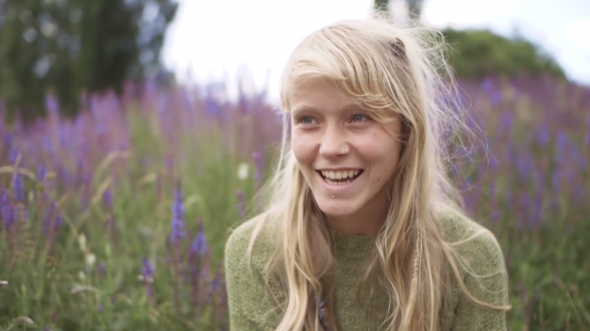 When introducing her last song 'Berlin Blues', Alice said the message she tries to convey with this song is "to just think about applying positivity into the smallest actions" in your life – like smiling at someone who walks past, being patient or more forgiving.
"These are the kind of things that people take for granted, but these small things can have such a ripple effect and I think make the world a better place for everyone," she says.
Even though the video is going viral and the world is calling, Alice is still committed to being a street musician because she's able to lift the spirits of a "whole bunch of random people" who are rushing to and from appointments. Many have stopped to tell her that they were having a "shit day", but that "then I saw you and everything felt better".
She jokes that she now almost feels "obligated" to get out there and help make someone's day, week, year, life. "It's like my social obligation to busk actually!"
The young South African plays every Sunday in the historical Mauer Park, where the Berlin Wall once stood.
Alice dreams of her music reaching more ears, and hopes to become an advocate for the "things I believe in".
She laughs, realising some people may not take her seriously being a "20-year-old, barefoot, playing on the street"…but she believes everybody needs someone to tell them "hey we can do this thing together. It's something that we can do something about. And I really hope that I could be that person, in a way."
Looks like she already is!
Watch Video – Performance by Alice Phoebe Lou at TEDx Berlin
Watch Video – Documentary about Alice Phoebe Lou in Berlin: "The people run this city"
Alice will be in New York this Friday night (7 November), 7 pm, at Rockwood Music Hall. (Please "tell all your friends" she asks!)
And…she will be in Johannesburg on 6 December 2014, opening for The Lumineers.
More Info
www.alicephoebelou.com