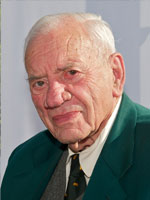 It is with sad regret that we have received reports on the death of South African (and international) conservation legend Dr Ian Player.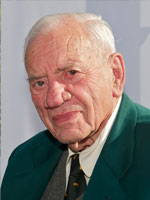 Dr Player who was 87-years-old suffered a serious stroke last Thursday and passed away peacefully at his home in Karkloof, Kwa Zulu Natal today, surrounded by his wife Anne and close family.
Just yesterday rumours about his passing were denied after  a tweet by his younger brother, golfer Gary Player, was misinterpreted. Gary had tweeted "my beloved brother Ian has cast his canoe onto the river of life that will shortly take him across to the other side. I will miss you. Love".
Sadly, today Dr Player's passing at midday has been confirmed.
The conservationist is widely credited with being the driving force in saving the White Rhino from extinction and so it is fitting that in the last hour officials from Project Rhino KZN announced: "Dr Ian Player passed away peacefully at his home around midday today. RIP knowing that the work you were so passionate about will be continued."
Indeed Ian Player was behind Operation Rhino which saved the White Rhino from extinction in South Africa in the '50s. He continued a long and distinguished career as one of South Africa's leading conservationists including the zoning of iMfolozi and St Lucia Wilderness Areas which were the first on the continent. His final promotion was to the position of Chief Nature Conservator for Natal.
He was also the founder of the Msunduzi Canoe Marathon and won the first six-day race despite having been bitten by a Night Adder.
From a young age Ian Player was influenced by the writing and philosophy of Laurens van der Post and thus by the great Psychologist Carl Jung. This eventually led to what is now known as The South African Association for Jungian Psychologists.
He will be missed by all as a leader in so many fields, and as a person who understood the link between our environment and our spiritual well-being.