When Pretoria boy Ted Botha moved to New York City, he was not so much an immigrant as someone on the make – a travelling South African looking to broaden his horizons. In no time he'd lied his way into a job in the New York magazine industry. Then he stumbled upon a small dilapidated building in Harlem and moved in. Two blocks away in Manhattan, apartments sold for $1 million and more, yet he'd found a place he could afford.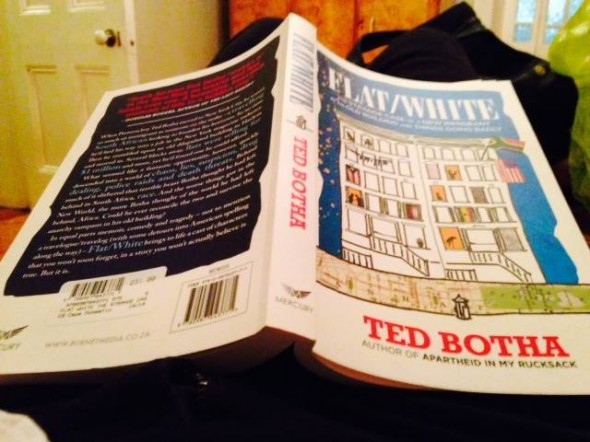 But what seemed like a fantastic opportunity quickly turned into a world of chaos, lies, conspiracies, suspicion, drug dealers, police raids and death threats. Behind much of it slithered that terrible beast Botha thought he had left behind in South Africa, race.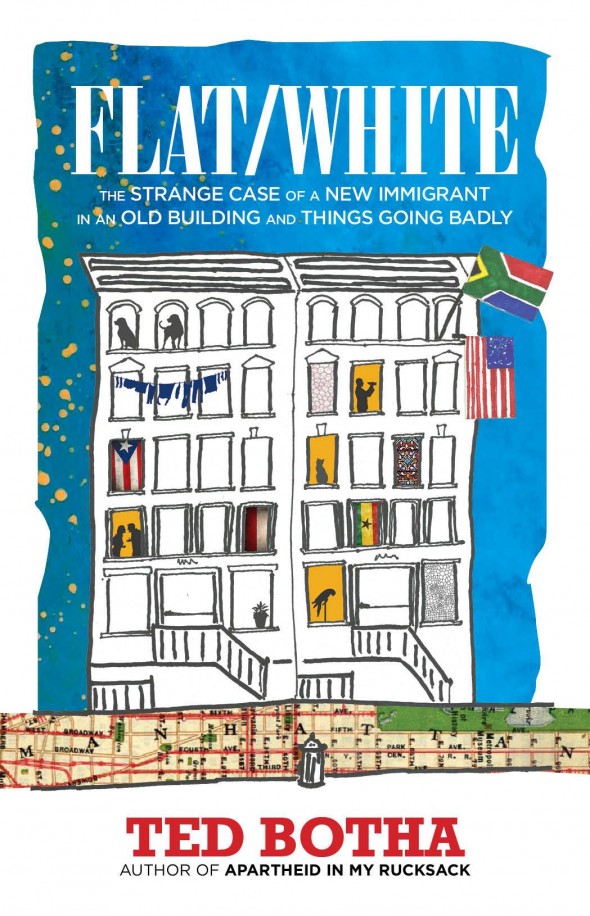 The more his boer-maak-'n-plan attitude was sabotaged and the worse things got in the New World, the more he thought of the world he had left behind, Africa. Could he ever reconcile the two and survive the anarchy rampant in the old building?
In equal parts memoir, comedy and tragedy, not to mention a travelogue/travelog – with some detours into American spelling along the way – Flat/White brings to life a cast of characters that you won't soon forget, in a story you won't actually believe is true.
But it is.
REVIEWS
What the reviewers say so far (and it's early days) about 'Flat/White: The Strange Case of a New Immigrant in an Old Building and Things Going Badly':
"This book is something of a love story, with rats. I enjoyed it hugely." Editor's Choice, The Weekend Argus
"A highly unusual blend of memoir, travel writing and anthropology, Botha's book describes a New York that exists way beyond the usual tourist haunts. An acute observer with an eye for the illuminating social details, his rueful account of his attempts to negotiate the obstacles and fathom foreign ways is consistently amusing and occasionally profound." – Anthony Stidolph, Witness
"(T)his is a delightful book, despite (Botha) having some neighbours from hell. He has a conversational and engaging style, drawing you in as if you are a good friend and this is an extended letter." The Weekend Argus
COMMENTS FROM READERS
"I have so much work to do, but could not put Flat/White down till the very last page! Completely enthralled by the goings-on and next installments."
"Read the book. Loved it!!!! (It proves) you can take the boy out of South Africa but you can't take South Africa out of the boy."
EXCERPT:
An excerpt from 'Flat/White'
THE NIGHTMARE BEGINS
Hector sat at his small kitchen table, his stubby fingers clutching a glass of whisky. It was ten in the morning. Under discussion was the painting of the public hallways and the retiling of the floors, actions that were about to transform our dirty, dark old building into something a bit more pleasant to live in.
All of a sudden, Hector changed the subject.
"You know," he began, his dark-tinted glasses camouflaging his eyes, "people in the building think you're a racist."
Tap went his finger on the tumbler, his oversized ring producing an ominous clinking sound against the glass.
I was silent for a few moments. We had jumped from the topic of prettification of the old building to one that was not pretty at all. On the verge of saying something, I stopped, sure it would sound false. When I finally opened my mouth, the words came across as stupid and hollow anyway, but they were all I could think of.
"But why? How? What have I done?"
"Well," Hector continued, masked by his cartoonish eyewear, "you are white. And all the people in the building are Hispanic."
That wasn't exactly true. In the thirty flats on the five floors around us, there was also a Polish girl, an Indian and several blacks, like Ella May Washington and Mrs McGreevy. Mohammed was from Ghana. And at least six flats were occupied by residents who changed so often you didn't know from one month to the next who they were or where they came from.
But all the people in the old building who were in trouble (I'll get to that in a moment, as well as how I was instrumental in them getting into trouble in the first place) happened to be Hispanic.
Hector wasn't finished with his charges either.
"You are also from South Africa," he said.
He didn't need to connect the dots for me to know what he was saying: White, possibly racist; South African white, definitely racist.
Tap-tap went the finger on the whisky glass again and he took another sip of his early-morning drink.
Hector didn't seem particularly bothered by the allegations he had just made – maybe he was, maybe he wasn't; maybe he was only interested in his whisky – but I knew his words signified a turning point. My dream of living in New York City was about to become a colossal nightmare.
How to get your copy of 'Flat/White'