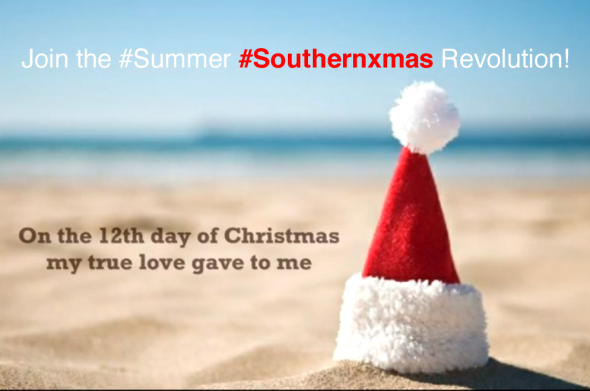 It's the Christmas Song that's swept South Africa this season – the local-is-lekker version of Twelve Days of Christmas. And it's not just the melody and words that make it so great…but the way it's changing perceptions, and making a Summer Christmas just as cool and 'real' for kids as the snowy winter one they see in so many books and movies…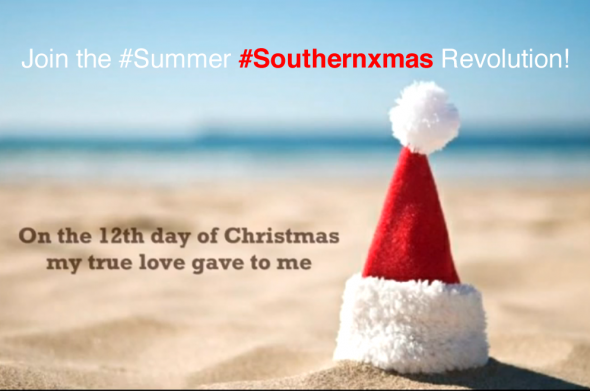 Meet The Nixter…aka Nicki Horn, a Cape Town mom of three who's the brains – and voice – behind this #Summer #Southernxmas Revolution:
What inspired you to create South African-ised Christmas Videos?
Growing up in Durban, KwaZulu-Natal, one of my favourite memories is of my mom and I singing silly songs while in the car. We'd spoof songs off the cuff, it was great fun.
I then married a wonderful fun man (Chris) who enjoys 'mincing words' in songs and we often come up with ridiculous songs. We're a fairly laid back family and seldom take anything seriously for long.
We have three sons under 5, and this time of year we are bombarded with questions and complaints like "when will it snow?" (mmm NEVER), "why don't we have snow at Christmas?" and most recently "Mommy, when can we have a REAL Christmas, with snow?"
Well that did it for me. It resulted in a 'White Christmas' rant from hell.
While frying up some bacon for supper, I started singing off the cuff spoofs of Christmas carols.
The '12 days of Christmas' seemed to get the most chuckles from my husband and brother-in-law Mitch Horn (aka Reddprime). We tested it out on our wonderful (and long suffering) friends @se7en_hoods and were encouraged to post it on YouTube. So I created the presentation and posted it with ZERO expectations.
Where did you record '12 Days of Christmas'?
The song was recorded in our church hall, with three screaming children on toe! It was a real circus 🙂 We're hoping to post another video soon after Christmas.
Your '12 Days' version – which celebrates South Africa's biltong, hadida, koeksusters, maatjies, droewors and so much more – has proved so popular it's fast approaching 100,000 views on YouTube! Have you been surprised by how much people love it?
We have been blown away by the response. I never expected that it would be quite so popular. On the coat tails of '12 days of Christmas' my previous video – 'Jingle Bells SA Style' – is sailing toward 10,000 views.
We seem to have struck a nerve, being a lack of Southern Hemisphere Christmas Music.
My hope is that other folk in the Southern Hemisphere (or that call the South home) will join the Christmas vibe #southernxmas and start pushing their #summer traditions, photos, food and music, so that our kids can feel like this is a real Christmas!
What makes you most proudly South African?
The thing that makes us proudly South African is our great DIVERSITY! Our closest friends are a "lucky packet" of races and cultures!
Where will you be spending Christmas this year?
We will be spending Christmas at home here in Cape Town, having our first real grown up family Christmas…naturally enjoying a braai and biltong!
Last Shout:
I would like to encourage all Southern Hemisphere people to start sharing, and being part of our # Summer #Southernxmas by joining the #Southernxmas revolution.
Watch Video – 12 days of Christmas South Africa
If you haven't already done so, please share the video to spread the #Summer #Southernxmas revolution!
Watch Video – Jingle Bells, South African Style
TheNixter uploaded this video a couple of years ago…but it's timeless, has a fab message, and is just as enjoyable today!