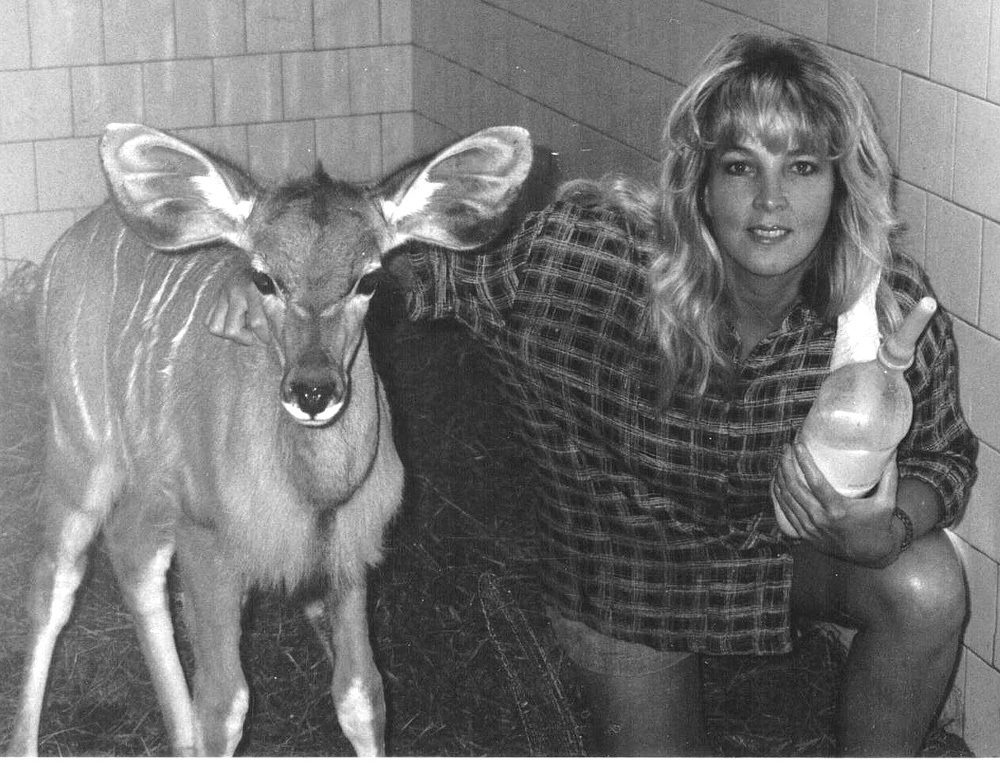 The SanWild sanctuary is on the brink of closure unless urgent funding can be secured. As South Africa's only dedicated rhino and elephant sanctuary under the control of an animal welfare organisation, this closure would be tragic.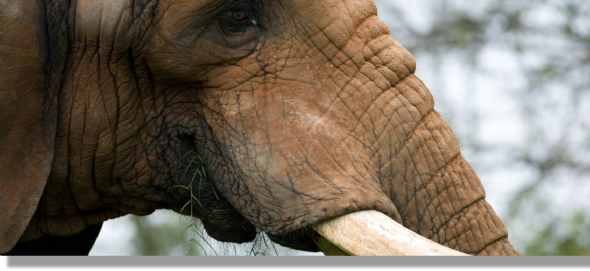 The sanctuary has provided a protected refuge for injured, orphaned and traumatised wild animals for the past 14 years, where they can live free and raise their young in Limpopo Province…but unless funds are urgently raised SanWild will be forced to close its doors, putting another nail in the coffin for the future of South Africa's wildlife.
SanWild founder Louise Joubert spoke to SAPeople about the Pains and Gains of Saving Wildlife:
1. 

SA People:

How and when did you get into wildlife conservation?
Louise: My love for conservation started somewhere in a moment of madness. It was never my intention to get into conservation but what first prompted me to take in wild animals was when I experienced the abuse while working in the game capture relocation industry.
Initially I simply took animals in, not really understanding that when they grew up they would need a safe home. I guess this all started in 1998 when we first rented a piece of land for 5 years with the option to buy it. It was only then that I realised just how involved it would all become and that indeed wild animal welfare was not possible without the protection of the land.
By protecting the land I all of a sudden found myself boots and all into bio-diversity conservation that included all animals, reptiles and birds. It is after all necessary to protect the land, the grass, the trees and everything else wild animals need to survive that makes up successful conservation.
We cannot simply protect what we like; it is all integrated and dependent on each other. A very wise man said that the less we interfere in nature the better she does. The more we interfere the more she suffers.
2) Was there a pivotal moment for you that made you do your own thing with animals?
Indeed there was. When I worked in the reolcation industry and sent a truckload of blue wildebeest to the Eastern Cape. (The story of the blue wildebeest is at sanwildsite.wordpress.com and deals with the day that a group of blue wildebeest had to be transported to the Eastern Cape. Twelve unweaned babies were included with the adults…but were not wanted by the purchaser, a farmer with a hunting farm, and they quickly ended up being trampled under the adults. Six managed to survive with Louise's help as she fed them overnight.)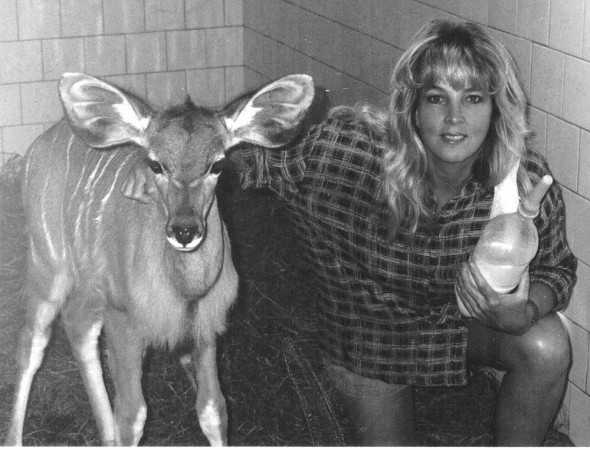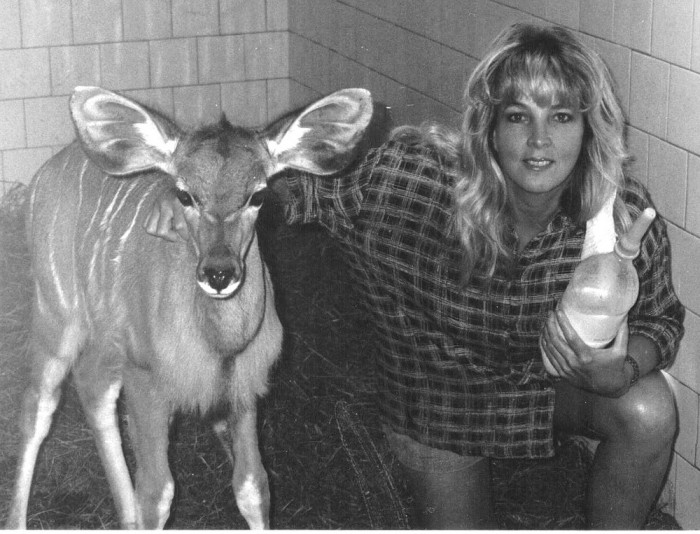 I realised what kept me captive as part of a game capture and relocation company – it was the excitement, the adrenaline, my own ego and to a small degree the financial reward that I got from earning a commission, which by that time had already been used to purchase injured and orphaned animals from my team to give them a second chance.
I realised my purpose in life could no longer be found in the suffering and traumatising of wild animals. I knew where my destiny was. It was in the truck with the six blue wildebeest calves; it was with an ordinary Afrikaner that at the time wanted to marry me. A hunter turned animal lover who agreed to pack up his hunting rifles and share a life with a crazy woman who would from that day onwards live only to help those who could not help themselves.
This was the day I decided to listen to the little voice in my head and follow my dream – no matter what lay ahead. A couple of hours later I started back "home" followed by a game capture relocation truck with six orphaned blue wildebeest calves that would become the founding herd of blue wildebeest that today still live in the SanWild Wildlife Sanctuary.
In Limpopo Province, between Phalaborwa and Tzaneen.
4) How big was it when you began and how big is it now?
It was 1,000 hectares then and is now just on 6,000.
5) How do you come by your animals? Are they brought to you? Are they injured? Motherless?
Most are donated as orphaned or injured animals. We have a policy that we provide a free rescue service to the injured, provided that that animal is donated to us if it needs pro-longed care or hand-rearing.
If animals are okay we still help them and release them where they are found. We have from time to time purchased animals from auctions like the rhinos to prevent them being exported to Vietnam – a number of rhino have been exported to China and Vietnam with the blessing of the SA government, game breeders and traders – or to get them out of very bad situations. But this type of rescue is limited to the funding available to us.
6) Are there any stories that stand out for you about one particular animal and how it came to you, or how it was almost dead when you got it and it rose to health?
Sid the pangolin, as he was the first one ever to be hand reared past 6 months.
And of course the two hippos Tonga and Aldo, who were both saved from a traveling French circus. (See story here.)
7) What's the saddest story for you?
The ongoing slaughter of South Africa's rhinos.
8) How do you cope with what must be terrible heartache of seeing animals injured, hurting and dead?
I am not sure I do cope. However, when you heart breaks once again you find that there is yet another animal in desperate need of help. This combined with the constant financial pressure I guess puts one on auto mode…you just carry on irrespective of how much it hurts.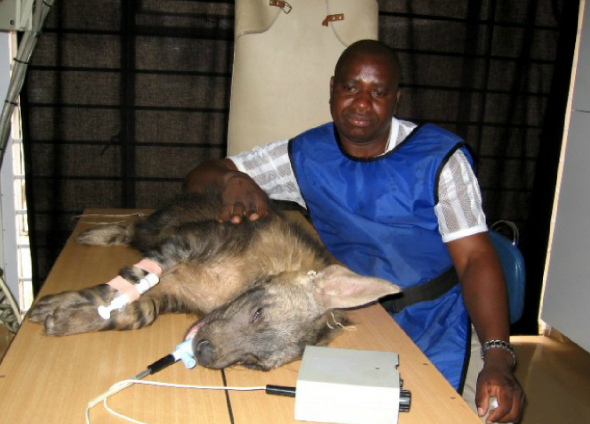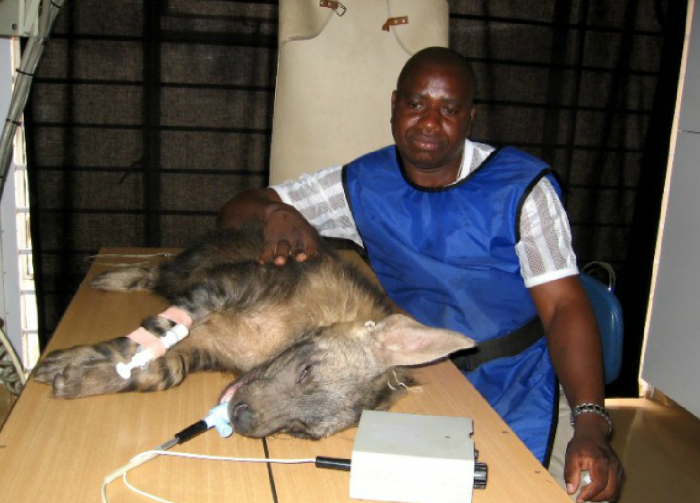 9) Tell me a bit about your rhino counter-poaching group.
It is part of SanWild We have always done counter-poaching but only stepped up to the challenge to protect rhinos in 2012 to ensure that the rhinos already under our care are not killed in the reserve.
All the rangers we had were asked to return home when our benefactor defaulted this year, but we are now getting them to return and hope to have our full team back by March 2015.
We cannot put the number of feet on the ground until such time as funding is secured.
10) How do you finance all of this? Who works for you?
With crisis management, you do it by robbing Peter to pay Paul. We have 10 staff and 12 counter-poaching rangers. We no longer run a volunteer program as we find it simply takes too much time and many volunteers do not come to work but want a cheap holiday. In addition to this they expect to play with wild animals, which is something that is not allowed.
We however do take selected volunteers for a specific task from time to time and then normally draw from a pool of people we already know. Running a volunteer program is also risky with rhino security, but I am considering a military team of volunteers to help protect rhinos.
11) What are the biggest challenges – financial, political, humane?
A combination of all of these things, I guess, but financial definitely is the biggest challenge. Politics to a certain extent, as our nature conservation departments have become dysfunctional to a great degree, leading to increased abuse, illegal trade and poaching.
Ultimately I believe South Africa will lose all its rhinos if we depend on our government to save the day. This perception is not based on racism but on the reality of a mostly corrupt government in bed with the Chinese.
12) Do you ever lose hope?
Only for 24 hours at a time.
I cannot afford to get down in the dumps for longer than that, but overall I believe God will always bring a brighter tomorrow. If I did not have this to cling to, I would have been over the edge a long time ago.
Personally I have seen too many miracles at SanWild not to believe that He will always help us out in His time.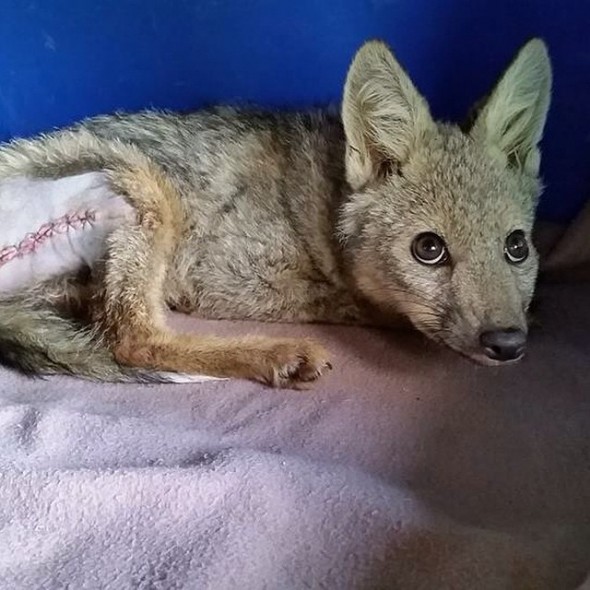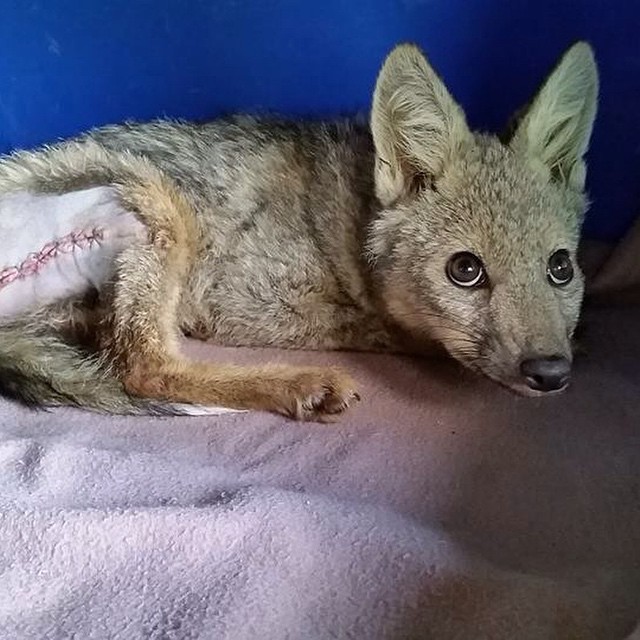 IF YOU ARE ABLE TO HELP IN ANYWAY, PLEASE VISIT THE SANWILD DONATION PAGE – CLICK HERE.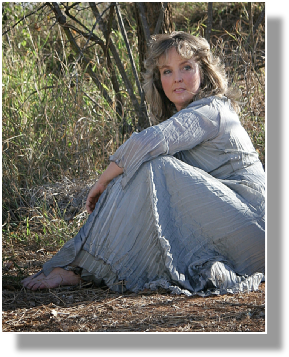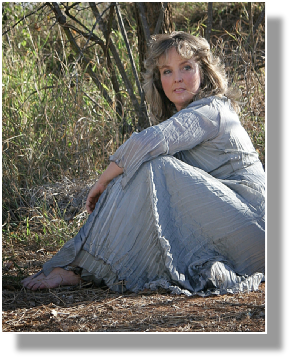 ABOUT LOUISE & SANWILD
Louise Joubert's love of animal conservation – actually, it's become an all-consuming passion over the last two decades – started in a moment of madness.
She had been working in the wildlife relocation industry and didn't like what she saw. The company's business was to catch game to send elsewhere, a farm on the other side of the country maybe. Transporting wild animals in a confined space is not an exact science and, as she saw, led to frightened animals who tried to kick and fight their way out. The result was a bloody mess, terrible injuries, death, orphans.
So Louise quit, went out on her own, leased a modest piece of land near Gravelotte (the nearest big town is Tzaneen), and began her Noah's Ark of sorts – SanWild.
What began with an antelope here and a warthog there has grown into lions, pangolins, rhinos and anything that came her way, so long as it was injured and needed a home. It's been an uphill battle from the start. Her farm – which she has managed to extend bit by bit, plea by plea, donation by donation – was initially surrounded by male farmers, some of whom had hunting on their land and who didn't understand this blonde beauty who had come into their midst with a bizarre idea to not shoot animals but save them.
I remember the first time I met Louise in Johannesburg shortly after she had started SanWild. She was warm, kind and friendly, and yet you could feel she was also a force to be reckoned with. I had seen a photograph of her; her blonde, almost halo-like hair centimetres from the mane of a full-grown lion's, his paws resting on her shoulders. His name was Lutalo, and she had raised him from a baby.
Over the years, I have heard various stories about things that have happened on SanWild – maybe some of them are apocryphal – but they have contributed to my view of the place and respect for Louise.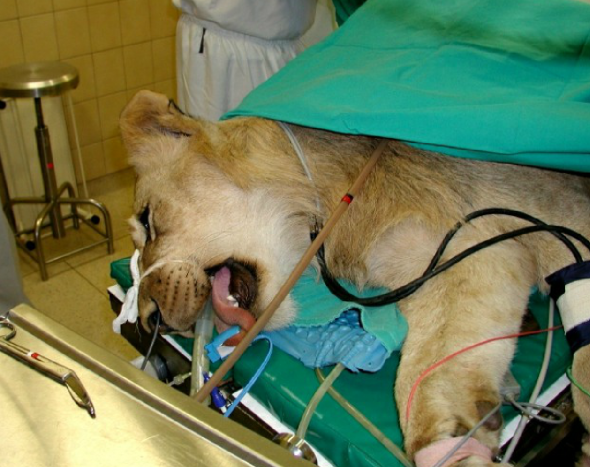 Four cheetah suddenly appeared on her land one day, as if they knew here they would find sanctuary from hunters. Someone brought in a cobra, almost shredded to bits after it was caught in a fence, but eventually he was put back together again.
A rhino that had spent its life in a zoo but had lost its value and was sold to the highest bidder to be shot in the wild (it was a Norwegian who won the auction, for $70,000) was saved by Louise in a court battle. She has perpetually fought to stop canned lion hunting, the breeding of lion in captivity for hunters to kill.
In two decades her little moment of madness has grown to six times its original size. There are today some 5,000 animals, ranging from waterbuck to eland, elephant to cheetah, giraffe to lion and African wild dog, with many smaller species like aardvark, pangolin, serval, civet, caracal, genets and many other rescued animals. She does not say how many rhino she has because she is doing everything to keep them alive, even if it takes secrecy to do it.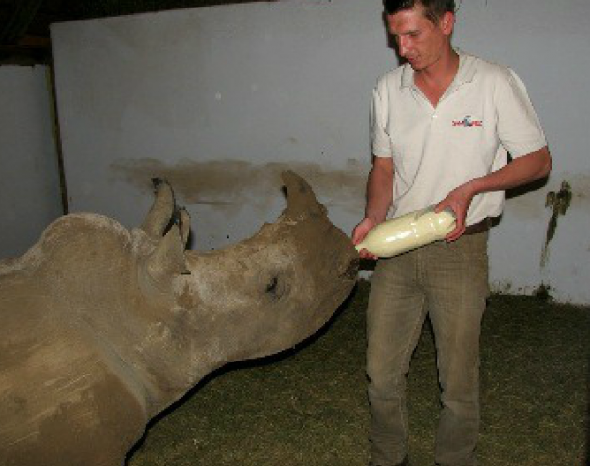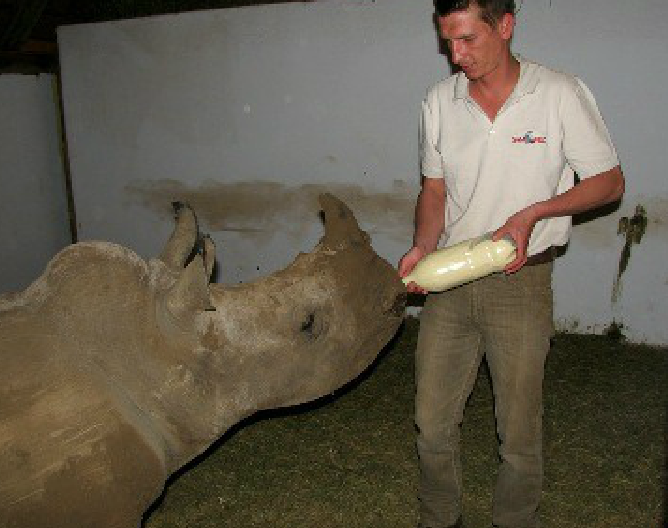 Louise has lived on the kindness of strangers for many years now, her one hand comforting an animal, the other stretched out seeking charity, a few dollars here or a couple of pounds there to pay for some much-needed serum to keep an animal alive.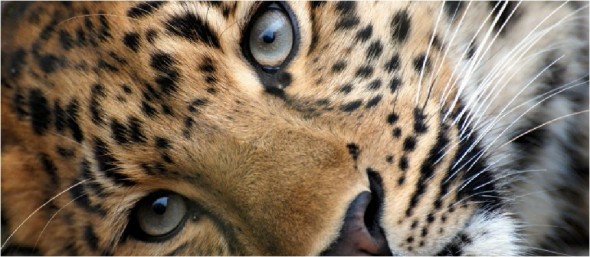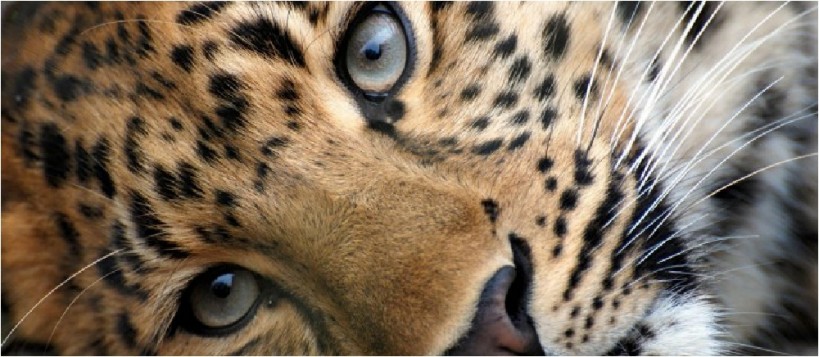 And if you want to help her – yes, this is a direct plea – please go to her Donations page on SanWild.org
Watch Video: Save SanWild
ALL PHOTOS COPYRIGHT WWW.SANWILD.ORG