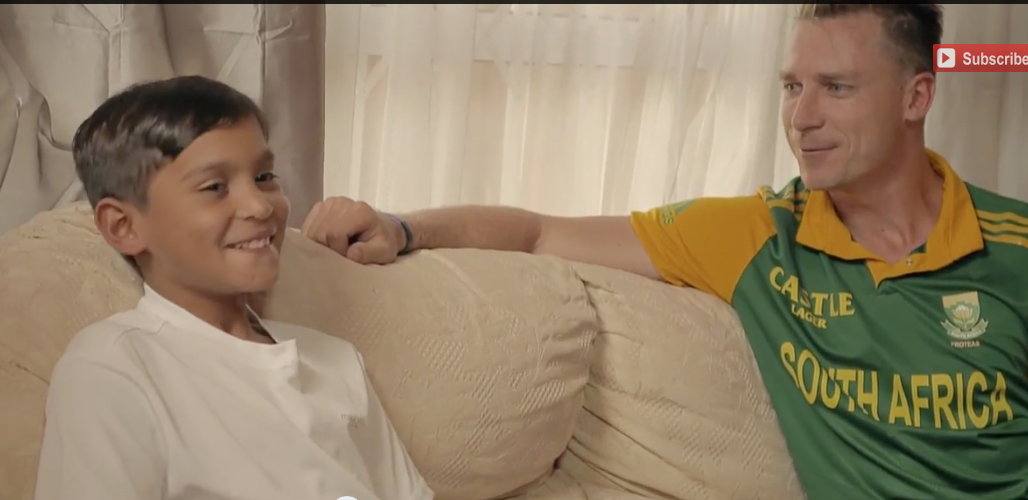 The latest video from South Africa's cricket team has knocked local and overseas fans for six. It's packed with pride, patriotism and pure passion – for the game, the team, the fans…and our country, South Africa.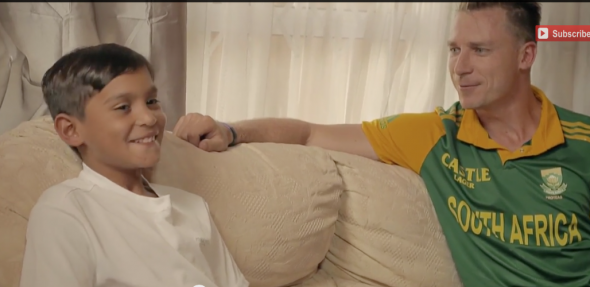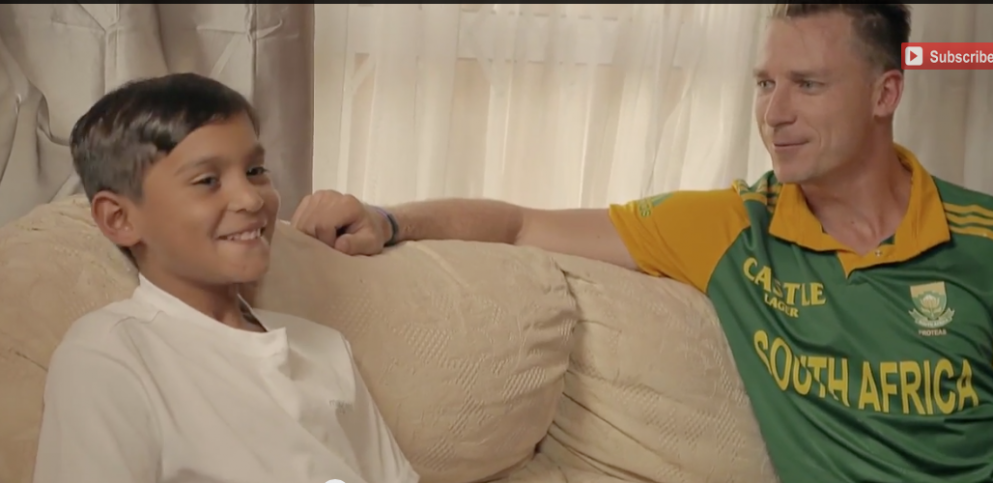 With the help of the Proteas Supporters Club, South Africa's national cricket team tracked down one of their biggest fans, Kieron Adam, to make his dream of meeting them come true.
The video is the Proteas' brilliant way of acknowledging that they have some of the best fans in the world, and letting those fans know that they appreciate each and  every one.
Eleven-year-old Kieron was not only ecstatic to meet the guys (in his own living room nogal), but also took the opportunity to let them know how he feels they could improve their game!
After having the awesome experience of entertaining cricket legends Hashim Amla, AB de Villiers and Dale Steyn in his home…Kieron was then able to show off his new friends to his school mates – they finished the dream day with a game of street cricket where they were joined by other members of the Proteas team who played against Kieron and his school cricket team!
YouTube users were elated after watching the video.
Ivor Jordan wrote: "This is why I am proud to be South African – we have many challenges as a nation to tackle, and when you understand and comprehend that this exposes the true nature of our nation's people…then how can any of the challenges we face not be conquered? Sport heroes or not – it's the values they and the fans and the community express here that is the South Africa I know and believe in. Very patriotic moment to watch this."
A cricket fan from India, Arka Sarkar, wrote: "Respect man! They are promoting the game, they are humble. They have come to know that fans are everything to a sport. Not like…our Indian board and the players. They put fences around the boundaries in the stadiums in India as if we, the fans are untouchables or inferiors!"
Joshua Canuck said: "The attention this young man shows to his idol's speech at 3:19 is the affect they probably desired to have, to impress a young mind with this improbable visit. The gesture, their humble attitude, their input, the friendly and very approachable interaction with their fans and of course the Protea's pride is truly life changing for a young mind. This clip is magnificent on so many levels. Leaves you touched and speechless."
And James Duthie added: "South Africa makes the headlines for all the wrong reasons. Crime, corruption or incompetence. I know this is a commercial, but it captures the essence of community and friendship that sets South Africa apart from any other country I've lived in. I love South Africa."
Go #proteafire!
Watch the video for yourself – Proteas' Surprise Visit to one of their Biggest Fans