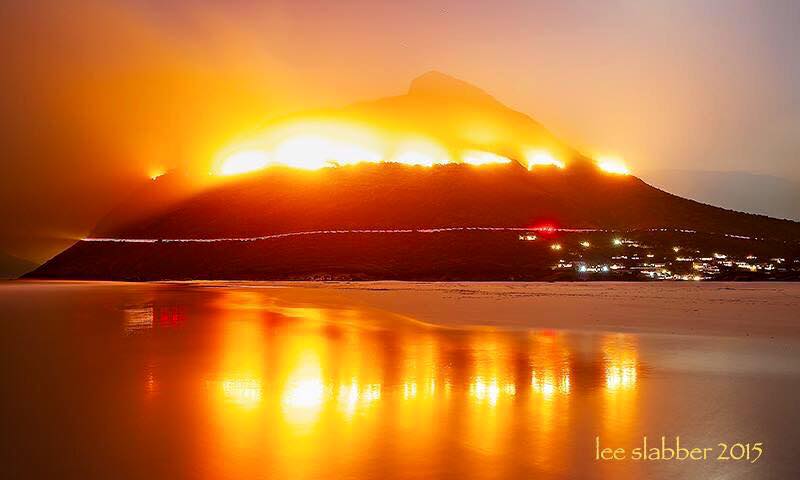 As today is declared the hottest day in Cape Town's recorded history the fire that began in the early hours of Sunday 1 March 2015 continues to ravage the mountain, with firefighters now battling over 14 separate fires.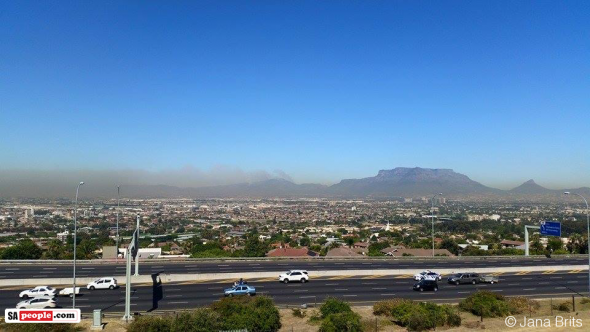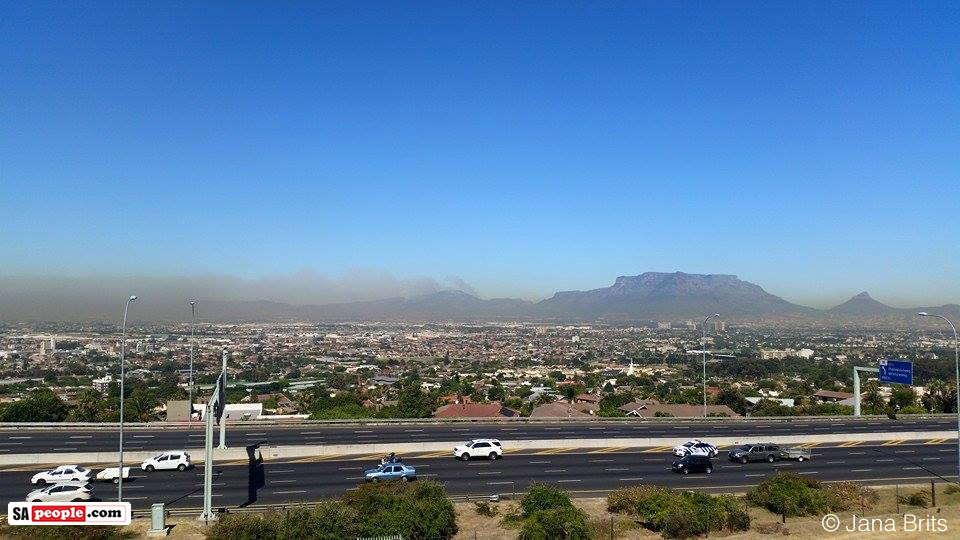 Temperatures today reached 42 degrees Celsius, according to the Weather Office, making Cape Town the hottest it's been in at least 100 years…and also the hottest place on the planet today. Officially.
Firefighters, many of whom are volunteers, continue to be the heroes in this disaster, putting their lives at risk for the sake of others. New dangers faced them today as the loss of vegetation in the Tokai Plantation area caused boulders to dislodge and roll down the mountain into their path.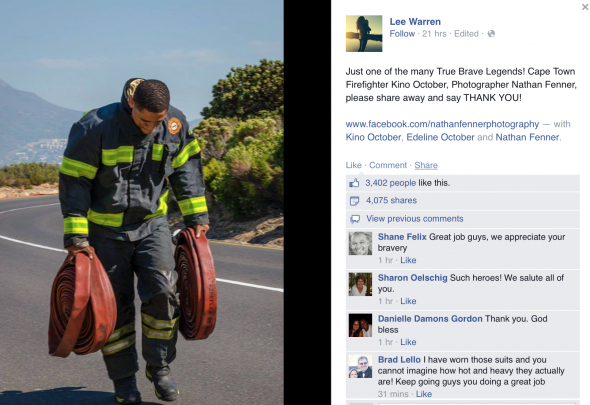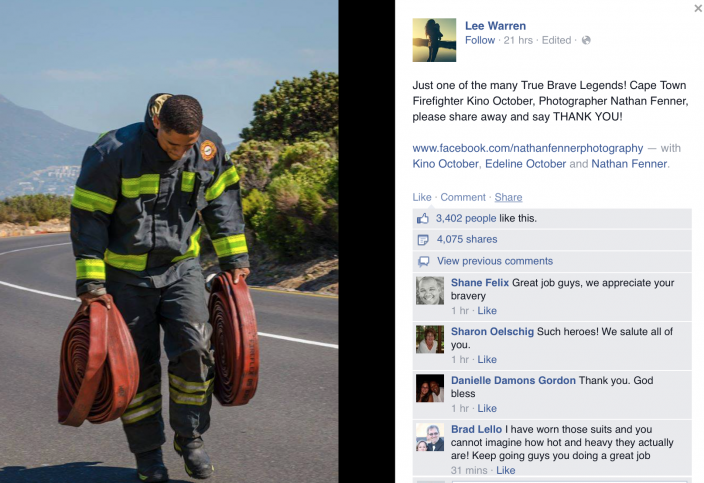 According to Table Mountain National Park (TMNP), the current priority areas are the mountain sides above Tokai, Clovelly and Houtbay. TMNP also revealed that all vegetation in the Park's Silvermine section has been burnt and that office buildings, campsites and board walks continue to be at risk. They also asked that the public "refrain from entering the Tokai plantation including the Zwaanswyk area." (According to a resident in Zwaanswyk Road, who asked not to be named, she and her pets had to evacuate three hours ago. "I'm devastated," she said. "Had to leave everything. Can't think straight now.")
Latest estimates are that 4,000 hectares of vegetation has been burnt in this fire which started on the Muizenberg mountain. Chapman's Peak and Boyes Drive are both closed to traffic.
Anel van der Spuy took the following Aerial Shots this morning:
"Today's pics of the fire," said Anel. "The whole southern end of the Peninsula is under smoke from Sunvalley…we have a northerly wind at about 2000 foot…"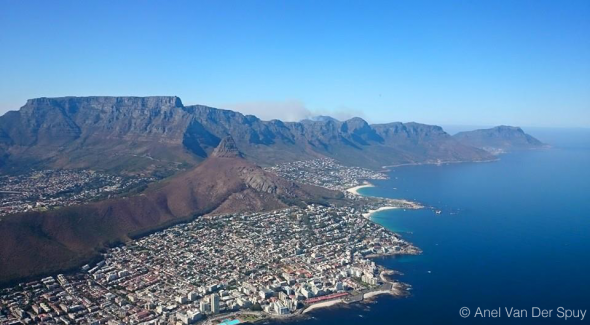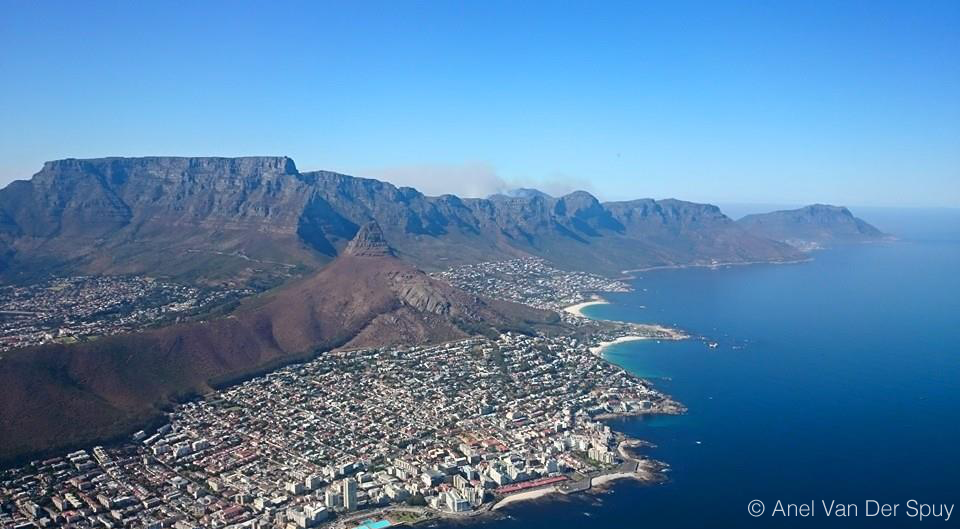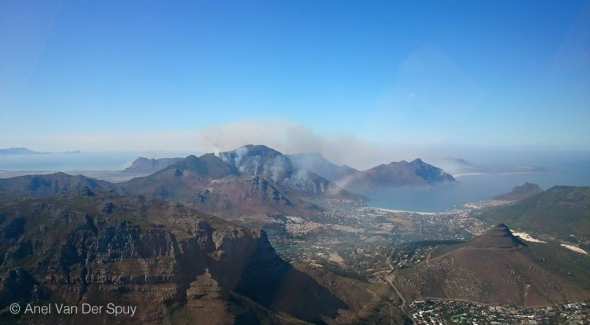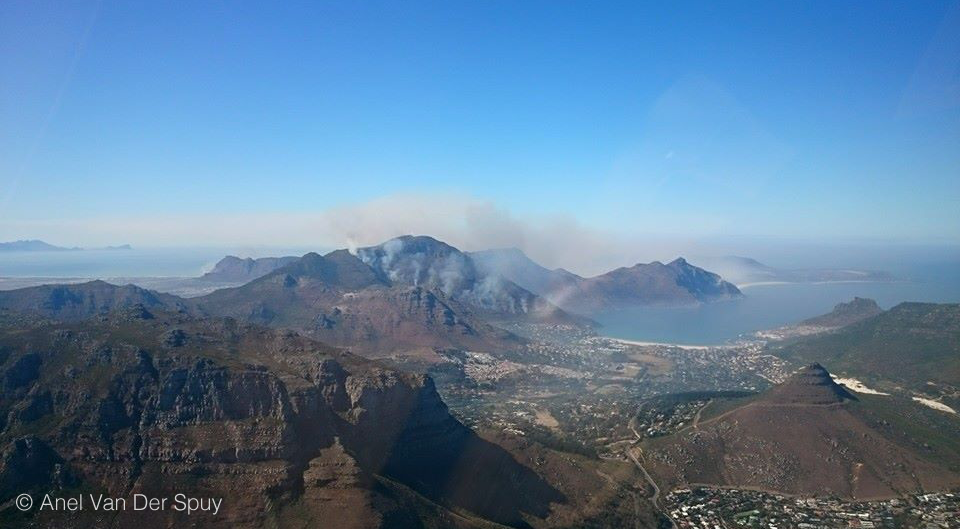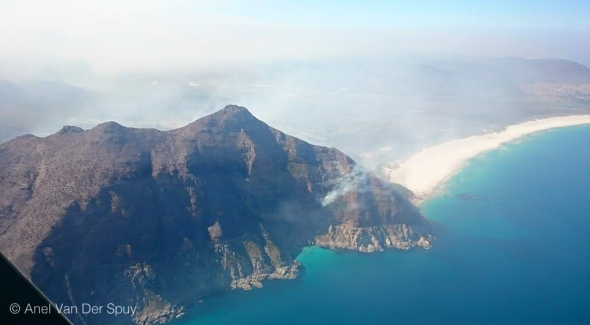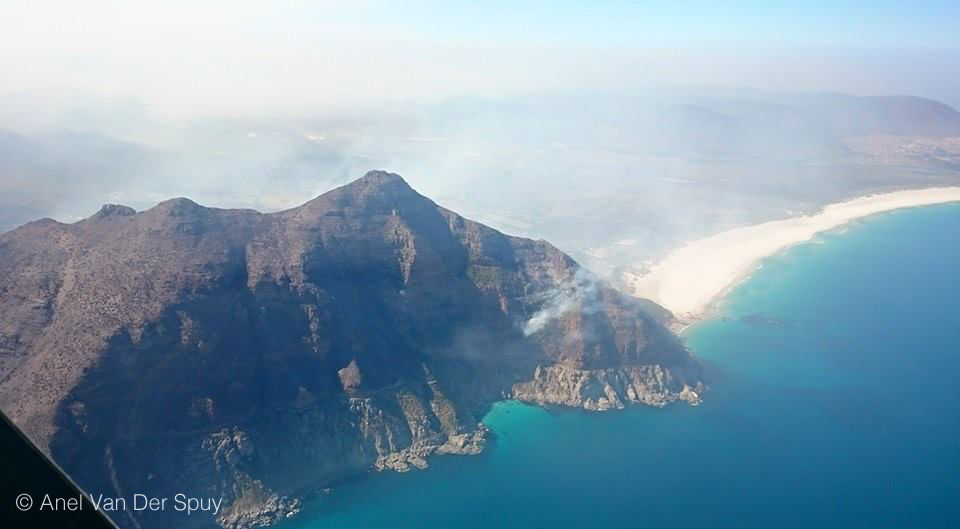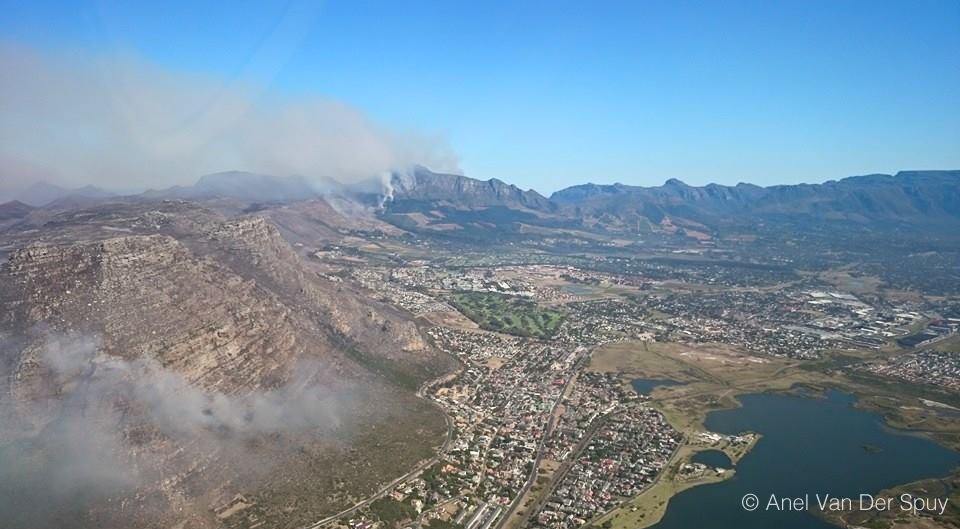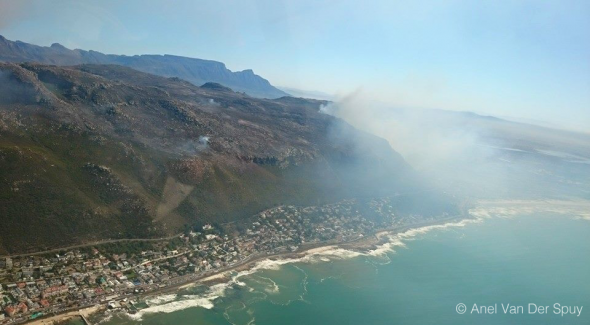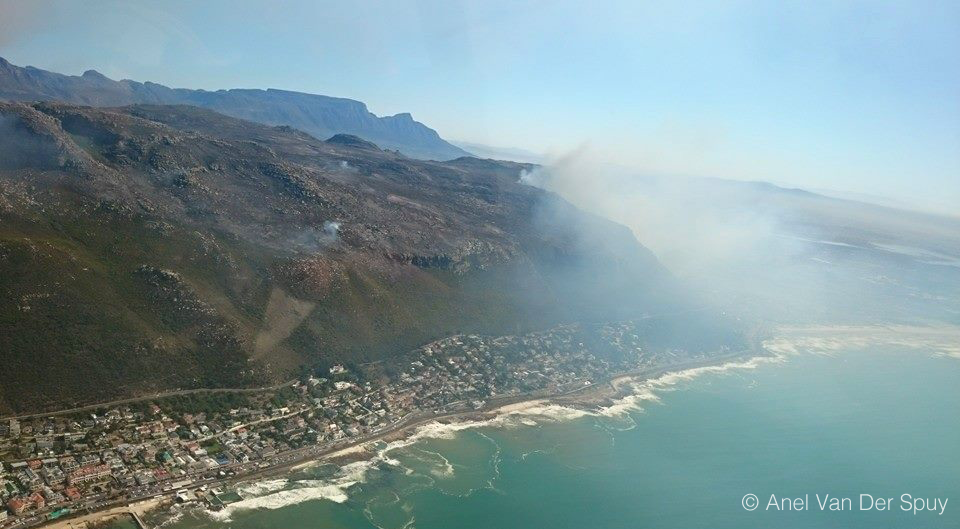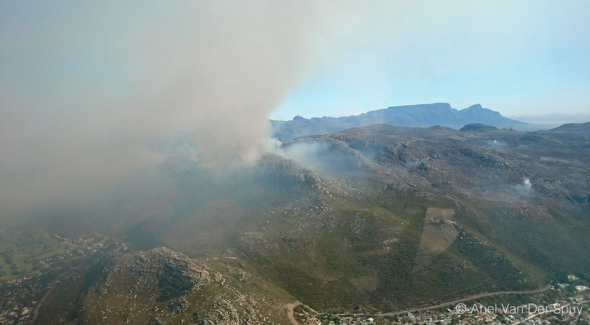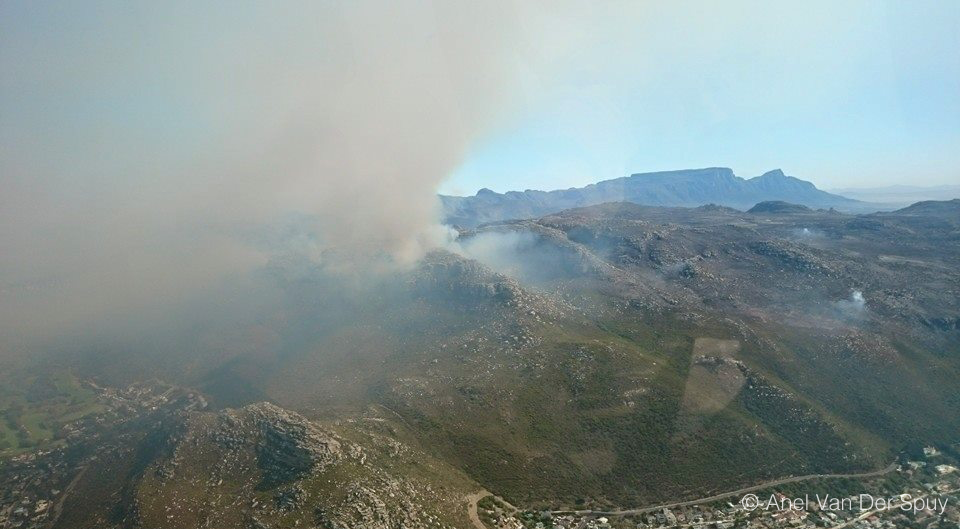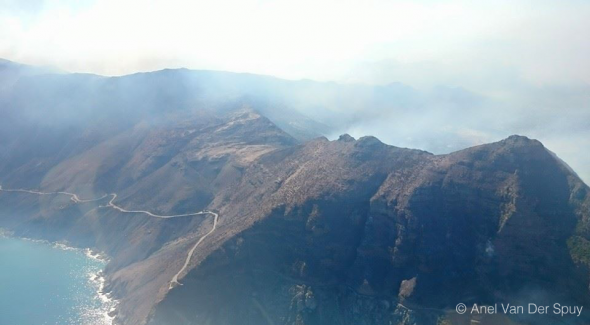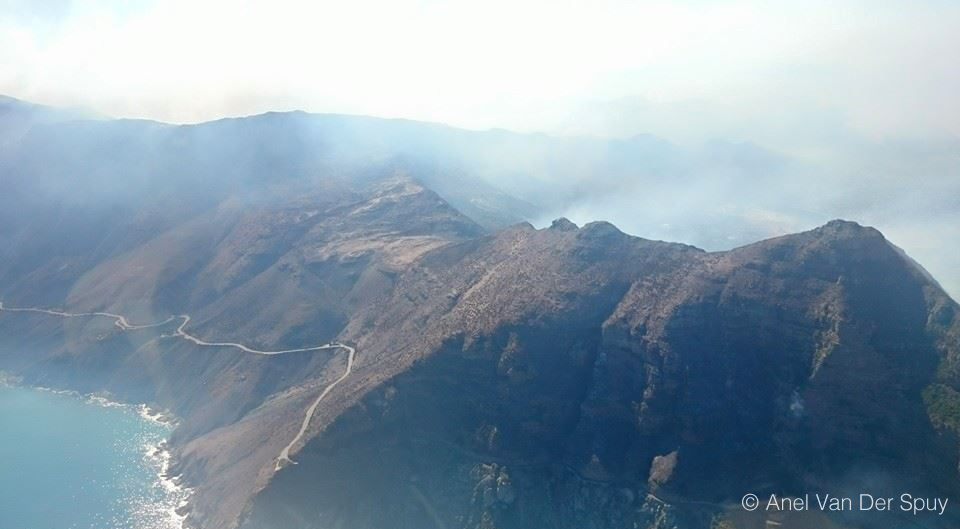 Praying for Rain
Although the possibility of rain has thankfully been forecast for tomorrow, there is a chance that the winds could swing to the North West forcing some fires in a different direction.
'The fact that the wind died down considerably yesterday has certainly aided the efforts of fire crews on the ground," says the City of Cape Town's Mayoral Committee Member for Safety and Security, Alderman JP Smith.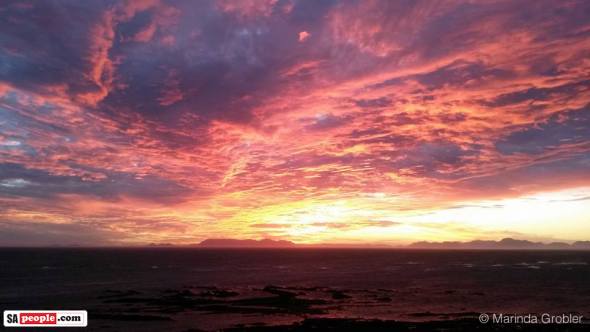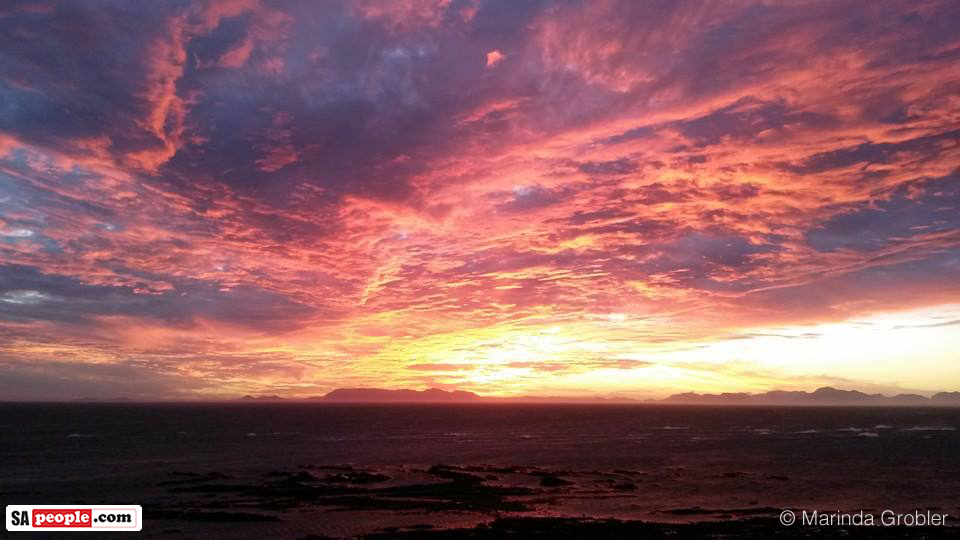 "Some rain has also been forecast for tomorrow. Hopefully that will also bring some relief, but for the moment we are dealing with very high temperatures today and a lot of pressure still on the staff. This has been a massive effort thus far and I commend all of the agencies involved for their hard work in trying to save lives and property."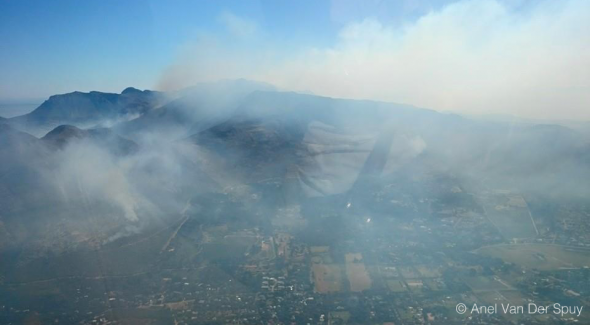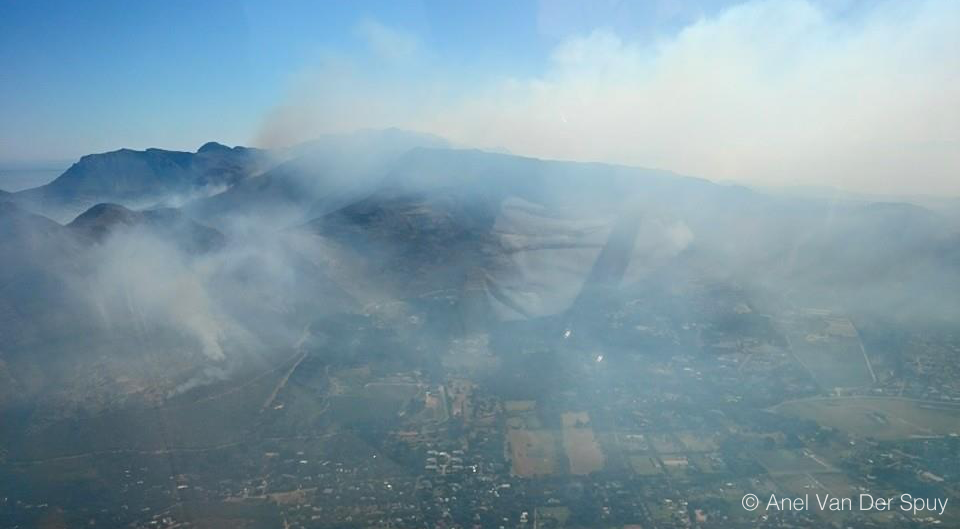 South Africa's President Jacob Zuma also gave "praise to the bravery and professionalism of all our fire-fighters who are attending to this raging fire to save lives and stop the damage to property and our prestigious natural environment, putting their own lives at risk in the process."
The firefighting effort is a collaboration between the City's Fire and Rescue Service, Disaster Risk Management and Environmental Resource Management staff and volunteers, Table Mountain National Park, Working On Fire volunteers, Wild Land Fire Services and the Volunteer Wildfire Services (VWS).
If you would like to help: VWS – "Please note that we now have enough food/drink at the moment. Thank you so much for the incredible response." They ask for food vouchers instead or click here to Support VWS
For those concerned for the wildlife: Cape Snake Conservation have asked those in homes close to burnt areas to please "place some shallow dishes of water on the edges of your properties bordering the mountain so that any small animals in the area that have managed to survive can get a much needed drink. The more the better."


The Numbers
Approximately 4,000 hectares has been burnt.
198 flying hours have been logged resulting in 2,000 water drops (about 2-million litres of water).
The flying hour cost is currently estimated at R2.4-million.
An extra 250 Working on Fire volunteers have been dispatched from other provinces to support the ground team.
Four helicopters, two water bombers and a spotter plane are involved in firefighting efforts.
One firefighter has been hospitalised with burn wounds.
52 frail-care residents of a Noordhoek retirement village were treated for smoke inhalation.
Five homes have been damaged along Silvermine Road in Noordhoek. (The Tintswalo Lodge at the foot of Chapman's Peak was damaged as well.)
At least 30 households were evacuated in Noordhoek, as well as residents of the San Michelle Old-Age Home and the Noordhoek Manor Retirement Village (the latter have since been able to return).
Three mass care centres have been set up to accommodate those who have been displaced: at the Dutch Reformed Church in Kommetjie Road, Fish Hoek; at the Dutch Reformed campsite in Noordhoek; and at the Fish Hoek Community Hall.
Please call 107 from a landline and 021 480 7700 from a cellphone to report any emergency.
Archbishop Desmond Tutu's Prayer for the Raging Fire in Cape
The Archbishop published the following prayer and photo on his website today: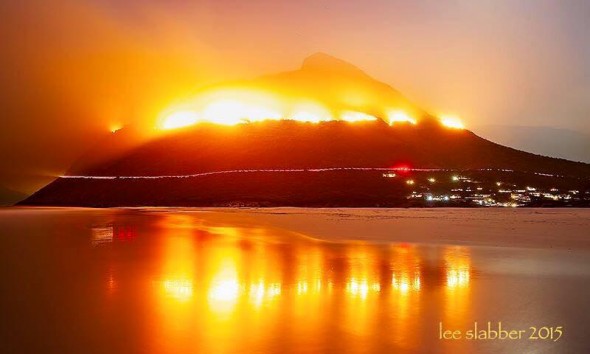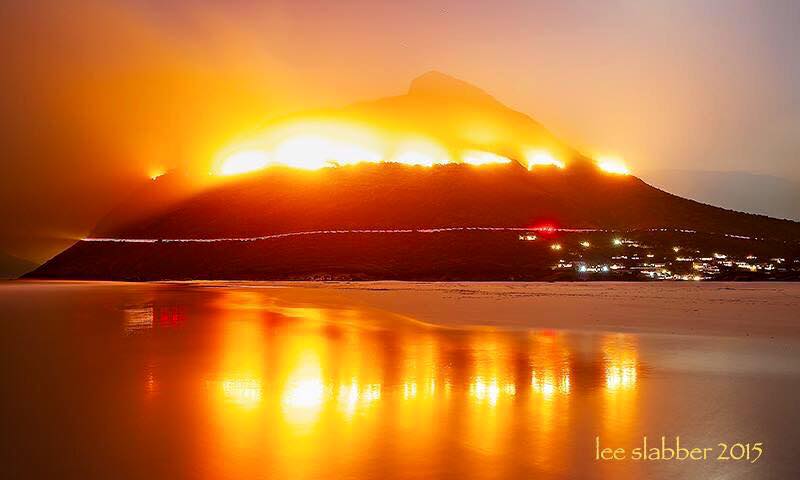 God, we are vulnerable and weak. We depend so much on you, and we realise now with this fire just how weak and vulnerable, and helpless, we are.
We pray for those who find themselves close to the fire.
Those who already lost property, and those whose lives have been over-turned.
We thank you for the courage and dedication of the firemen and women seeking to douse the flames. Please God, help them to put the flames out.
To pray for those who have not lost anything, but whose lives have been turned upside down.
We think of the children and those who have had to find shelter.
And make those of us who are safe in our homes with no fires threatening us, remember those others who may have had to leave their homes.
For Jesus sake
Amen.
Update 10 pm, 3 March 2015:
According to City of Cape Town there are currently no evacuations taking place in Tokai. The fire on Constantia Neck has (thankfully) been contained. But Chapman's Peak Drive IS currently being evacuated. This includes Chapman's Peak hotel and several homes in the area.
Michelle Bridgens took these photos along Chapman's Peak Drive – one a few hours ago, the other a few minutes ago.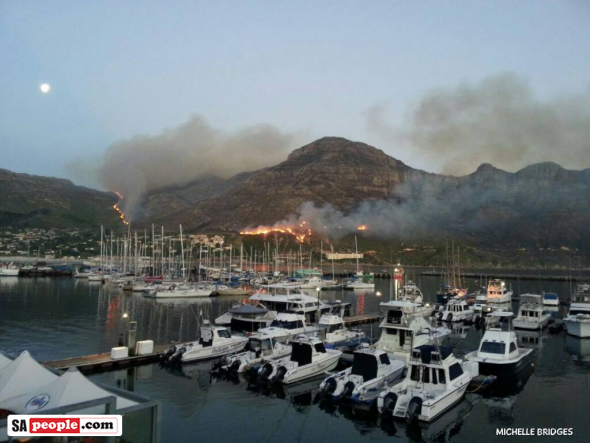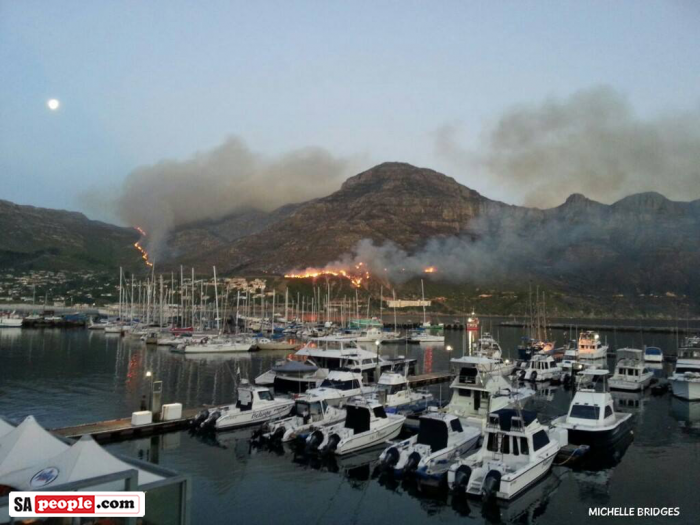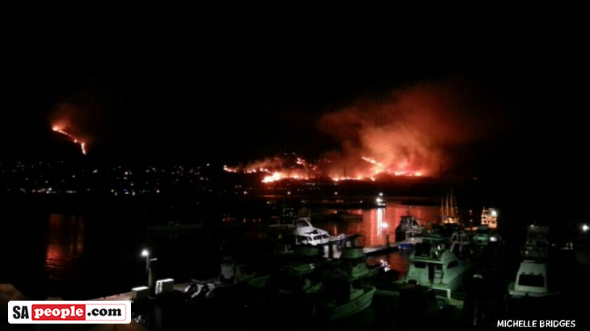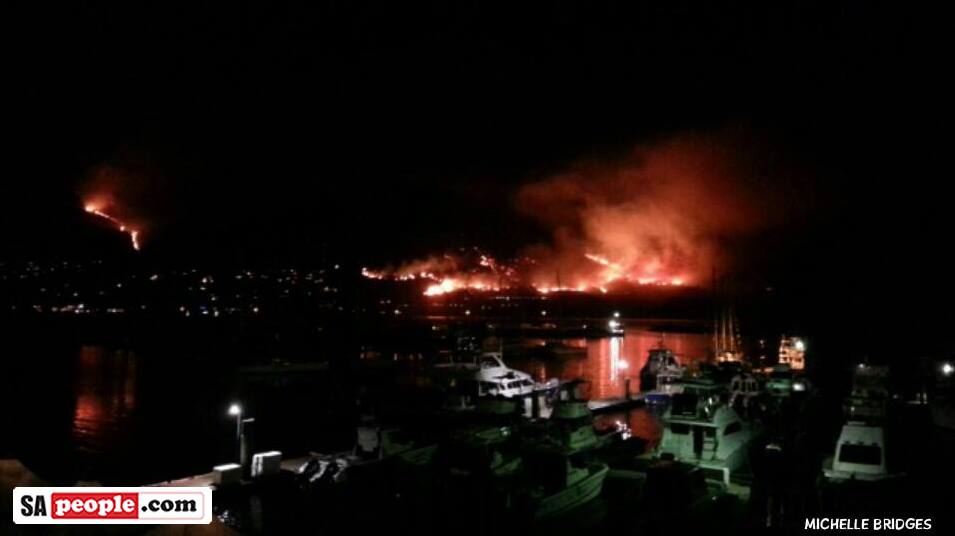 Update 11 pm, 3 March 2015:
#CapetownFire Update: Fires have died down substantially on Zwaanswyk road thanks to lots of hard work by ground crews along the line. Unfortunately #MuizenbergFire has flared up dramatically above Boyes Drive…
Photo from just before 10.30 pm tonight (3 March 2015):
Elsa Hoffmann's photo, taken just after 10pm. muizenberg mountain keeps burning. Praying for rain!! #MuizenbergFire pic.twitter.com/5uAZtkowWU

— mercia mcshaneツ❤♫♪ (@merciamcshane) March 3, 2015
And video footage:
"@ewnreporter: Firefighters beat back blaze metres from homes in Muizenberg. @ThomHolder pic.twitter.com/KoPeLHeGBe" — Reinart Toerien (@ray_toerien) March 3, 2015
Update 8 am, 4 March 2015:
Day Four and the fire continues. City of Cape Town says all role players are in attendance and doing all they can to contain the damage. There are still fires above Muizenberg, Clovelly, Lakeside, Hout Bay and Kirstenbosch. Affected residents who need to be evacuated will be informed by evacuation teams on the ground.
LATEST UPDATE: Day 5, #CapeFire Update 5 March: 'Apolcalypitic' photos & news here
From Twitter earlier today:
"@ChevsLife: Striking image of ferocious #MuizenbergFire -immense gratitude 2 fire fighters and volunteers @vwsfires pic.twitter.com/ZWQA4fTYkx"

— C Constantinides (@ChangeAgentSA) March 4, 2015
1 fixed wing & 2 choppers now bombing the #Muizenbergfire as it approaches Old Boyes Drive. Photo by John Hishin. pic.twitter.com/7Svb9vDnxY — Chantelle Kerr (@chantskerr) March 3, 2015
Tortoise frozen by the blaze at Silvermine. #MuizenbergFire pic.twitter.com/21VQxKZiMX — anton crone (@antoncrone) March 2, 2015
And a more fortunate tortoise: