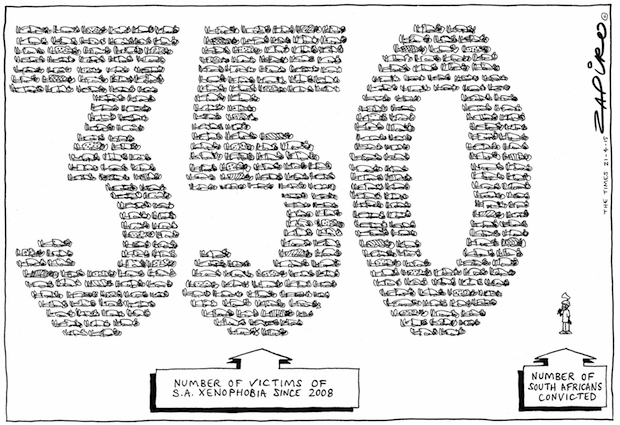 As South Africa's Army is deployed to volatile areas that have experienced attacks on foreign nationals, Defence Minister Nosiviwe Mapisa-Nqakula has declared  that "perpetrators will face the full might of the law"…although this message comes on the same day that  South African illustrator Zapiro has published a cartoon showing a different side to the story.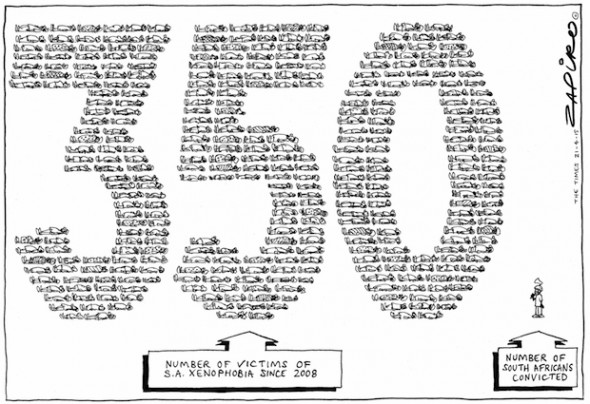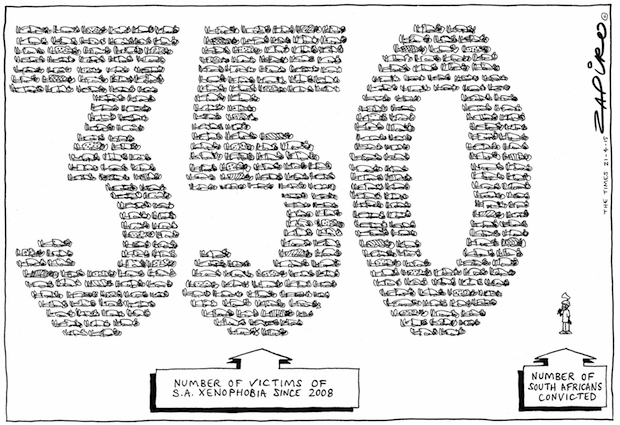 Zapiro's cartoon (see above) depicts  the 350 victims of xenophobia (all bodies lying down) since 2008 compared to the one solitary South African (still standing) who has been convicted of murder. These figures come from research done by Jean Pierre Misagoat at the African Centre for Migration and Society at the University of the Witwatersrand, Johannesburg.
According to Zapiro's website, Misagoat "estimates that more than 350 people have been killed in so-called 'xenophobic' attacks on foreigners in South Africa over the past seven years. He told the Sunday Times that he could find evidence of only one successful prosecution for any of those hundreds of murders. In most cases, police withdrew the charges or witnesses were too afraid to testify."
Meanwhile Donald Trump has decided to weigh in on the situation in South Africa, tweeting that "as I have long been saying, South Africa is a total – and very dangerous – mess. Just watch the evening news (when not talking weather)."
The Minister today urged South Africans to desist from attacking foreign nationals living in the country, and stressed that attacks on foreign nationals do not represent South Africa's democratic order and diversity.
"Violence meted out to anyone on the basis of their nationality is not a true reflection of who we are as a nation and it is punishable by law," she said.
Mapisa-Nqakula cut her official trips to Turkey and Indonesia short by a week to return to South Africa because of the recent spate of attacks on foreign nationals which have left at least seven dead (three South Africans and four foreign nationals from the African continent and Asia).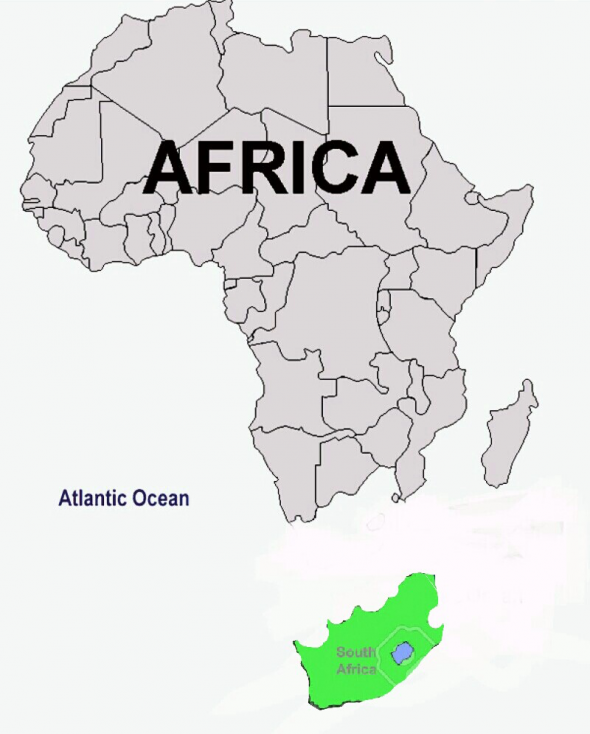 Today's deployment of the army, which was due to begin at 6pm, also follows a further attack last night on a Zimbabwean couple in Alexandra. The Minister said, "We are simply here to give support to what the police are trying to do in their efforts to prevent a continuation with what we have seen."
Four suspects appeared in court today in connection with the murder of Mozambican national Emmanuel Sithole – which was captured in graphic photographs by 'Sunday Times' photographer James Oatway – in Alex over the weekend.
"We are happy that the community is saying no to crime and we hope they will keep coming forward," SA Police Service (SAPS) spokesperson Colonel Lungelo Dlamini said.
The KwaZulu-Natal SAPS reported today that the intensity of the unrest appears to have abated following the Peace Imbizo called by Zulu King Goodwill Zwelithini yesterday. During the Imbizo, the King told the thousands of people converged at Moses Mabhida Stadium that he condemned the attacks on foreign nationals and called for peace and calm in the province.
KZN police spokesperson Major Thulani Zwane said the number of arrests remains at 114 and the number of deaths in KZN remains at six.
Since the attacks began, more than 900 people have been voluntarily repatriated back to their home countries in other parts of Africa. There has been a backlash from several Africans in other parts of the continent who have been outraged with the treatment of their citizens after they helped South Africans during the apartheid years.
Tomorrow South Africa's President Jacob Zuma will meet with stakeholders, at the Sefako Makgatho Presidential Guest House in Pretoria, to discuss the country's migration policy and how various sectors can work with government to promote orderly migration and good relations between citizens and other nationals.
According to a statement on The Presidency: "The President intends to build lasting partnerships with stakeholders in the country to ensure that the shameful attacks on foreign nationals do not recur in the country, through managing migration better."
The President said, "Millions of South Africans love peace and have lived with foreign nationals in peace for decades. The small minority that has caused the mayhem should be isolated and perpetrators of violence should face the full might of the law."
The Presidency explained that while many foreign nationals have been integrated successfully there has been concern raised by South African citizens of "increased numbers of illegal immigrants, the alleged takeover of many small businesses by foreign nationals in townships as well as perceptions that foreign nationals commit crimes in the country that include selling drugs and human trafficking.
"Government is engaging communities to indicate that their issues are being attended to and also to correct some of the wrong perceptions in order to promote a better understanding and cohesion among communities."
On Thursday (23 April 2015) the President will also meet with organisations representing foreign nationals in the country.