A time-lapse video about a Great Dane, uploaded by South African director Dave Meinert, is fast approaching 1-million views on YouTube. Meinert, who is based in Cape Town, uploaded the video about his Great Dane Pegasus just eight days ago.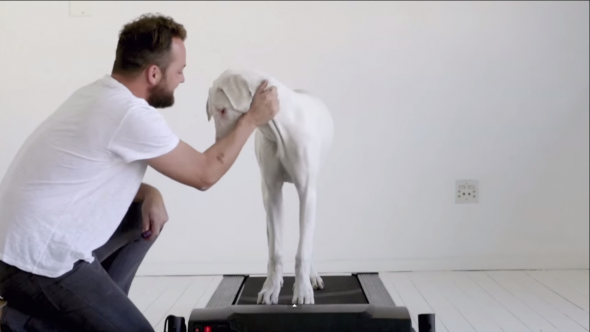 Dave, who is one of the few movie makers who actually enjoys working with animals, rescued Pegasus about 18 months ago. At the time he was told she would not have long to live, and as a result of iressponsible breeding by her previous owners, most of her siblings had already died.
The Capetonian filmmaker decided to document each and every day of her precious life, and the video below is a compilation of those first five months together.
Dave never expected the video to become so popular, and after being besieged with questions, he has added an update to the YouTube page:
"Subsequent to making the video, I had to travel a lot, and struggled with keeping [Pegasus] where I was living.
"A saviour stepped in and helped look after Pegs while I tried to make a plan and she moved back and forth, which was disruptive for her."
The saviour is Monique Burrows, a teacher who is involved with dog rescue and has taken care of many dogs with medical issues.
Dave says in his Update that "after months of no solution, it was obvious that her new set up with incredible love, a bigger garden and a new best friend in Luna, another great dane was more than I could offer.
"I am lucky that I get to visit and take her for short periods, and maybe that's why in my heart she's still with me.
"It's always difficult. If the dog is happier, do you forsake your happiness? I think yes.
"If a dog is negligently bred, should it be killed to prevent more negligent breeding? I think no. Who's to say. In the end we try our best and our pets teach us lessons about love, humility and non-judgment."
Sadly Pegasus' health is still deteriorating. She is now partially blind and has lost some of her hearing. She has low-functioning kidneys and her back legs collapse when she runs.
Burrows herself has mixed feelings about the video. While she told the Huffington Post that she hopes its popularity will raise awareness in South Africa about Great Dane rescue, and she acknowledges the video sends a clear message that careless breeding has tragic consequences, she is concerned that the video may spur others to buy Danes from breeders who are not as good as they should be.
Watch Video – The Pegasus Project