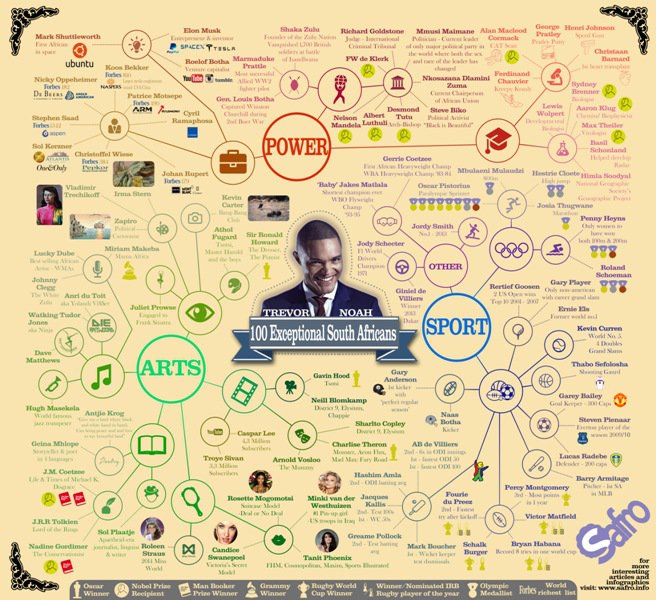 On the 26 of September 2015 South Africa's comedic firebrand, the progeny of a South African mother and a 'chocolate loving' Swiss father, Trevor Noah will replace John Stewart as the host of Comedy Central's The Daily Show. In doing so the 'day-walker' has become the talk from Tinsel Town to Tulbagh. But few outside of South Africa (and probably only marginally more within the country) know about the rich history that our nation has in nurturing talents locally and exporting them internationally.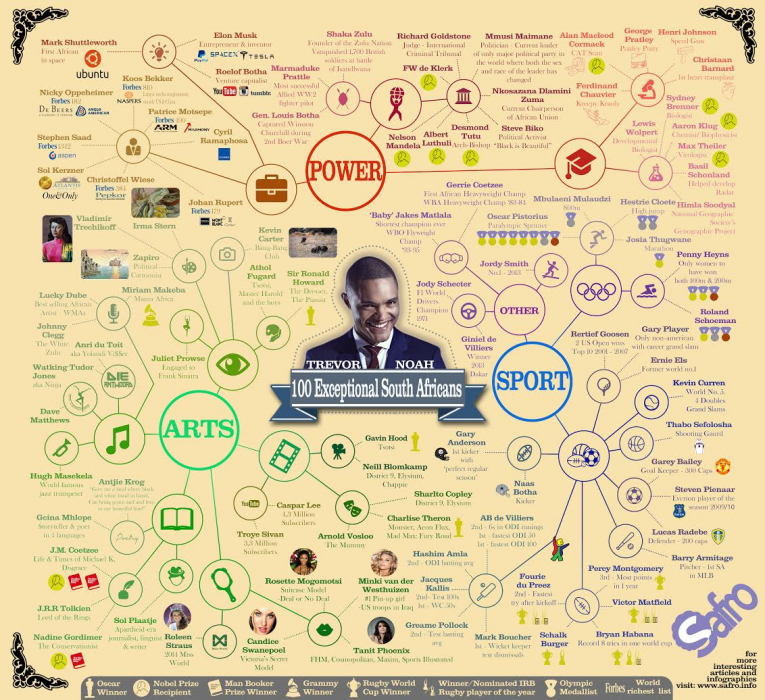 So here is one huge infographic that required me taking some serious liberties with the time-space continuum in order to complete on time.
[quote_center]Click on the Infographic above to discover 100 Exceptional South Africans[/quote_center]
The goal of this infographic is partly to re-inspire South Africans by reminding them of the incredible Saffers that have previously left their indelible marks on the annals of world history (some more well known that others) and partly to show non-South Africans that our little country at the tip of Africa has contributed more to the rich genetic pool of international greats than one coloured comedian, an actress from Benoni, a crazy white rap duo, a blade runner turned bathroom gunner and one of the most revered freedom fighters / statesmen the world has ever known.
ABOUT NIEL RAMSAY LOUW:
A master in Political Science on paper, but ever an apprentice to the ways of the world in practice. Niel strives to promote wondrous South Africa the best he can – through interesting statistical analysis, optimistic verve and a tongue securely cemented in cheek on Safro.info.
Frustrated and tired of the amount of negativity about our beautiful country in the media, Safro is committed to producing observations, articles and infographics that present South Africa the way it really is – interesting, contradictory, and a little bit funny at times.
Website: www.safro.info | Facebook: safro | Twitter: @safrosite