As arguments reverberated around South Africa on what should have occurred regarding the International Criminal Court (ICC) request to arrest Omar al-Bashir, the Democratic Alliance (DA) used the moment to re-highlight its recently launched #Vision2029 campaign.
In a tweet  posted minutes after it was confirmed that the Sudanese President – who is wanted on charges related to the Darfur conflict – had indeed fled the country, the DA tweeted the following message:
"ICYMI (In case you missed it): See what a SA governed by a national DA government will look like here…"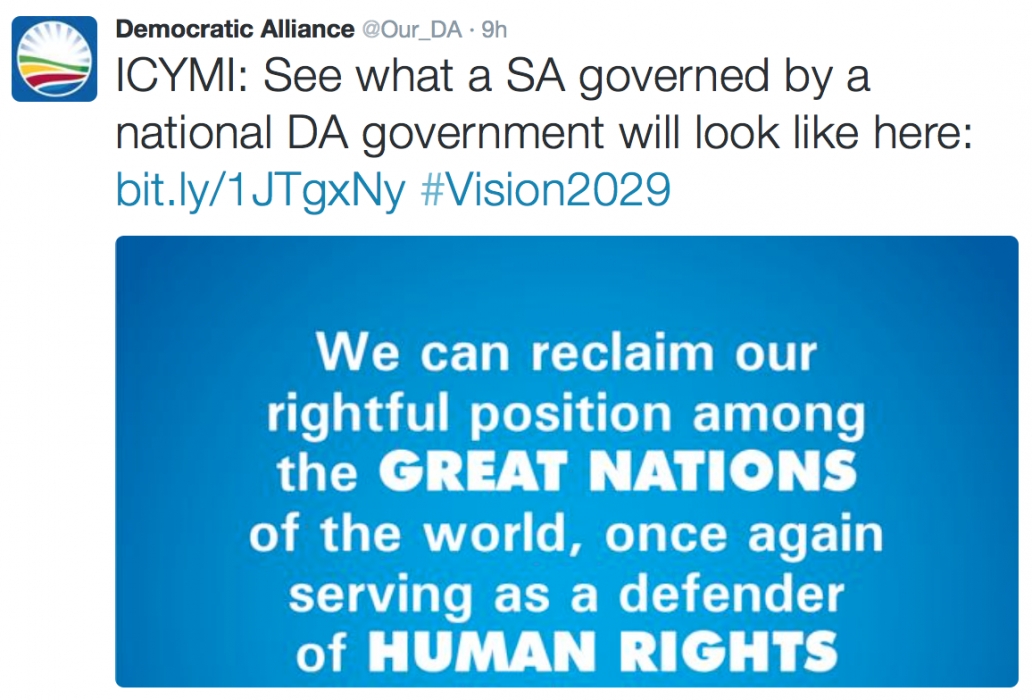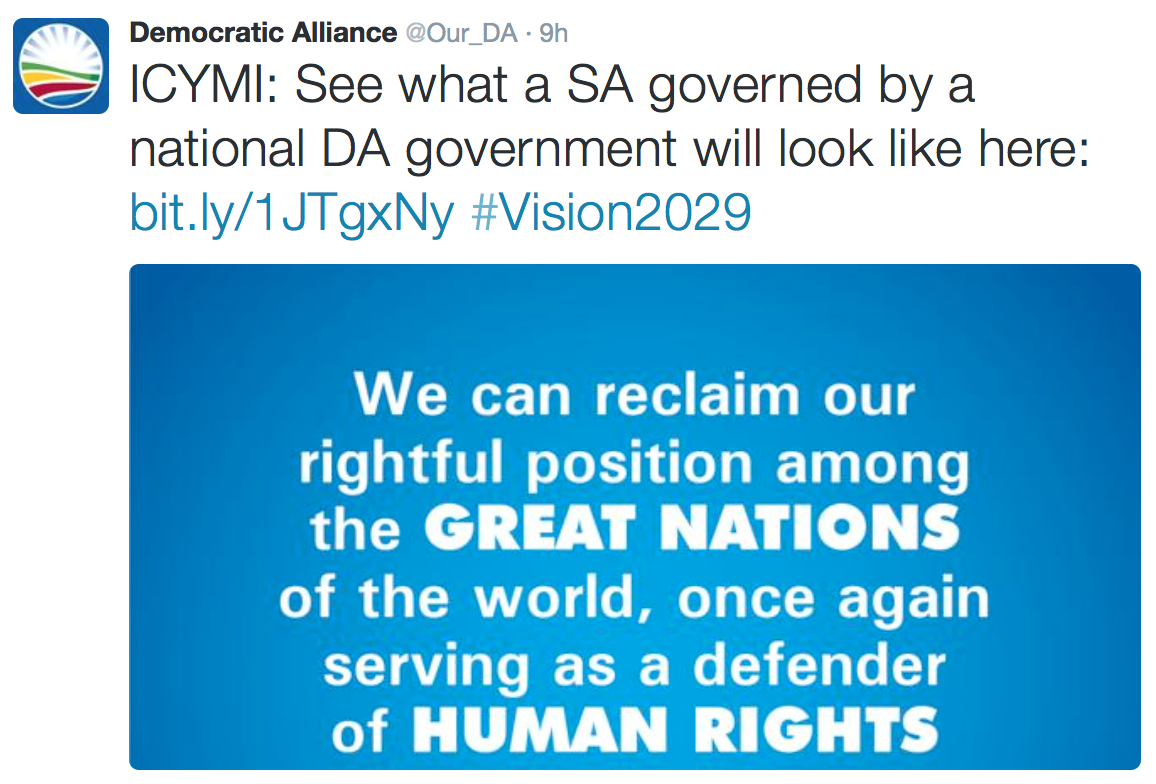 A link directed followers to the #Vision2029 video where they are invited to imagine a future where the DA has been leading South Africa for ten years. (Watch above or below.)
Today's events caused a mixture of reactions. Some questioned the hypocrisy that the Dalai Lama is refused entrance while Zimbabwean President Robert Mugabe and al-Bashir are welcomed and protected. Many joked that al-Bashir managed to avoid being trapped at the airport because he wasn't travelling with a minor (referring to SA's recently introduced laws that all children need to travel with an unabridged birth certificate).
Others supported the decision to let al-Bashir go. Devils in heels (@kaysexwale) tweeted "For as long as other war criminals like Obama, Blair and Netanyahu roam free, I'm not gonna lose sleep over #AlBashir leaving SA unhindered."
Chairperson of the Portfolio Committee on International Relations and Cooperation, Siphosezwe Masango, meanwhile accused the ICC of an "opportunistic act only meant to pit African leaders against each other" and to "hijack the vision to have Agenda 2063 operationalised."
He said the African Union (AU) has "serious business to consider" and that SA valued "Africa's developmental agenda above all else." Apparently even above the death of 300,000 African citizens.
In a statement earlier today the DA said the message that South Africa has sent to the world "not least by our President and other leaders appearing all smiles and relaxed in the company of one of the world's most wanted men – is that South Africa does not believe in justice for grave international crimes."
Well known personality Gareth Cliff tweeted "So #Marikana #Bashir #Nkandla #Eskom #FIFAgate #TshwaneBilling #eTolls…What did the Government of South Africa do for you today?"
Watch Video 1 – DA #VISION2029
(Watch larger version above.) The blurb beneath the video sets the scene: "It is 09 May 2029 and the 10th anniversary of the date a DA-led national government took office for the first time. After 10 years of DA government, what does South Africa look like? What has the DA national government achieved, and how has it changed all South Africans lives for the better?"
Watch Video 2 – DA #VISION2029 – 'The Journey'
This video, also set in a future where the DA has been in office for ten years, shows the journey that one young South African has taken, "living the dream of my parents"…showing how it has "changed all South Africans lives for the better".