A well-deserved congratulations to Cape Town photographer Eric Nathan whose shot of the Mother City at night has earned him the top prize at the International Earth & Sky Photo Contest.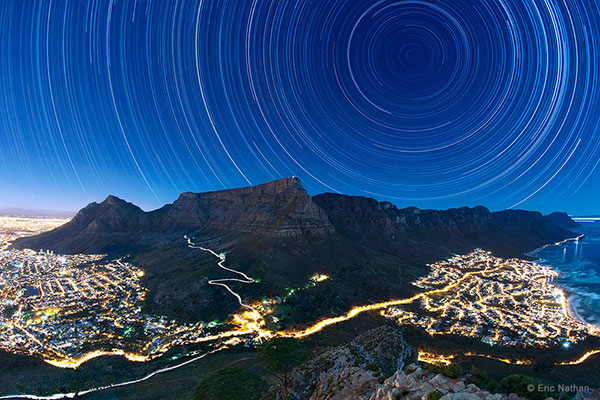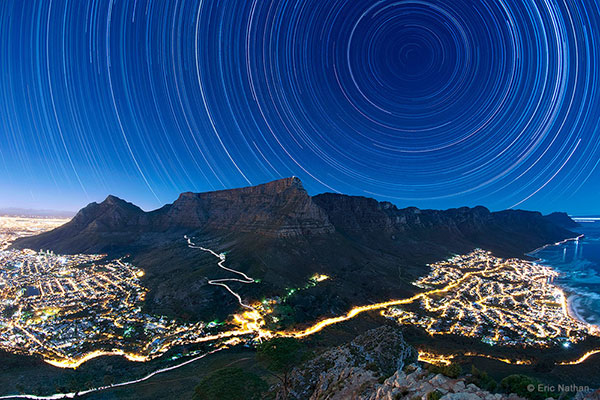 But, as exquisite as his photo is, it also highlights the effect light pollution has on our skies and the need to reclaim and reconnect with the stars.
When the Cape Town photographer stood at the top of Lion's Head on a cold June night to snap the Mother City, he never dreamed it would grab worldwide attention…but it has done exactly that.
His photo – 'Star Trails above Table Mountain' – has earned him first prize in the 2015 International Earth &; Sky Photo Contest, beating 839 other entries. It also took top spot in the Against the Lights category. But apart from these accolades, the success of Nathan's image is in showing the effects of light pollution and that we need to reconnect with the stars we have lost to artificial light.
The competition is hosted by photographic institution The World at Night (TWAN) and Dark Skies Awareness Project, which looks to preserve natural sites that are important to astronomical studies.
Nathan, who lives between Cape Town and London, would have taken more than seven hours to produce the image as it is a stack of over 900 30-second exposures. (See video above.)
The image shows just how artificial light has come to dominate the natural world, with Table Mountain framed by the southern areas to the left and the exclusive beachside suburbs of Camps Bay to the right.
According to TWAN, the images selected as winners were most effective in showing how important and delicate the starry sky is, and how bad the problem of light pollution has become. "Today, most city skies are virtually devoid of stars. Light pollution is not only a major waste of energy, it also obscures the stars, disrupts ecosystems and has adverse health effects."
TWAN founder and contest chair, Babak Tafreshi, said the contest's goal was to present the night sky in this context and encourage us to preserve and reconnect with it. "The sky above us is an essential part of our nature, a heritage for us and other species on this planet."
Interestingly it's Nathan who recently took the timelapse footage of Table Mountain during loadshedding!
Watch Video – Time-Lapse of Cape Town during Loadshedding
View the rest of the 2015 International Earth & Sky Photo Contest entries:
Watch Video – Timelapse of Cape Town's Night Sky
View larger version above.
More Info
EricNathan.com
FB.com/EricNathanPhotography