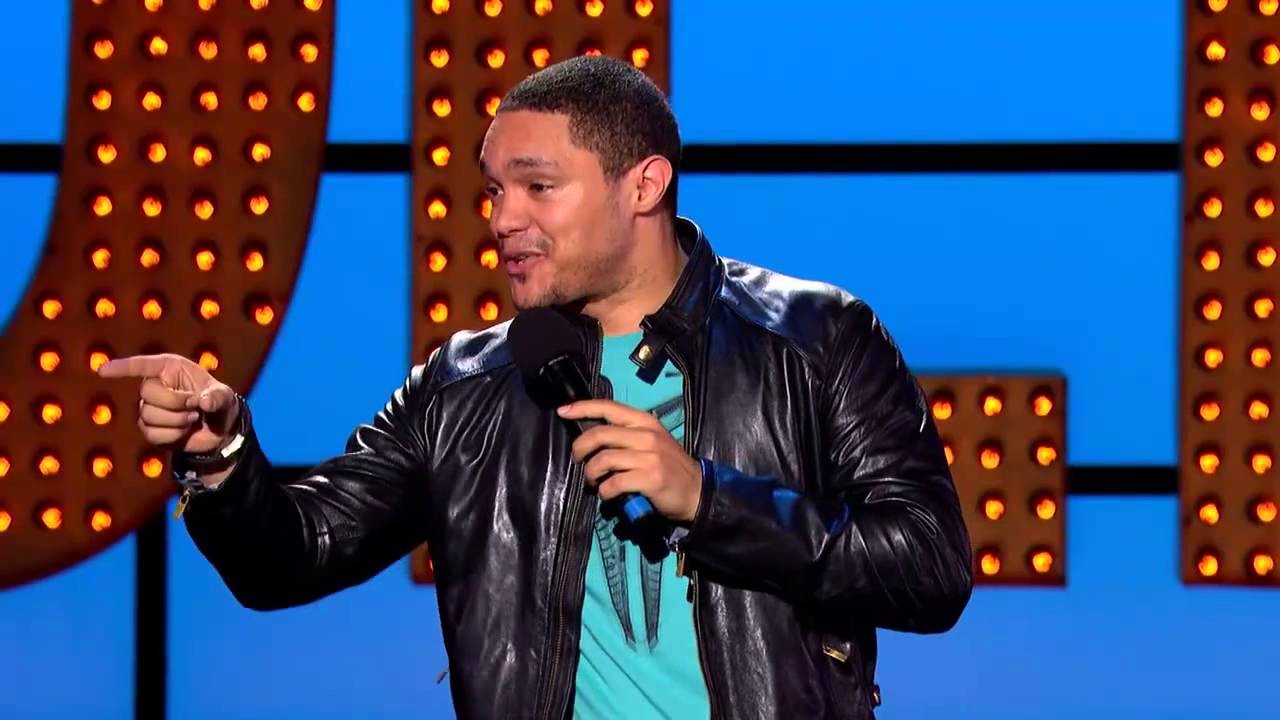 I'll be the first to admit I know nothing about standup comedy. I've probably seen a couple of comedians live, and several dozen on YouTube. I can't figure out Sarah Silverman (but she seems nice enough) and I adore Amy Schumer (that face, that unexpected whammy in the stomach, that brilliant Roast of Charlie Sheen!). Dane Cook? Don't get him. Lewis Black? Sometimes. British comedians? Not familiar with them unless Jennifer Saunders and John Oliver count.
So I went to see Trevor Noah perform not really knowing what to expect. Like many of us, I'd seen him on the Internet plenty times.
But now he was going to be live, in person, not long before taking over his big new gig The Daily Show from Jon Stewart, and in New York to boot. Well, it wasn't really New York (only the HUGE show people get big venues there, Barbara Streisand, Dane Cook – yes, go figure, Dane Cook – and Trevor Noah is not that big, at least not yet). It was in Stamford, Connecticut, about 30 minutes away on the express train.
[quote_center]"Waiting outside, I expected to hear South Africans…"[/quote_center]
The Palace is pretty huge, nevertheless, and the host reassured us that this was the only real Broadway theatre off Broadway, with chandeliers and gilded walls and so on.
Waiting outside, I expected to hear South Africans, because there are a lot of them living in this area and Westchester, close to New York but cheaper, although there wasn't a flat e to be heard among them.
In fact, the people pouring into The Palace were all sorts – white, black, twentysomething, pensioner, sandals, coiffed do's. Was this the Jon Stewart audience checking out the new host of The Daily Show? Or was it the normal standup crowd? Would he slay them or them him?
In his opening act, Trevor (I'll go against convention and not use his surname, since everyone else does) kicked off with a simple dissection of the word woo-hoo. Many of us use the word woo-hoo, often against our better judgment, but do we ever think about where it came from?
His conclusion: White girls. In front of me sat a white woman of about 25 who looked like she could have been the person he was talking about, on her cell phone 24/7 when she wasn't moving around in a pack with her friends.
At least that's what she looked like (another human foible, judging others by their looks, that Trevor gets to in due course). Her boyfriend was tall, black, shaved head, serious-looking. They seemed to represent two totally different demographics, but during the show I noticed that his shoulders were shaking in laughter as much as hers.
And so were everyone else's.
You can see why people like Trevor. He has an amazing amount of energy. For 90 minutes he talked about everything from his grandmother's reaction to him getting the gig on The Daily Show ("So, Trevor, does that mean you have a job now?") to how cell phones, which were meant to take us to a new and higher level of communication, are actually taking us backwards and making us not communicate at all. Plus, they are physically turning us into primates, with thumbs curled over from one-hand texting and a bent-over Neanderthal posture from trying to walk and read our mini-screens at the same time.
[quote_center]"So, Trevor, does that mean you have a job now?" – Trevor's grandmother[/quote_center]
Yes, people shook and laughed, even during those moments that Trevor took us away from woo-hoo and into some darker territory, his commentary on what's happening in the world today.
One of his most used expressions is "It doesn't make sense" or "It's the most incredible/craziest thing I've ever heard." And you have to believe he thinks that. Charlie Hebdo, Oscar Pistorius, Ebola, the white kid in South Carolina shooting up a church of black worshippers, a white policeman in America shooting a black man running away from him and calling it self-defense.  None of those sound like the stuff of comedy, but through making people laugh he tries to make some kind of sense of the nonsensical.
Most of us have watched Trevor's classic scene on YouTube of how the world reacted to people coming from Africa during the Ebola crisis, and how anyone even from South Africa was grilled on arriving in the United States – probably the worst place to land, he says, because everyone at the airports is so angry. Suddenly Africans got the treatment once reserved for Muslims, even though it was the U.S. that had Ebola cases and not most of Africa.
"It makes no sense."
But then everything changed. Overnight. Suddenly Muslims were being targeted at airports once again, and Ebola was forgotten. That was the day after terrorists went in and shot up the offices of Charlie Hebdo in Paris. And so Trevor segued into terrorism, and what are terrorists, and why does everyone think every Muslim is a terrorist? If that was true, he remarked, we'd all be dead, because there are one billion Muslims in the world.
"It makes no sense."
In one very funny scene – and there were plenty – he described how he was driving along a California highway when a cop tried to pull him over. After sidetracking into things like driving on the wrong side of the road in the U.S., the inferior quality of bullhorns on cop cars, and the position of holding your gun when you walk ready to draw, he tackles the attitude of white cops towards blacks and, then, as soon as he has taken the high ground, he realizes there's also a black attitude towards white cops. Trevor himself thought he was being pulled over for being black, but he had actually been speeding.
And then there's Oscar. As in Pistorius.
"People said, but how did he shoot her?" Trevor put it to the audience, referring to the fact that Pistorius didn't have his prosthetic legs on the fateful night and was crawling on the floor. "Well," he said, "you don't need your legs to shoot."
[quote_center]"he definitely thinks Pistorius is guilty…"[/quote_center]
You never know whose side Trevor is on, although he said he definitely thinks Pistorius is guilty. He explained to the audience what happened in the shooting of Reeva Steenkamp – he told them a lot about South Africa throughout the night, in fact – and he took them through some of the evidence that came out in court. He focused on the fact that Pistorius had allegedly crawled past the side of the bed where Reeva was meant to be sleeping – but somehow didn't see that she wasn't there – to get his gun that was used to kill her.
"That's the craziest thing I've ever heard."
The description of the killing seems to be going one way, and you wonder – not for the first time in this night where Trevor deals with some pretty raw subjects – how he is going to turn this into a good laugh. But he does not only that, he turns it into a pretty scathing but ever so subtle commentary on men abusing women.
It was an incredible balancing act that Friday at the Palace. Comedy out of tragedy. You're laughing, often not sure that you should be (given the serious subject matter being tackled) until you finally give in and realize this is Trevor's shtick.
And two days later, his jokes still resonate with you, except for reasons you probably never expected…
Trevor Noah Videos
Trevor Noah on Flying During the Days of Ebola
Trevor Noah – Live at the Apollo, London
Trevor Noah: It's My Culture – Funny Funny