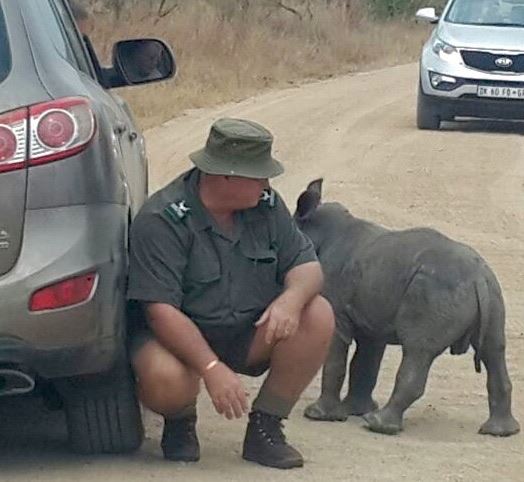 A baby rhino in a South African wildlife park seems to have sought out the "comfort" of cars after losing its mother in a phenomenon known as "imprinting".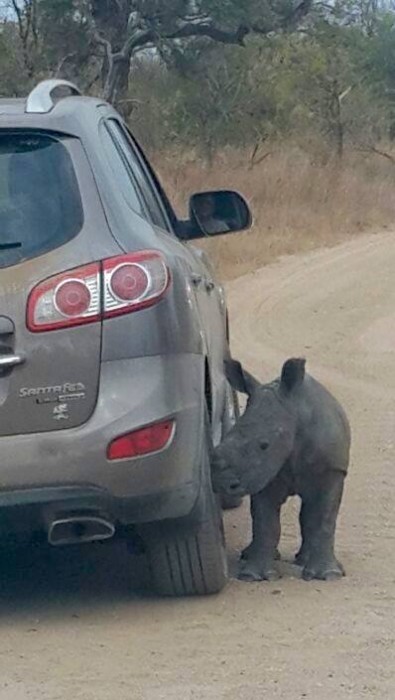 Debbie English, who is in her fourth year of veterinary science at Onderstepoort, posted some touching photos this weekend of a little rhino calf who was stranded without its mother.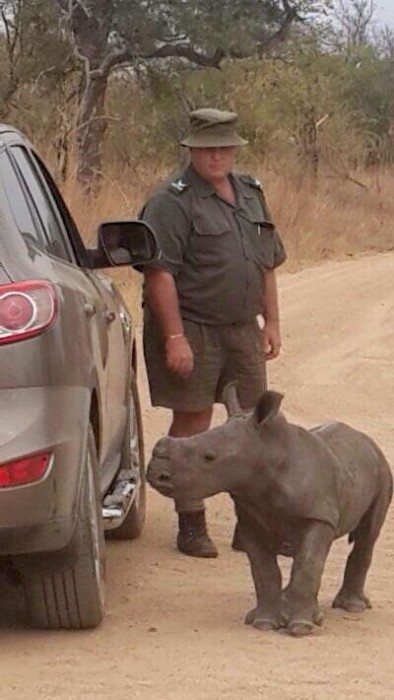 "This little guy lost his mom and wandered all the way to the tourist road," Debbie wrote on facebook. The rhino then appeared to "adopt" the cars "as its mommy" and didn't want to leave them. She says it was "heart wrenching" to witness.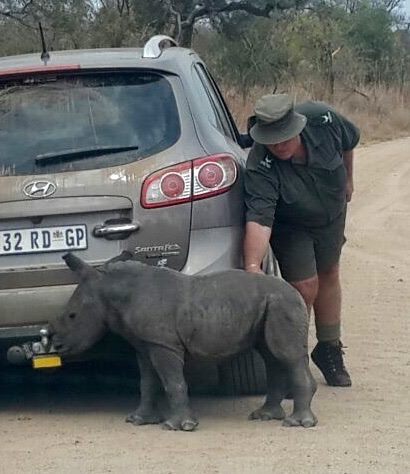 This phenomenon is regularly seen by safari guides in many animal species, when they lose their mother, with some baby wildebeest running for kilometres to keep up with their new "mom" as a safari vehicle drives away.
Debbie's father Don English, a Regional Ranger for Marula South Region, together with the veterinarian managed to tranquilize the tiny rhino and fly him to a new home.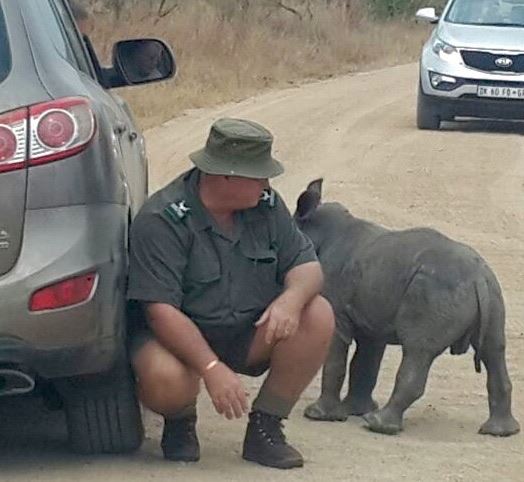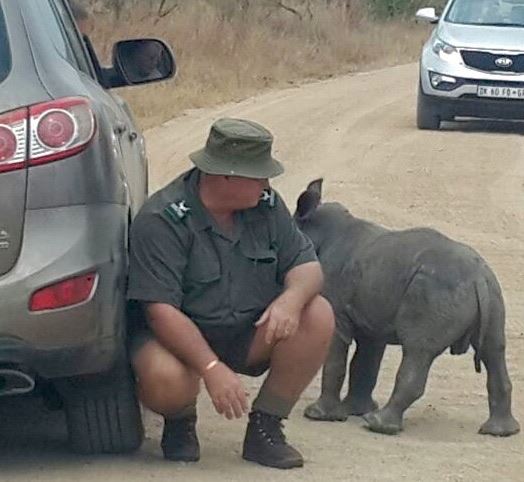 However, as with most wildlife rescues, there were "hiccups" along the way.
"The pilot had to make an emergency landing after this little guy flat-lined," says Debbie. "After three minutes of resuscitation and trying everything to save him – he gasped for air and his little heart started up again!"
Debbie writes in her post that there were tear-filled eyes as everyone looked on in amazement when he did start to breath again.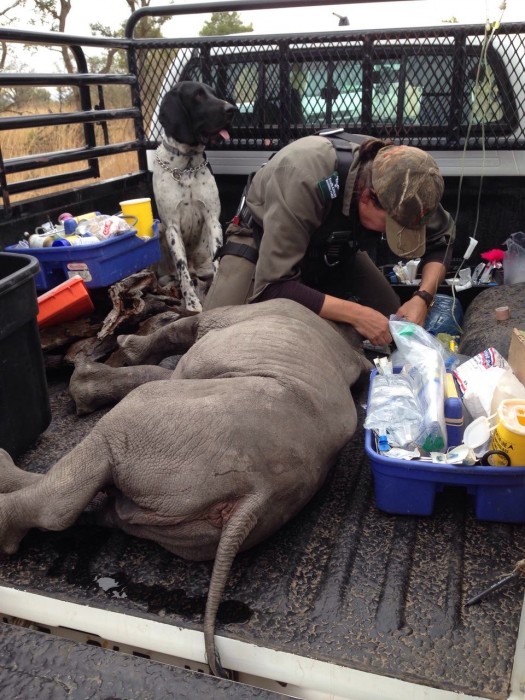 The little rhino is now settling in to his new home with Care for Wild, a specialist Wildlife Care and Rehabilitation Center with expertise in the care of African species especially rhino. Debbie currently works at the Center during her holidays.
She says: "The public don't often hear about successes like these so I would like to share this happy ending with you and ask the public to support our rangers, veterinarians and all the other special people involved in the fight against rhino poaching!"
Debbie told SAPeople that she would like people to "take a moment and stop to think of the incredible jobs these special people – rangers and people involved in fighting this war – do…instead of questioning why and what they do; and sometimes just beating them into the ground about decisions they make when they know what it is the best thing to do.
"The rangers take these attacks very personally and it is incredibly demoralising for them. It kills us to see what it does to our dad when he is trying his utmost to put this war to an end."
Debbie's father was born and brought up in the Kruger National Park.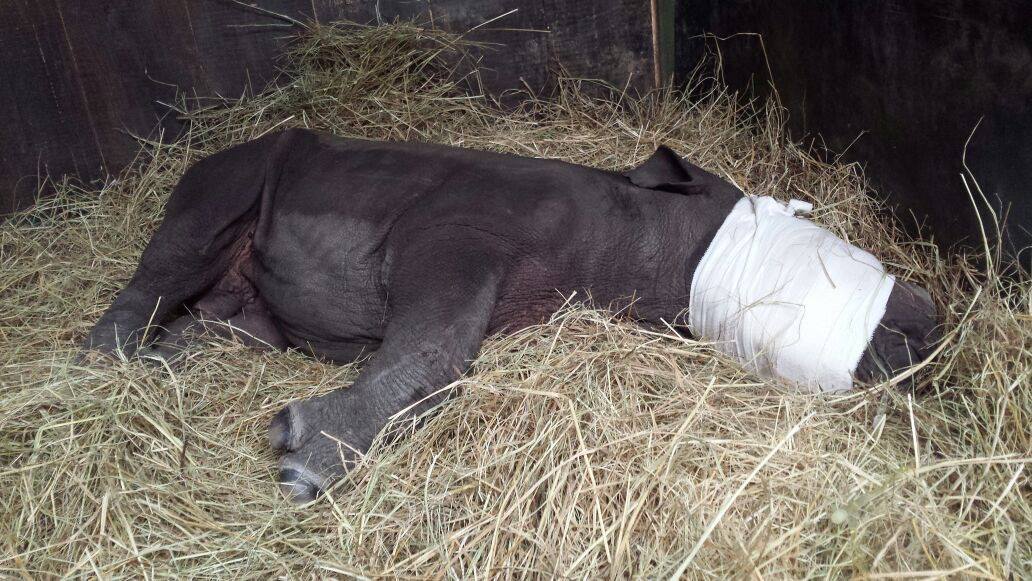 "I would like people to support them and encourage them," Debbie told SAPeople. "And also to think about what a massive impact this has on us as families.
"Any way possible that people could be involved is such a help…even if it only the tiniest gesture."
IF YOU WOULD LIKE TO HELP:
If you are interested in sponsoring or donating to Care for Wild Africa, they would so appreciate it, and it would help so many of the little rhinos who end up here. "They do an absolutely incredible job," says Debbie.
Care for Wild Africa website: http://www.careforwild.co.za/
Care for Wild Africa  on facebook