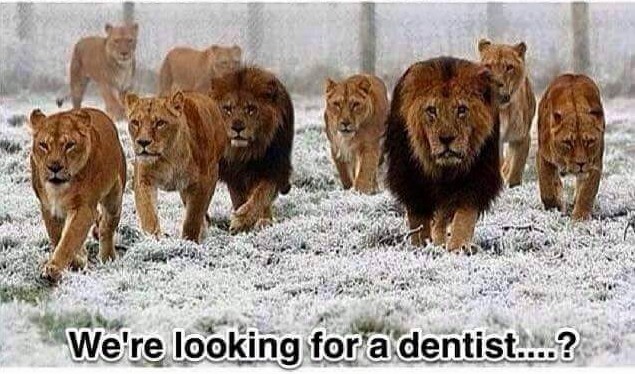 Since Minnesota dentist Walter James Palmer was named as the American dentist responsible for killing a well-known lion named Cecil in Zimbabwe last month in an allegedly illegal hunt, people around the planet have taken to social media to create a worldwide roar of disapproval.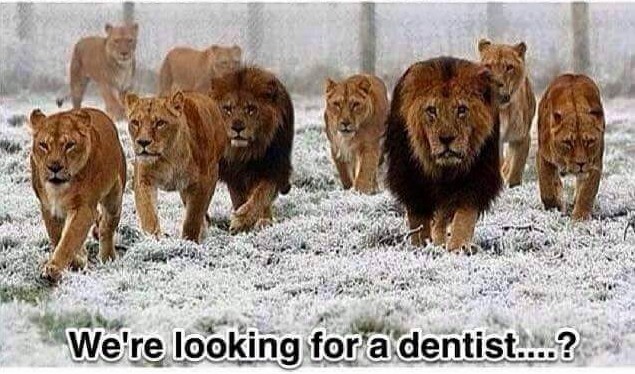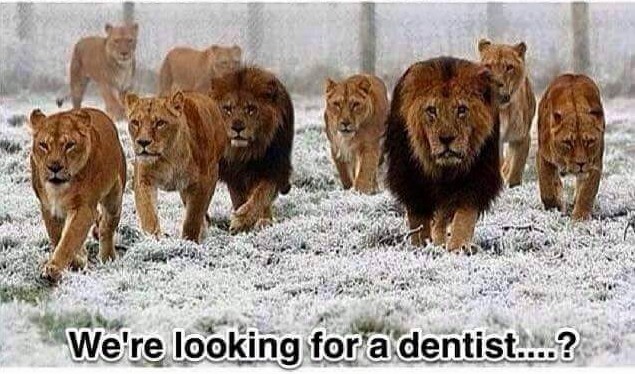 Some were upset by the killing of Cecil, while others were upset that the killing of Cecil had upset so many when there are several other issues like the murder of human beings and widespread poaching across Africa which haven't caused such an outcry.
Is it because Cecil had a name? Or because his killer was named? Or because his killer paid to do it? (Unlike poachers who are paid.) Why wasn't there a similar outcry about the four elephants that were killed by poachers with cyanide in the Zambezi National Park around the same time?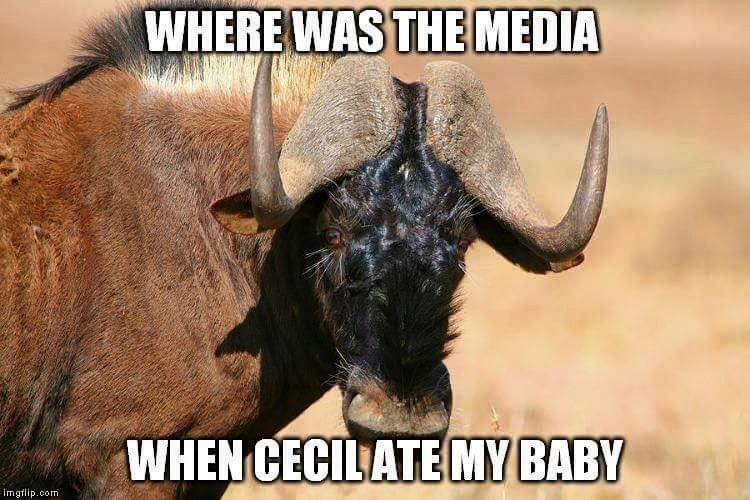 Is this 'Cecil Social Media Storm' the best thing that has happened to Africa's wildlife – the possibility of an end in sight for trophy hunting? Finally pressuring governments and airlines to take positive action to protect our endangered species? Or is this just a welcome diversion for poaching kingpins whose operations generate millions for them, fuel Asian demands, and threaten entire species across our continent?
Here's a round-up of some of the opinions, photos, captions and results following the now famous death of a lion called Cecil in Zimbabwe:
First, the man who paid to shoot the lion was named…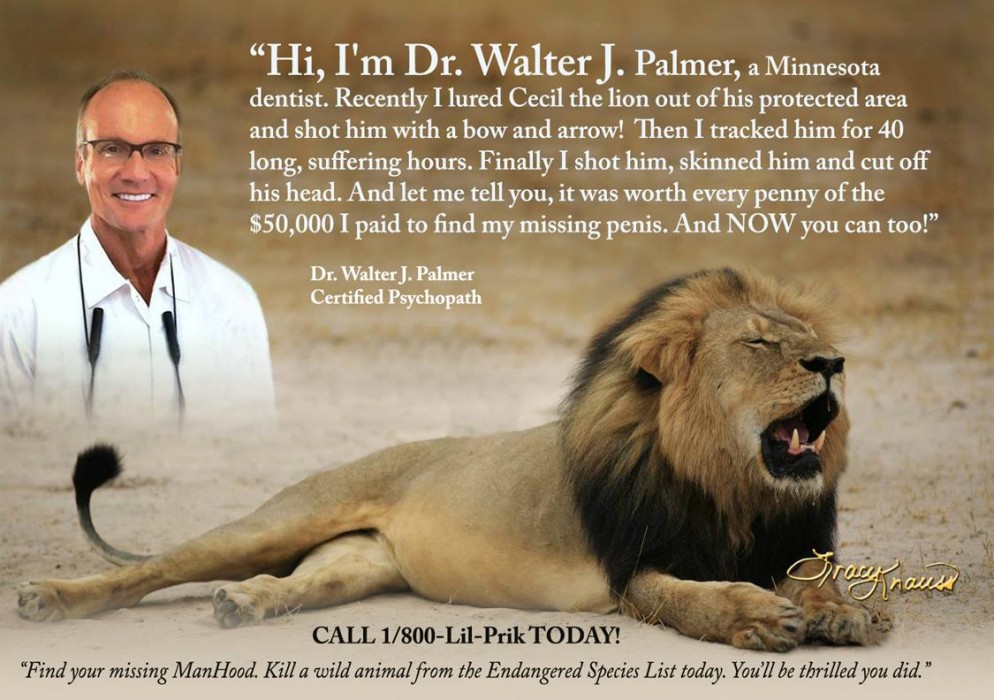 And thus began a man hunt…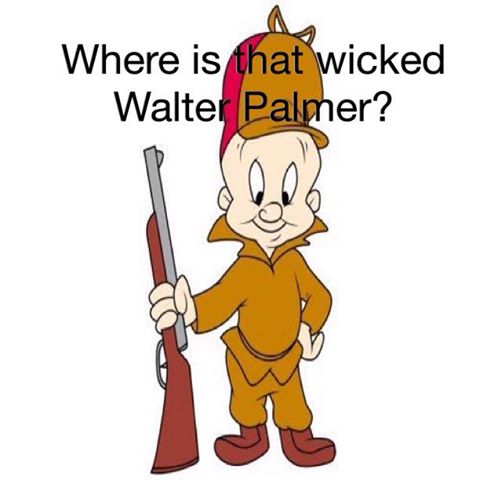 It was Dentist Season…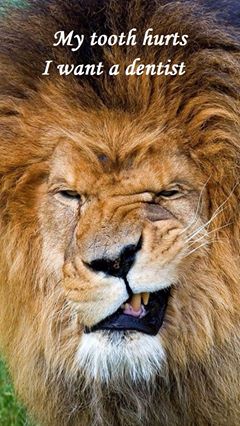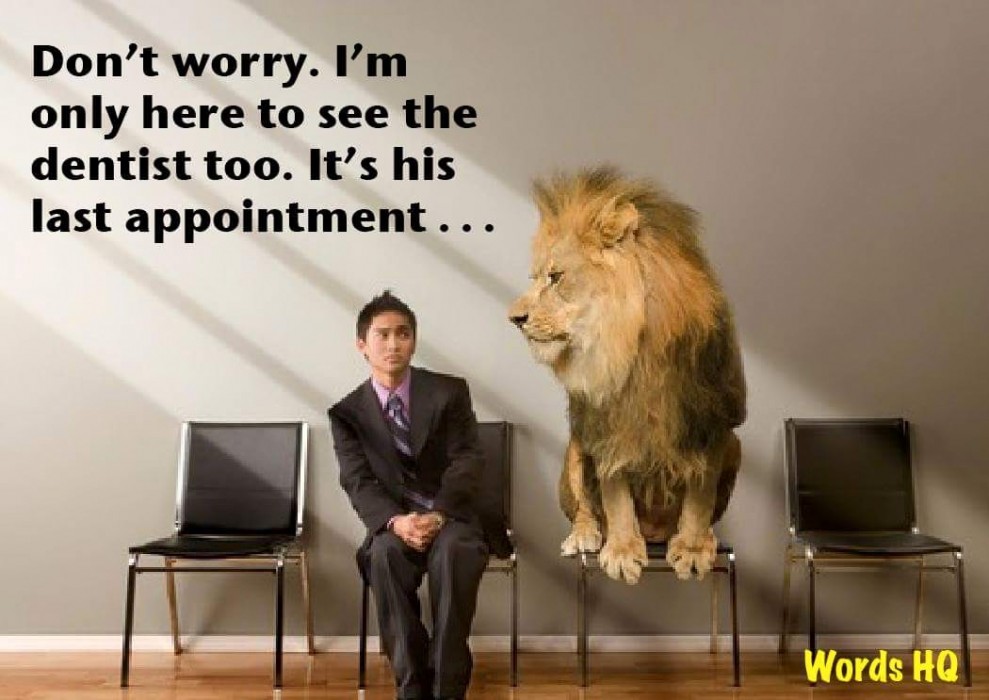 And finally they found him…but there was not a doctor in the house. He had gone into hiding…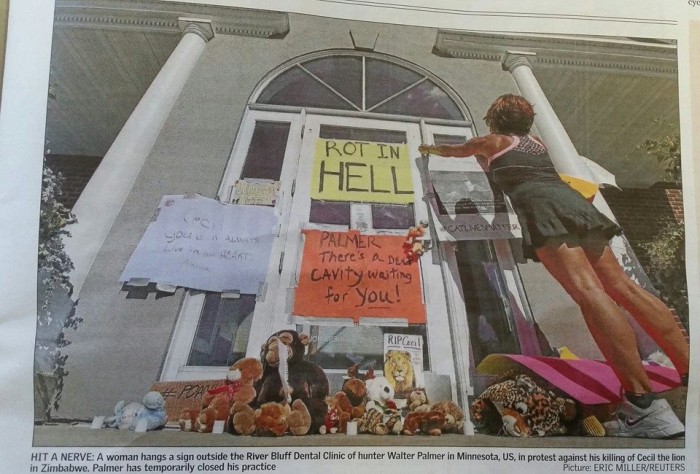 The "blood lust" worried some…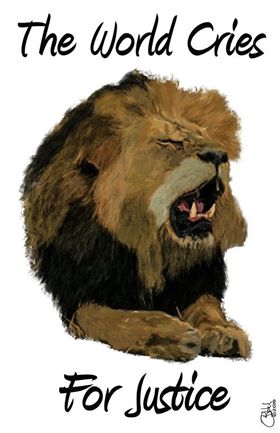 Ian Johnson, CEO of Mokolodi Wildlife Foundation, wrote in an article on LinkedIn entitled "Armchair conservationists – social media likers" that "it is perhaps the manner in which people are responding, the blood lust for the individuals concerned, where I start feeling despondent about where we are in conservation and social development."
Ian pointed out that after "liking" a post on Facebook, many people go back to driving their 4-litre engine cars, spraying insecticide on "annoying mosquitoes" and saying "I've done my bit!…Africa and Africa's wildlife should now be safe!"
"What if these same people actually offered a solution?" he asked. "What if they covered the short fall in the income generation that disappears if hunting stops? Do the people sitting on their iPhones and in air conditioned offices understand the reality on the ground?"
Aaron Blaise, a former animator at Disney who worked on films like The Lion King, was so saddened not only by Cecil's death but also by the "simply horrifying" response of people "asking for the head of the dentist that killed Cecil" that he created the tribute below to try quash the hatred. (See more here.)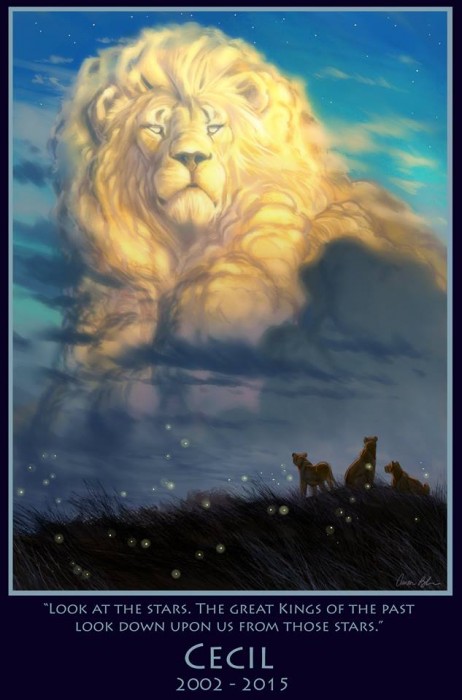 Many called for the end of hunting
According to Nikki Ekstein, in an article on Travel & Leisure entitled "No, Big Game Hunting Does Not Secretly Help Conservation Efforts", hunting doesn't contribute as much to conservation as the industry would have us believe.
Some said Cecil wasn't famous after all…
Zimbabwe local Alex Magaisa revealed In an article in Zimbabwe Today, "Dear World: Reflections on our Cecil", that he and most inhabitants of Zimbabwe had never heard of Cecil and "was a bit surprised" by the international outcry because "I did not know Cecil or that he was one of our most famous lion".  A quick check with all his friends and family confirmed they didn't know Cecil either, or that he was "a symbol of Zimbabwe" as one British paper put it. (Theo Bronkhorst, the dentist's professional hunting guide, claimed in court this week that he had never heard of Cecil himself.)
But called for an investigation into the Zimbabwe Hunting Industry
Alex wrote that he suspects the Zimbabwe hunting industry "operates like a cartel and there is a Mafioso element to it. Professional hunters are quite simply glorified poachers" and alleges that "big people in Zimbabwe are involved in this lucrative hunting industry – Government Ministers, their relatives and their friends. These Government people might shout and scream during the day about white people, Europeans and Americans but during the night, they are their hunting partners." He called on journalists to investigate further.
Alex also says that not only are most people in Zimbabwe concerned with more pressing needs than Cecil like "food, shelter and jobs", but that "a democracy activist called Itai Dzamara has been missing for more than four months and some people worry that the story of this human being has not received as much international attention."
The Prof from Oxford said hunting isn't the biggest threat to Zimbabwe's lions
In a National Geographic article entitled "Cecil Is One of Hundreds of Lions Killed Recently in Zimbabwe", Brian Clark Howard writes that: "For all the attention Cecil has garnered, trophy hunting isn't the biggest threat to Zimbabwe's lions.
"Loss of habitat and prey species such as gazelles and wildebeest are more serious concerns. And farmers, villagers, and poachers have killed more of the big cats illegally over recent years than legal trophy hunters, with more clashes between people and lions along park borders."
Professor David Macdonald, director of the 20-year-old Oxford science programme that is focussed on the Park in Zimbabwe where Cecil was being tracked, told the National Geographic that photo safaris are unlikely to replace the income from trophy hunting (about $20-million per year which is over 3 % of its tourism revenue) in the near future because some of the areas where lions live are inaccessible.
Professor Macdonald is quoted as saying "I take the upwelling of feeling around the world about Cecil as a metaphor for their interest in lions and conservation more broadly…I feel a great hope emerging from this."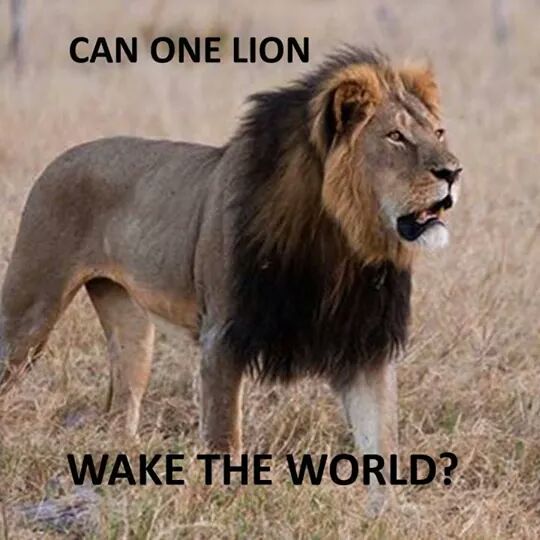 Some thanked Walter Palmer (the dentist)
An American filmmaker, married to a South African and living in Africa, Lisa Buschek (originally from Minnesota like Walter Palmer) wrote a "Dear Walter" letter on Facebook thanking the dentist for killing the lion.
"I spend a lot of time trying to shed light on the plight of Africa's animals at the hands of people like you. No work we have ever done with the Discovery Channel or National Geographic has highlighted the problem quite like the killing of Cecil has. This is why I thank you…" she wrote.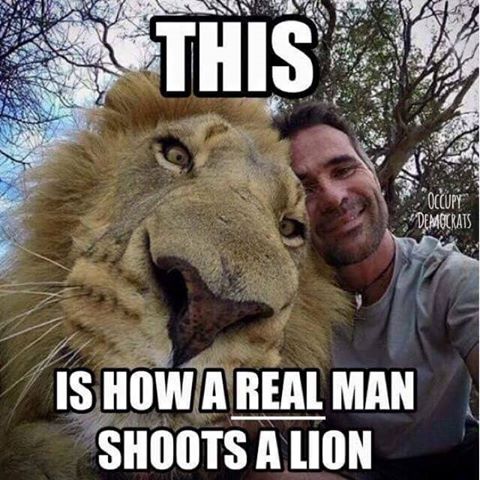 Others argued that Palmer has done more for conservation than most of us
Wes Siler wrote in an article headed "Lion Murderer Walt Palmer Has Done More for Conservation than You Have" that instead of tweeting with a hashtag we all need to do something constructive about conservation, and that not all hunters should be tarred with the same brush as Palmer.
Wes wrote: "Lion murderer Walt Palmer is an asshole. But, he's also an asshole who's contributed more money to animal conservation in Africa than pretty much anyone else. In fact, trophy hunters like him are a large part of the reason we still have animals like lions at all."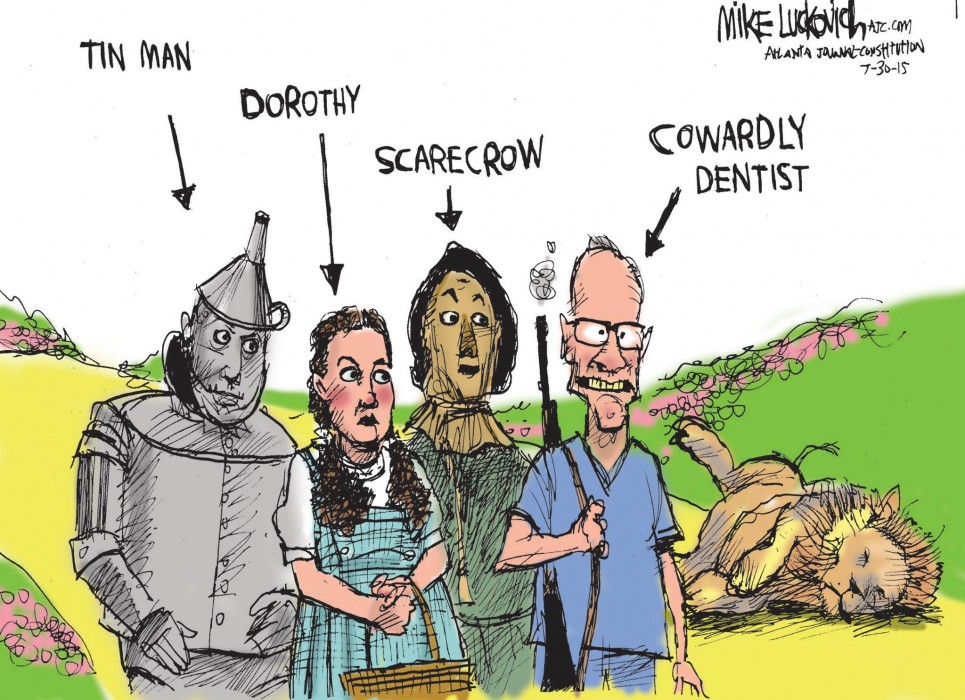 Some said there are other issues that need our attention…
Like other animals…
The Washington Post highlighted the fact that while so much was being made of Cecil, a 13-year-old lion, "an even more devastating poaching incident" took place in Tsavo West National Park in Kenya where five endangered elephants were killed (an adult female and her four offspring) and their tusks hacked off.
In an article entitled "As the world mourned Cecil the lion, five of Kenya's endangered elephants were slain", Kevin Sieff wrote: "While the killing of the lion in Zimbabwe has attracted the world's attention, the death of the five elephants has received almost no coverage, even though elephants are under a far greater threat from poachers than lions. "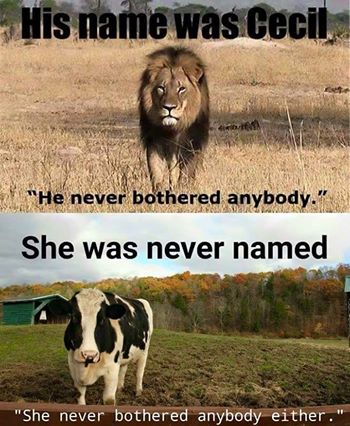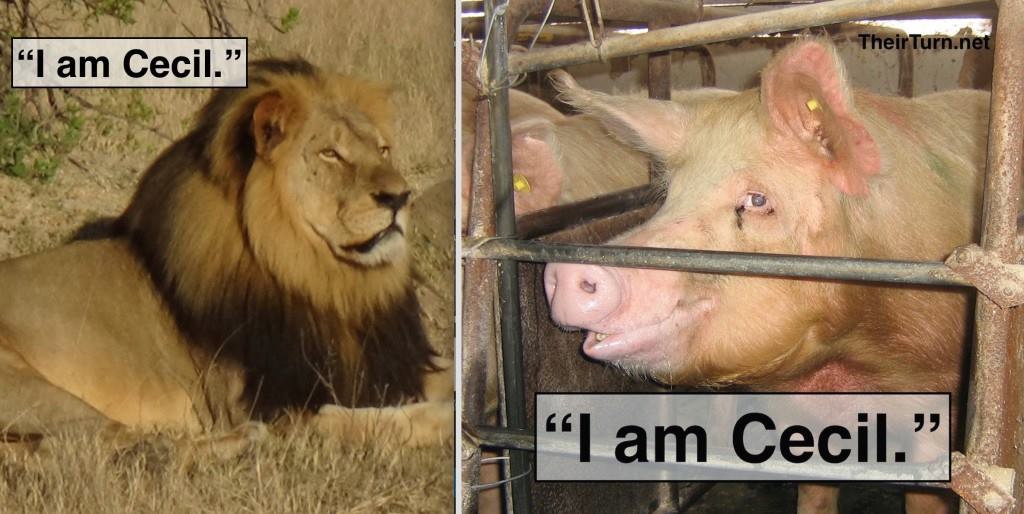 And other humans that are killed…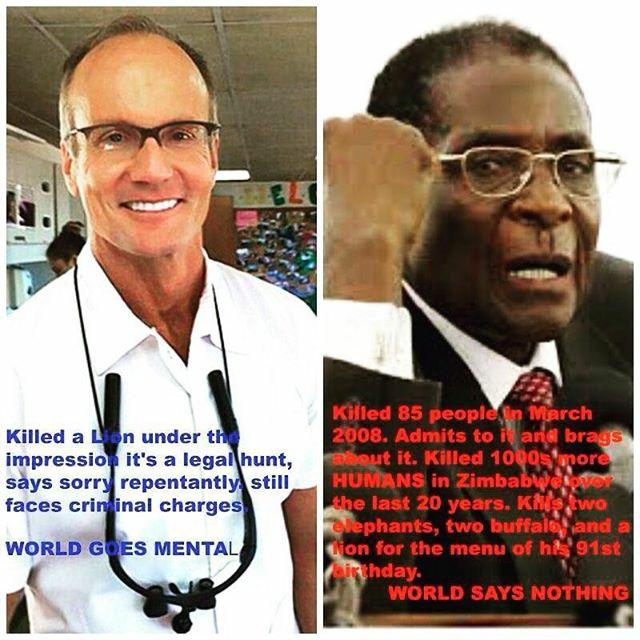 Jessica-Wendy Maughan, who grew up in Zimbabwe, wrote a Facebook post referring to all those people who have been murdered in Zimbabwe and saying how "it's still unclear to me how all these deaths of human beings go unnoticed or are disregarded, but the death of an animal makes the number 1 trending topic in the world.
"It is also a tad bit annoying that Walter Palmer, who thought he was acting legally and under law, is targeted with so much hatred over this ONE act, when hundreds of poachers, who slaughter endangered animals BY THE DOZEN, go unnoticed – for example: the same week Cecil was killed, 5 endangered elephants were killed in Kenya by poachers, yet no trending topic there. Instead of taking your time to hashtag 'Kill Walter Palmer' or 'Fighting for Cecil', how about you use your energy to fight for the people of Zimbabwe who don't have a voice…"
Some in South Africa shared horrific photos with messages about one lion's death going viral yet the murder of an alleged 30 farmers per year not getting anyone's attention.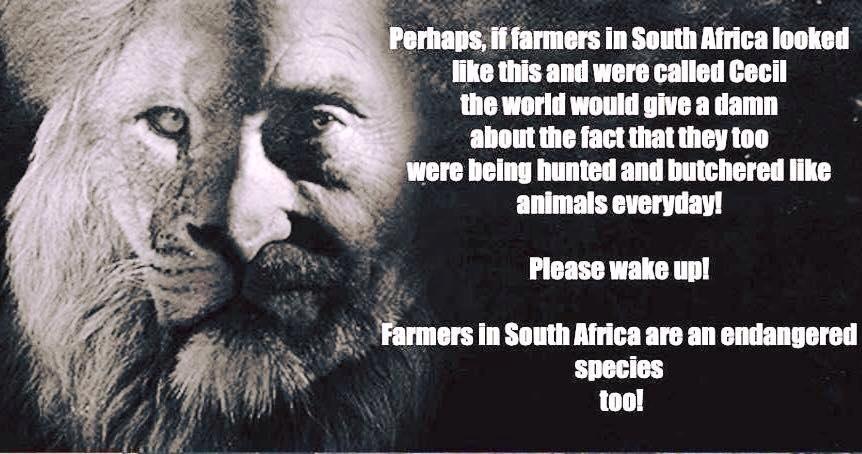 Lindiwe Mlandu wrote an opinion piece on EWN headed "Losing Our Humanity". In it, she writes about several people who have been killed at the same time, including that: "20-year-old Bongiwe Ninini was raped, stabbed, and her body dumped in an unused drain in an open field opposite the Thembani shopping centre in Khayelitsha. That story didn't make prime-time news and yet Cecil the lion has been one of the leading news items for the past two days. Was his life more important than theirs?"
And – surprisingly – some seemed oblivious to the entire uproar!
In the midst of the social media storm an American huntress, Sabrina Corgatelli, uploaded photos of herself with various dead animals to Facebook, to show her friends what she'd been up to on a hunting trip to a South African game farm.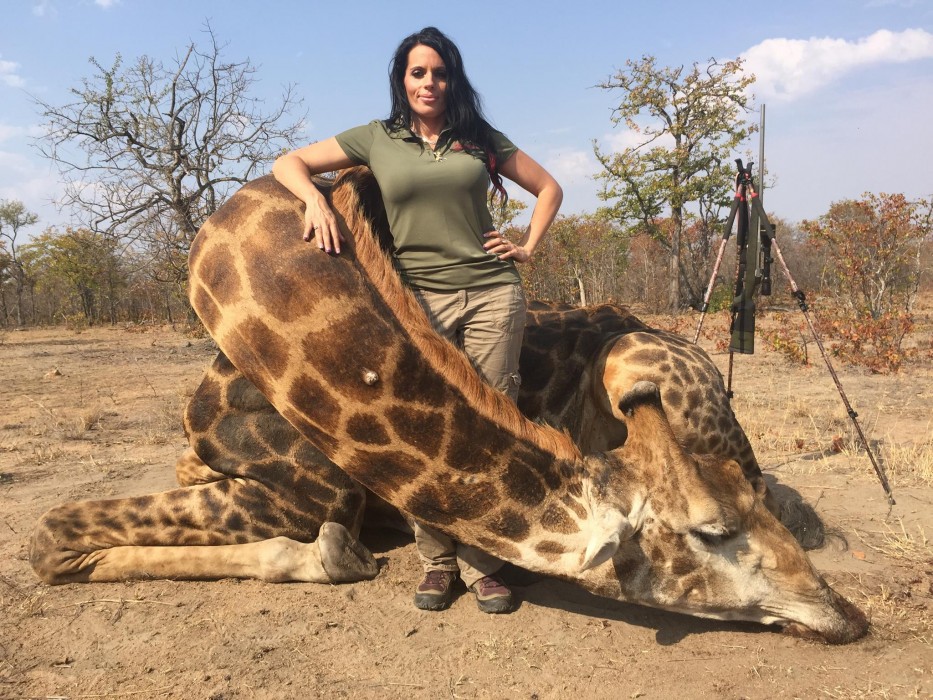 Some just laughed…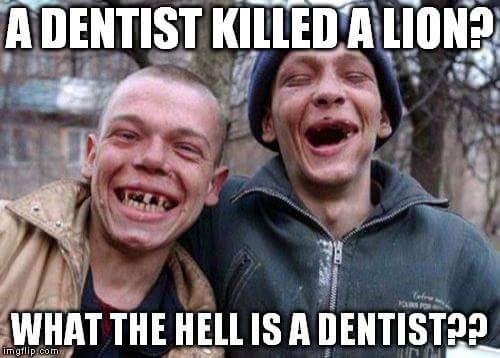 MILLIONS SIGNED PETITIONS
The "world" called for justice…and a long list of petitions have been set up including these two which each have over 1-million signatures already:
Care2 – Demand Justice for Cecil the Lion in Zimbabwe
The petition will be sent to President Robert Mugabe of Zimbabwe asking for the country to "stop issuing hunting permits to kill endangered animals!"
Avaaz – US, EU: Save Africa's Lions
This petition calls on the European Union and United States to ban the import of animal trophies.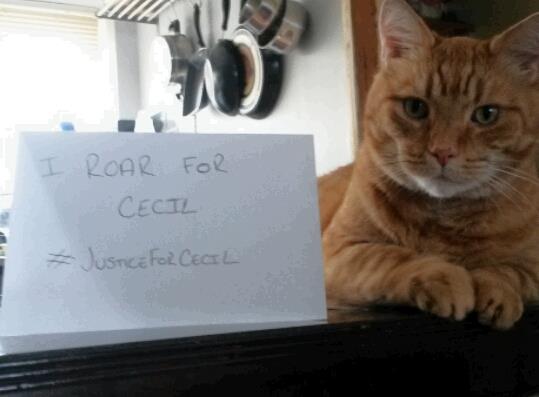 Various other petitions currently out there include Stop Lion Trophy Hunting, Charge & Extradite American Wildlife Poacher Walter J. Palmer to Zimbabwe, and We Stood for Cecil – Now Let's Stand for the People of Zimbabwe Too.
AND THE RESULTS ARE ALREADY IN…
Thanks to the publicity, the pressure and the petitions, changes have been made already…
[vc_button title="1″ color="default" size="size_large"] Safari Industry Will be Cleaned Up
According to the Bhejane Trust, a Rhino and wildlife non-profit conservation organisation based out of Victoria Falls in Zimbabwe, "the good thing out of all this is the dodgy and illegal practices in the safari industry will now be cleaned up, and those operators operating outside the law need to be closed down. Parks are reacting positively and firmly to the situation, which is exactly what is required."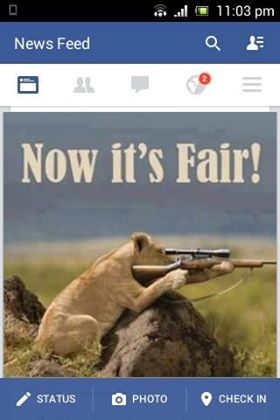 [vc_button title="2″ color="default" size="size_large"] Brought to Trial
Professional hunter Theo Bronkhorst, who was Walter Palmer's guide in the incident, will stand trial on 28th September 2015. Others are being tried too.
Investigations following Cecil's death have led to the arrest of safari organiser Headman Sibanda for another alleged illegal hunting incident on a farm just outside Hwange National Park. His client – a Pittsburgh (USA) gynaecologist oncologist – Dr Jan Casmir Sieski has been named in the investigation for allegedly killing a lion in April.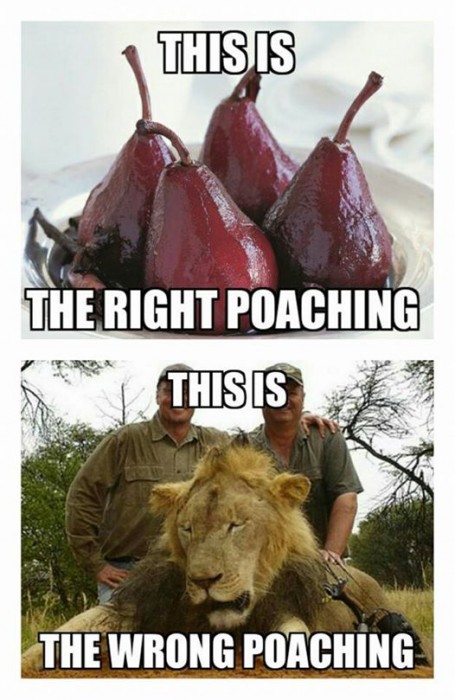 [vc_button title="3″ color="default" size="size_large"] Airlines Ban Shipment of Trophies
Delta Airlines has banned the shipment of lion, leopard, elephant, rhinoceros and buffalo (known as "the big 5") trophies as of Monday 3 August, 2015. Although their short statement didn't mention the Cecil incident or a petition (led by the Animal legal Defense Fund's Chris Green), it is believed to have been the trigger for this move.  Delta has the most flights of any U.S. airline to Africa.
Several foreign airlines – including American, United Airlines, Air Canada, British Airways and Virgin Atlantic – have announced similar bans in the past week.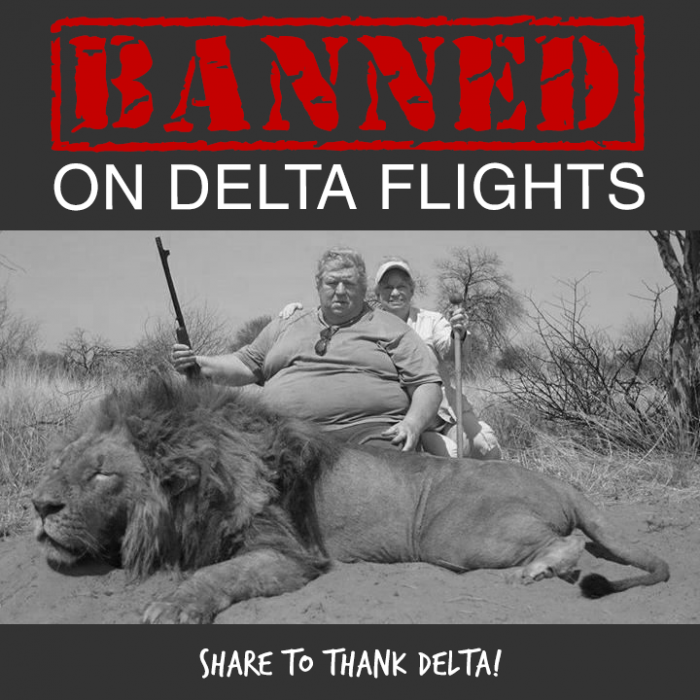 Surprisingly, South Africa's own airline – South African Airways (SAA) – announced the opposite! Its embargo has been lifted!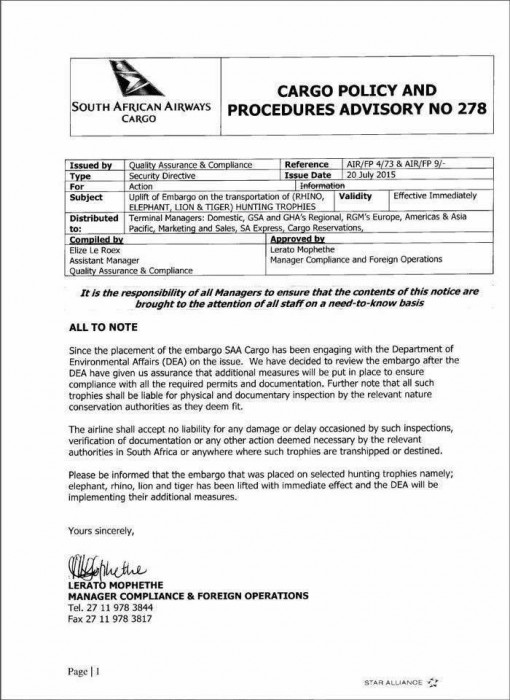 [vc_button title="4″ color="default" size="size_large"] Tighter Hunting Restrictions Implemented in Zimbabwe
Zimbabwean authorities announced tighter hunting restrictions on Saturday (1 August 2015) and promised to remove "any undesirable elements".  With immediate effect, the Zimbabwe Parks and Wildlife Management Authority suspended bow hunting and the hunting of lions, leopards and elephant in areas outside of Hwange National Park. The organisation has also called for donations to assist them in their investigations.
[vc_button title="5″ color="default" size="size_large"] Proposed New CECIL Bill
US lawmakers have drafted a proposed new bill called CECIL (Conserving Ecosystems by Ceasing the Importation of Large) Animal Trophies Act which could make it illegal for hunters to import "trophies" from potentially endangered animals.
[vc_button title="6″ color="default" size="size_large"] Botswana Bans Sport Hunting
Government spokesperson Jeff Ramsay confirmed Sports Hunting has been banned and sport hunting licences will not be issued.
THANK YOU to every single person on SAPeople's Facebook page who sent in the images and links to articles.