Congratulations to South Africa's Wayde van Niekerk for clinching an awesome 400 metre gold today at the 2015 World Championships in Beijing…and running the race in the fastest time in the world for the past eight years!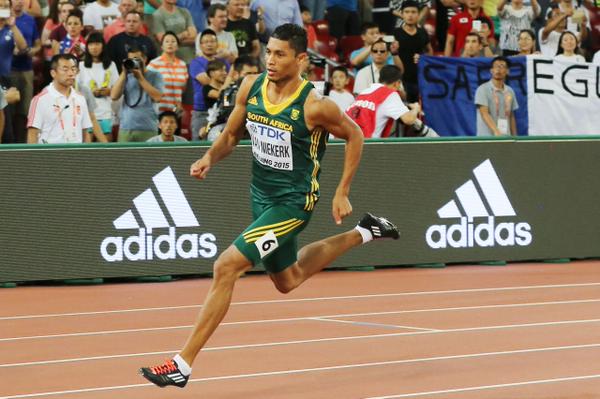 The 23-year-old's performance was so spectacular – finishing in 43.48 seconds making him the fastest non-American in history – BUT it came with consequences.
Wayde collapsed from severe exhaustion, with a BBC Radio 5 commentator observing: "Van Niekerk can't celebrate, he's holding on to the barrier for support, and he's down again. He's in so much pain. He's not thinking about a lap of honour. That's how hard it was."
The athlete left the field in China on a stretcher for a trip to the hospital, from which he has since been discharged.
The South African's time makes him the fourth all-time fastest 400m runner in the world (behind Butch Reynolds, Jeremy Wariner and Michael Johnson.) This is his first world title.
It was only last month that he first achieved the distance at under 44 seconds, becoming the first athlete from Africa to run 400m in under 44 seconds.
His competition today was tough, including both the defending world champion – LaShawn Merritt from the USA – and the Olympic champion, Kirani James from Grenada. Merritt took silver and James bronze.
According to the BBC, this was the first time in history that three men in the same race finished in under 44 seconds!
Wayde, who was born in Cape Town, attended Grey College before studying marketing at the University of the Free State.
Congratulatory Tweets have poured in for Wayde:
Former golf champion Gary Player: "Amazing 400M performance @WaydeDreamer! Proud of you my friend. Congratulations on your GOLD medal. #Beijing2015"
Olympic medallist Elana Meyer: "Gold for @WaydeDreamer at @iaaforg world champs! Dream run! New personal best ! New SA record!!"
Sports sponsor Adidas: "Creating the dream. @WaydeDreamer is South Africa's very first 400m World Champion. #beijing2015 #boostbeijing"
Miss World Rolene Strauss: "Congratulations @WaydeDreamer – you make us proud to be South African! ???@JJ_UFS #Kovsies"
WATCH VIDEO – 
Wayde Van Niekerk 43.48 WL Men's 400m Final IAAF World Championship Beijing 2015