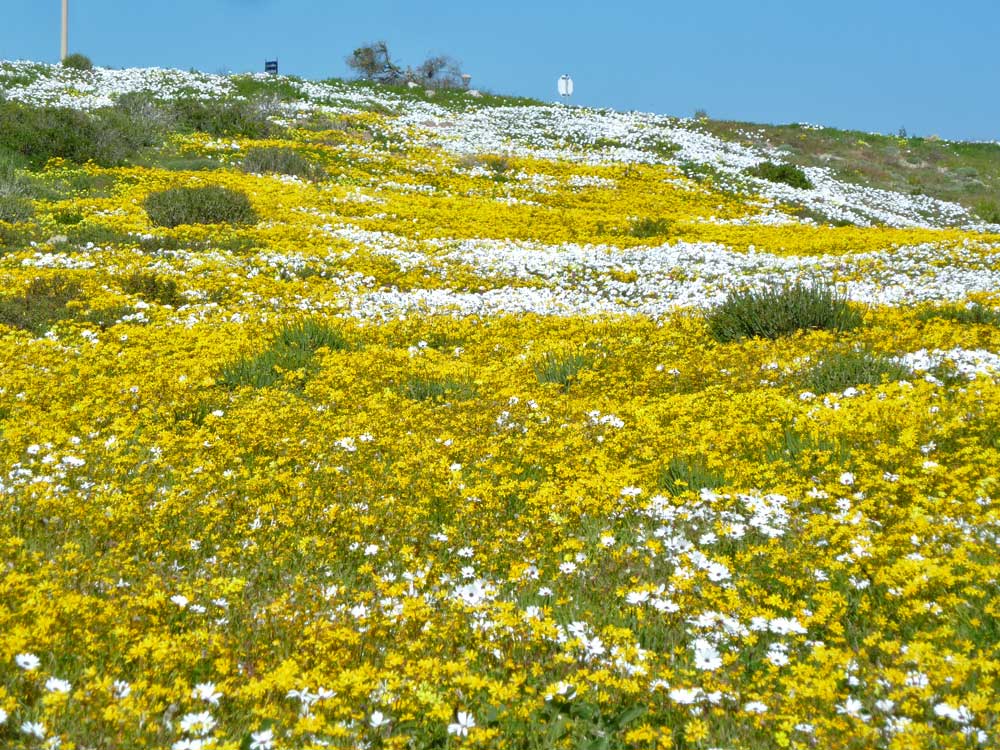 If you'd like to view South Africa's amazing fields of wild spring flowers before the blooming ends – here are some tips and the latest flower reports, updated by West Coast Regional Tourism and SANParks Namaqua National Park, to help you find the best places and ways to view this visual extravaganza. Top Tip: Make sure you always have the sun behind you, this will give you the illusion the flowers are showing off just for YOU!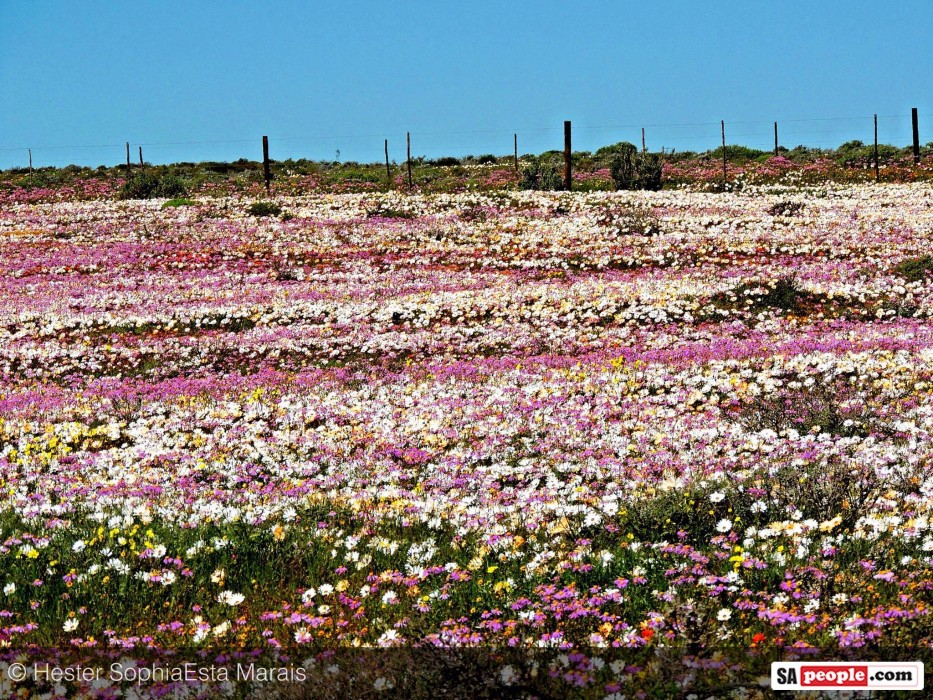 Tips while viewing the flowers
The flowers are open between 11:00 and 15:00, the warmest part of the day
The sun must be out for flowers to open, thus rainy or overcast days are not ideal
The day temperature must be at least 18 degrees
Flowers face the sun, thus for viewing and pictures keep your back to the sun
Get out of the car and walk around, don't miss the special smaller species
Tread lightly, don't unnecessarily trample plants, and never pick flowers or bulbs
What to wear when viewing flowers
Long pants and insect repellent when walking around in the field
Comfortable shoes
Advice to tourists
Try to book your accommodation in advance
Try to visit during the week to avoid the congestion over the weekend
The West Coast Flower Hotline is available from 08:00 to 20:00, 7 days a week
Most towns along the flower routes have fuel stations, ATMs and mobile reception
The further north, the further apart the towns, keep in mind when planning
Stop and ask locals for advice on flower hot spots, distances, etc – they're friendly
Namakwa/West Coast flower maps are available at all tourism information offices
Namaqua National Park:
Here's a report from SANParks (28 August 2015):
The flowers at Skilpad are currently the best in some years. The orange carpets looks thicker than previous years and covers more areas. It is interspersed with various purple, yellow and white flowers.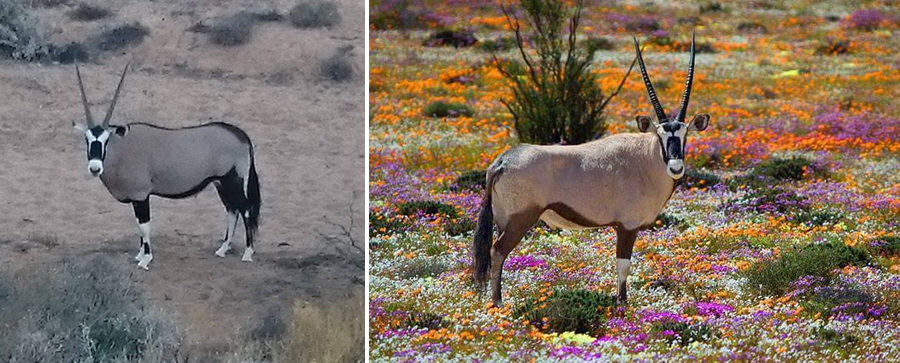 The lower lying areas of the park, in particular Soebatsfontein, Kookfontein and the Wildeperdehoek area, are exceptional. White and orange daisies are covering large areas, and the Wildeperdehoek flats have large purple patches of Sporries. A multitude of species is flowering all at once, with vygies and beetle daisies being very noticeable. These particular areas are accessible on gravel roads of average condition- but is worth the drive.
The Caracal Ecoroute in Namaqua National Park is highly recommended and definitely the way to go at this stage when visiting the park. Visitors will see a wide variety of flowers, from the mountains to the coast. The track from points no.1 – 4 in particular will keep you occupied for many hours. It is essential to get the Ecoroute guide booklet at one of our offices if you intend doing this route. The route takes all day and a 4×4 is required due to some sandy stretches along the coast.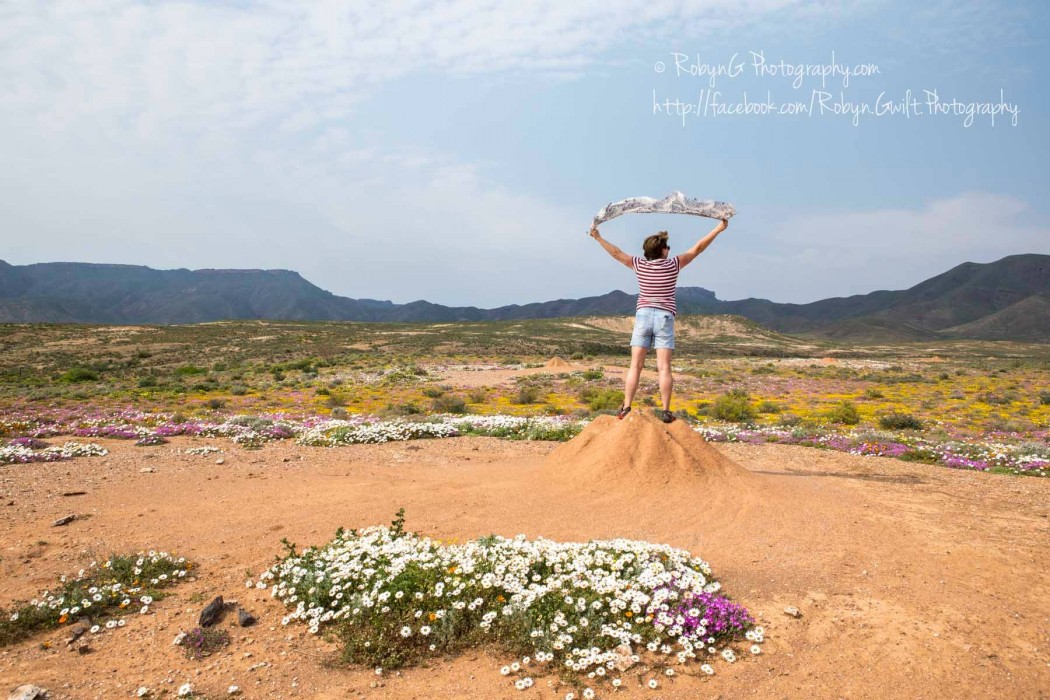 The coastal area in the park (Groen river to Spoeg river) is also very good. The vygies will start coming out now, adding to the already spectacular variety to see. Please note that the coastal section of Namaqua NP can only be visited with a 4×4.
Around the park there are reports of very good flowers at Spoeg river and Wallekraal, and along the Hondeklip Bay road and Groen river road. In fact the whole Namaqua area have not looked this good for a long time.
Cape West Coast Peninsula
Paternoster
On the smallholding Pelgrimsrust (where Farr Out Guesthouse is situated) before entering town, Bekbaai, Cape Columbine Nature Reserve
Type of flowers: Slymbos, Surings, Kattekruie, Bobbejaankool, Bokbaai Vygie, Sand Viooltjie, White Rain Daisy, Gousblom, Bruinsalie, Poprosies, Various Veldkool, Bont Leeubekkie, Baster suring, Rolbos Kool, Vredenburg Froetang, Seepampoen, Koringblommetjie, Vygie, Elandsvy
Hopefield: In town on vacant plots, Next to Soutriver in town, Langebaanweg (R45), Next to roadside from Bloemendal farm to R27, Plaasmol (R45) 5km outside Hopefield, Gravel road between Langebaanweg and Cloeteskraal, Next to the road at the entrance of the farm Sandvlei, Road between R45 and Moorreesburg (R311), Next to Library, At Hopefield Sports Grounds, Entrance to town from R45 via Church Street
Type of flowers: Wit Reënblommetjies (Daisies), Orange Gousblomme, Geel Bobbejaantjie, Pienk en Geel surings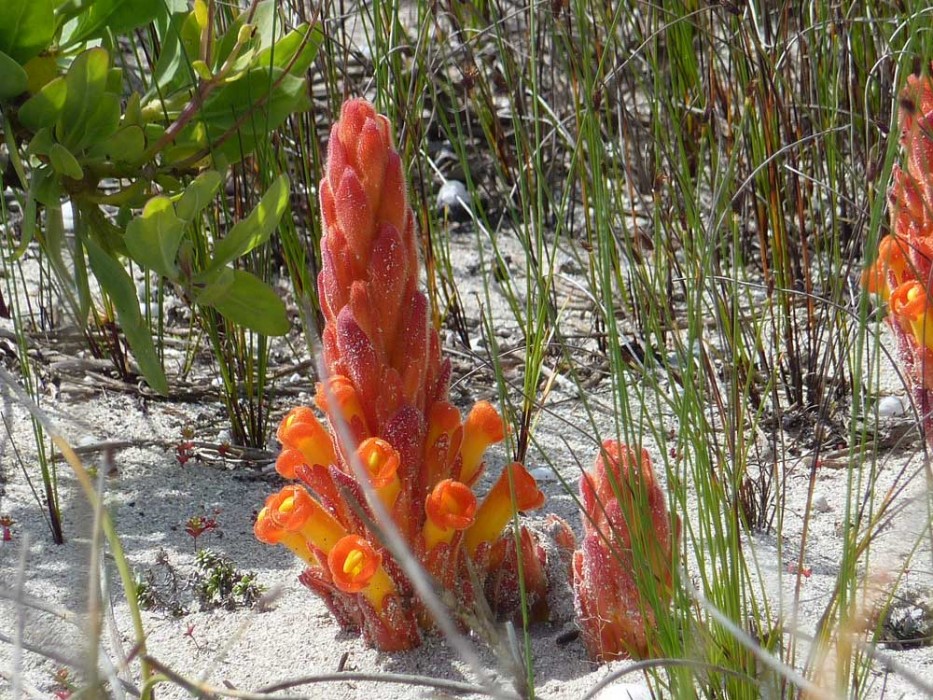 Langebaan:
Postberg, West Coast National Park, Langebaan Gate to Geelbek, Oostewal & Sunbird Drive, Langebaan Town / Langebaan Country Estate, Myburgh Park, Oliphantskop, Road to Geelbek and Kraalbaai, Kraalbaai to Tjaarbank, Road between Saldanha and Langebaan, Langebaan Park gate to Seeberg, Postberg Gate left to Plankiesbaai
Type of Flowers: Suring (Yellow & Pink Flower), Reenblommetjies (White), Orange Gousblom, Sukkelbossie, Sporrie, Geel Hongerblom, Harpuisbos, Blombos, Kapokbossie, Strand Sallie, Bietou, Vygies, Bobbejaankool, Geelmelkbos, Froetang, Pietsnot, Vygies, Kapokbossie, Bloubekkie, Varklelie, Vygiebos (Purple), Blouflaks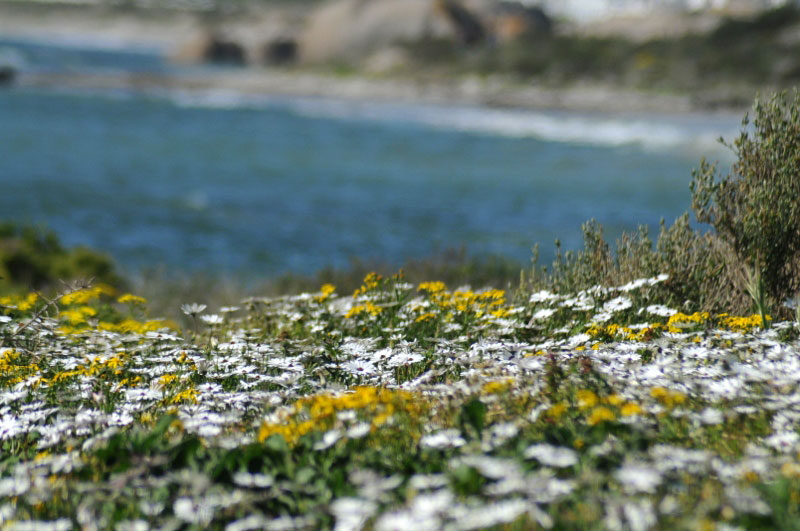 Swartland
Darling:
Darling Renosterveld Reserve (Access at top of village behind the Darling Primary School or lower down gate in Langfontein street); also on the plot just below this reserve on Petunia Street, !Khwa ttu San Cultural & Education Centre, Groote Post Vineyards – Darling Hills Road
Type of flowers: Renosterveld – Gladiolus gracilis – early blou pypie; small showing of yellow Moraea galaxia (horlosieblom); early Spiloxene (yellow sterretjies); pink and white oxalis; lampranthus (vygie), arums and struthiola
!Khwa ttu – Sandlelie (veltheimia) and rooipypie (gladiolus priorii)
Groote Post – mostly arum lilies, daisies starting to come through
Namaqua West Coast:
Vredendal / Lutzville area:
On road R362 from  Vredendal towards Lutzville look out for fields of white, yellow and orange daisies.
On the winding road between Vredendal and Klawer –  look out for patches of pink vygies and fields of white, yellow and orange daisies,
Bultweg in Vredendal – fields of white, yellow and orange daisies.
There's a Succulent Show at Kokerboom Nursery during August and September 2015, open from 8AM till 5.30PM every day. Contact Christene on 072 219 1062 or visit www.kokerboom.co.za
Cederberg Area:
In this area Boskloof; Vrede Oord Cemetery; Ramskop Nature Garden; N7 direction Klawer; R364 direction Lamberts Bay; Ou Klawer pad via Nardouwsberg and Pakhuis Pass you will see these kind of flowers: Reenblom; Daisies; Vygies; Clanwilliam Daisies; Hongerblom; Sambreeltjies; Pietsnotjies; Ridderspoor; Vygiebos; Perdebos
How about discovering the flowers in a different way? Go for an electric mountain bike tour throughout the Cederberg this flower season. Visit www.naturesplayground.co.za for more info
Bergrivier area
In these areas all the empty plots around Velddrif. Bergrivier Golf course, Vygielaan, Velddrif. On the road to Pikerberg. On the shoulders of the R27, you will see these flowers Bobbejaantjies, Kantblom, Wilde Kamille, Blou Koringbos, Feëklokkies, Bobbejaankool, Weeskindertjies, Vyfpondbos, Wit Daisies, Oranje bitter Gousblom, Duinebessie, Geel Hongerblom, Pers kantblommetjies, Biddouw, Kinkelbos, Ghoebos, Gansogies, Geel Melkbosse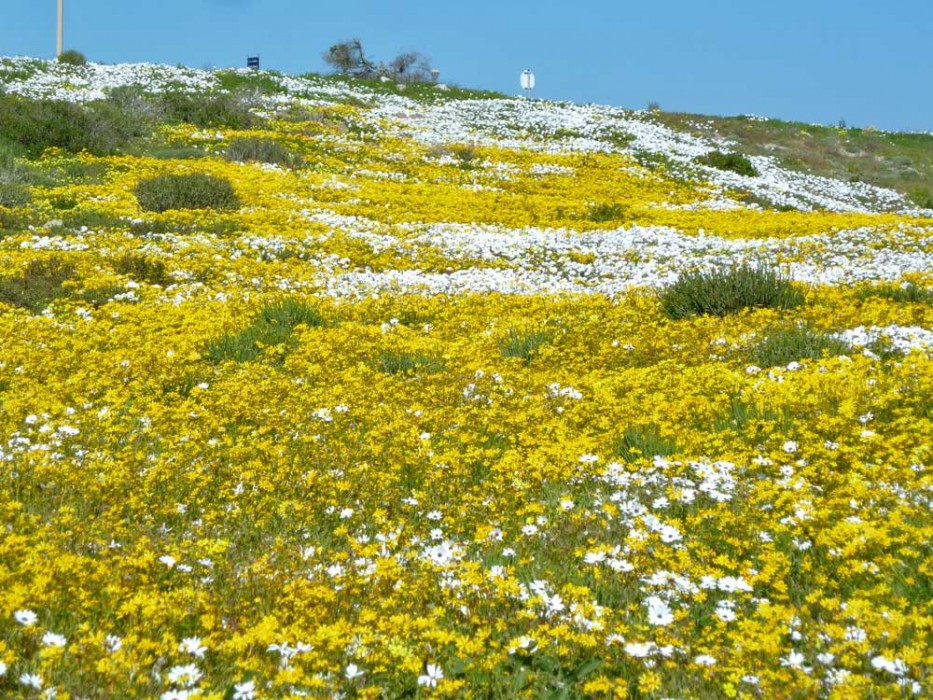 Flower Shows 2015
Hopefield Fynbos Show:
27 – 30 August 2015, Hopefield Sports Centre, adults R 40, children under 12 R10, pensioners R20, hopefield@sbto.co.za or 022 723 1720
Clanwilliam Wild Flower Show:
27 August till 05 September from 9AM till 6PM, Clanwilliam church, adults R50, children R0, pensioners R35, cederberg@lando.co.za or 027 482 2024
Darling 98th Darling Wildflower Show:
18 till 20 September from 9AM till 5PM at Darling Sports Club, adults R50, children R30, pensioners (Friday only) R30, more info 084 916 1111
The tips from the West Coast first appeared in a blog post by Farr Out' Guesthouse in Paternoster and is republished here with their kind permission.
MORE INFO
http://www.farrout.co.za/ or phone Deon and Marion Lubitz on 022 752 2222.
The Flower Hotline: 072 938 8186.
ENJOY!