Durban is ready to inspire! The Commonwealth Games Federation (CGF) made the announcement in Auckland, New Zealand this morning that Durban will – as expected – be host to the Commonwealth Games in July 2022…making South Africa the first country in Africa to host the Games!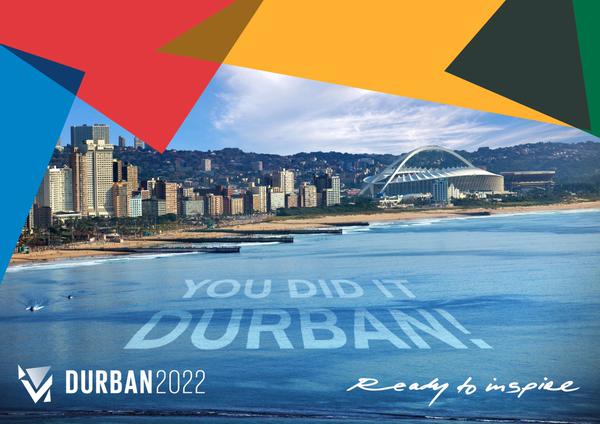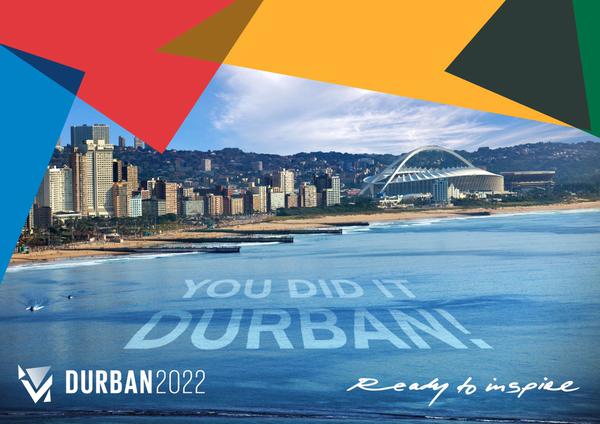 Durban became the only city bidding for the Games after Edmonton in Canada pulled out earlier this year in February, blaming the negative effect of the global drop in oil prices. Edmonton has hosted the event before.
The South African Minister of Sport, Mbalula Fikile tweeted a shout out to all "those who woke up early in Durban to witness this historical moment #Durban2022 #CommonwealthGames." (See video below.)
The South African jokes have already started rolling on Twitter with some announcing that the "Nkandla Firepool" will be used as the warm-up facility for #Durban22, and others telling Durban not to brag too much since it's #CliveNaidoo whose taxes paid for their bid (referring to the trending video of a man who told a traffic officer in Joburg that his taxes paid her salary).
After the unveiling this morning, the eThekwini Municipality proudly tweeted: "Hello world, we are Durban, we're YOUR hosts of the @Durban2022 Commonwealth Games! Well done Durbs, you did it! Where will you be in 2022?"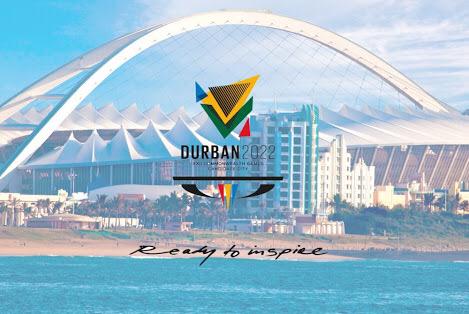 The Sports Minister said "Congratulations Durban on your successful bid to be the first – African City to host the Commonwealth Games." South Africa has previously been host to World Championships, World Cups and was the 1999 host of the All Africa Games…but this is a first for SA and Africa.
Athletes from over 50 countries compete in the Commonwealth Games which are held every four years. The next games – in 2018 – will be held on the Gold Coast in Australia.
The 2022 events in Durban will largely be hosted at the Moses Mabhida Stadium (which played host to the Fifa World Cup in 2010) and the Rachel Finlayson Swimming Complex on the beachfront promenade.
According to the Durban 2022 website, the event will give the CGF a chance to show its values and humanity through the South African story. The core theme is "around inspiring young Africans to take charge oftheir destiny and make their home liveable and caring. "
The hosting of the Games is expected to be a catalyst and game changer for many ordinary people promoting sport amongst the youth, social cohesion and the promotion of brand South Africa with a positive impact on tourism and development plans.
International visitors are expected to contribute up to R12 billion in direct expenditure, and the Games is expected to deliver up to R20 billion in output to the economy, translating into an additional R11 billion GDP growth.
Watch Video – The South African CGF delegates at the 2022 Host City announcement today – already inspiring the way!
Already inspiring @thecgf delegates at the 2022 Host City announcement @Durban2022 pic.twitter.com/7b5zbtNMxo

— Helen Phillips (@HelenPhillips05) September 2, 2015
#Durban the very first city to host the Commonwealth Games on African soil @Durban2022 #ReadyToInspire pic.twitter.com/8Rwl0Vh7Qe

— Durban Chamber (@DurbanChamber) September 2, 2015
Watch Video – Commonwealth World Games Bid by Durban for 2022
MORE INFO
http://www.durban-2022.com