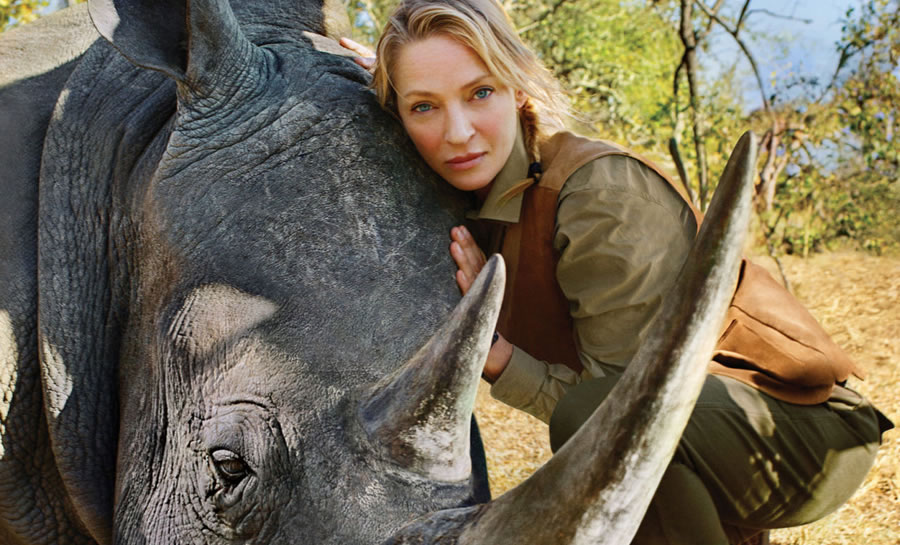 American actress Uma Thurman has joined the ranks of celebrities putting their names behind save-the-rhino causes, with the magazine Town & Country dedicating its entire October Issue to the rhino, including a long feature in which Thurman is shown on a trip to relocate a pair of rhino.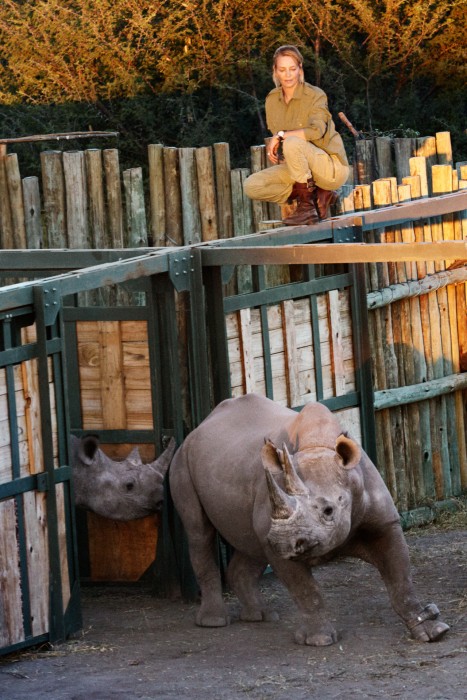 Thurman, who has acted in "Kill Bill" and is in the upcoming "Burnt", refers to the devastating killing of rhinos throughout Africa as a "rhinocide".
She travelled to Southern Africa as the guest of Conservation Solutions (CS), a company that transports large wild mammals from dangerous areas to safer ones, as well as travel company Wilderness Safaris and the Botswana government.
The project Uma is supporting is to transport as many rhino as possible from South Africa, where the animal is under severe attack, to Botswana, where they will be safer.
As the article notes, South Africa has 88 percent of the world's rhino, which is why it "is being hit especially hard" by poachers. The article recounts details many are familiar with, about the gruesome killing of rhino and the merciless hacking off of their horns.
"The men doing the actual killing in the bush are largely foot soldiers, for whom even the crumbs of the black market trade are a bonanza," the article says. "Today horn sells for as much as $35,000 a pound, making it one of the most valuable natural commodities on earth, worth more than gold."
At the present rate of poaching, it is estimated rhino will be extinct by 2024.
"It is vital that the media cover this," the article quotes CS chief Kester Vickery as saying. "We need people with passion. Without passion, there will be no rhinos left."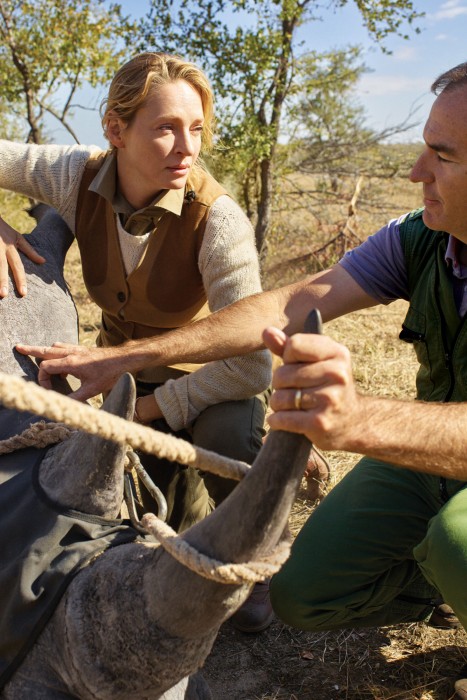 Thurman now joins a number of other celebrities who have loaned their names to the international anti-poaching and conservation efforts.
In late 2013, Prince William teamed up with football legend David Beckham and Chinese basketball star Yao Ming to plead for people not to buy rhino horn, ivory or shark fins.
Fellow Chinese citizen, actor Jackie Chan, has also become a spokesman against rhino poaching.
Actor Leonardo di Caprio has meanwhile launched Hands off my Parts to bring awareness to rhinos, tigers and elephants being killed for their skin, bones, tusks, horns, and other parts.
Watch the Prince William/Beckham/Ming video:
Thurman's trip to the Timbavati and Botswana was carefully organised, so that she could witness the three phases of a translocation: the capture of the rhino, the transport of them, and their release (and lifelong monitoring).
The pair of white rhino that were captured in the Timbavati were transported to a quarantine station at Bela Bela, where they would stay for 30 days.
From there, Thurman watched two other rhino, which had ended their quarantine period, be transported by Hercule C-130 cargo plane to Maun, Botswana, where they were met by, among others, the Botswana president, Ian Khama.
[quote_center]"Until the story is concluded, there is always hope" – Uma Thurman[/quote_center]
After that, Thurman watched five rhino being released in their final destination – a game reserve within Botswana.
After her trip to Africa, Thurman concludes: "I think so many of us feel that there is no point— Who are we? What can we do? There are so many dire situations, and it's all out of our control. And there is a sort of truth to that. But what I learned in Africa is that one must make an effort anyway. Because you just don't know. Until the story is concluded, there is always hope."
Read the full story on Town & Country here.