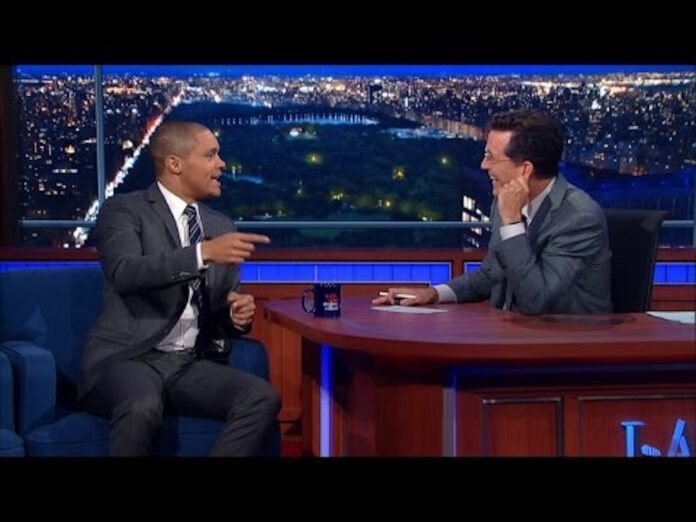 In his first 10 days after taking over one of the most popular late-night shows in the United States, comedian Stephen Colbert has had two South Africans as guests – billionaire entrepreneur Elon Musk and comedian Trevor Noah.
Colbert, who left his own Colbert Report on Comedy Central to take over The Late Show from David Letterman, began his new stint on 8 September.
One of his first guests was Musk, who Colbert joked was like Tony Stark in 'Iron Man', a super villain or a billionaire out to do good.
Colbert admitted that he himself drove a Tesla, one of the electric cars made by Musk.
"Elon Musk is either trying to save the world or destroy it. Stephen's not sure which one", broadcaster CBS said under the Youtube posting of the interview.
Watch Video: Elon Musk Might be a Super Villian
Next up, just last night, was Trevor Noah, who himself is taking over a plum interviewing job on Comedy Central in the USA later this month.
Noah did a sensational job mocking the three-hour debate among U.S. Republican presidential hopefuls that took place on Wednesday.
Colbert's reaction was immediate: "I would vote for that person."
Noah's opinions, although delivered humorously, echoed those of the New York Times, which said, under the heading 'Crazy Talk at the Republican Debate': "It felt at times as if the speakers were no longer living in a fact-based world where actions have consequences, programs take money and money has to come from somewhere."
Go, Trevor, you have your finger on the pulse!
Watch Video – Trevor Noah impersonates the Entire GOP Debate