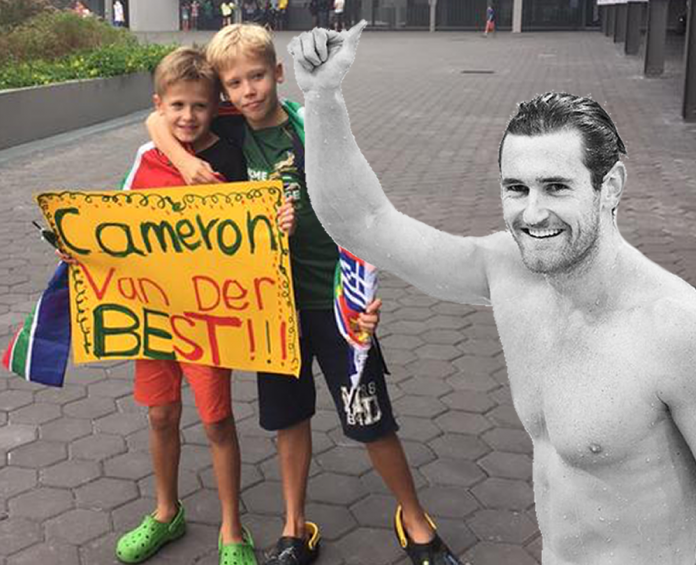 Two young and eager fans of sports sensation Cameron van der Burgh were bitterly disappointed today to not watch the South African swim in Singapore after hazy conditions caused Saturday's FINA World Cup finals to be cancelled.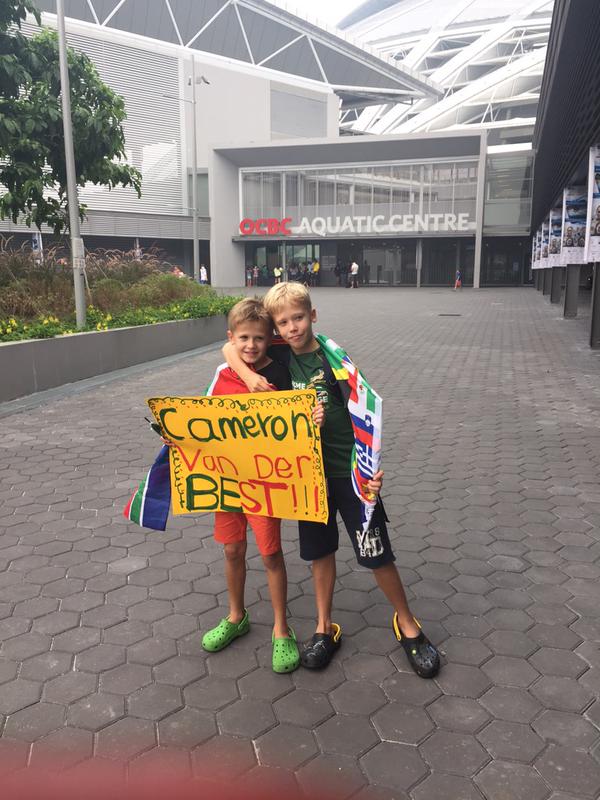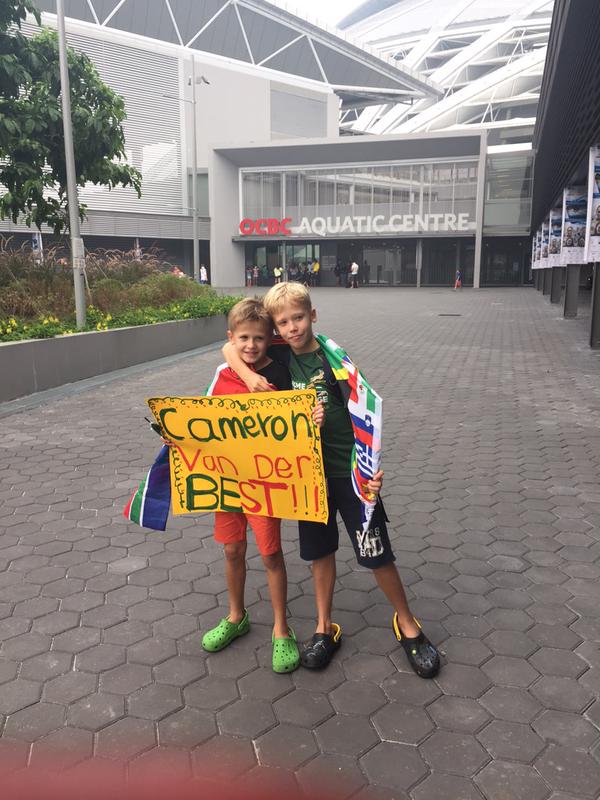 They were all dressed up with nowhere to go.
But their disappointment soon turned to joy after the swimming star – who won two Golds and a Silver in Beijing last week – took time out to tweet them a personal message. And, weather conditions permitting, they'll get to see their idol tomorrow.
The boys' mom, Hanlie Gordon, tweeted a photo of them kitted out to support Cameron outside the swimming complex with a message "Two very disappointed supporters, maybe tomorrow #goawayhaze."
And Cameron "quickly responded", she says.


Cameron tweeted: "Sorry boys! I think they deserve swim Caps for that effort! See you tomorrow."
The current haze is due to fires from Sumatra, Indonesia.
"This year it has been dragging on for over a month and mostly at 'unhealthy' levels," says Hanlie. "Acknowledge SA has its challenges but never take for granted the fresh, crisp African air! Miss it!"
According to a statement from FINA the Swimming World Cup 2015 finals in Singapore today were regrettably cancelled due to a high level of haze in the swimming complex which "overpassed the limit established by the Singapore government."
A weather condition evaluation will be made tomorrow one hour before the heats and finals.
Cameron has been enjoying the support of his South African fans in Asia, tweeting from Hong Kong (where he won two Golds) on the 25th and 26th September that it was "awesome seeing Saffas in the crowd tonight" and thanking "Saffas out here supporting the swimming".
By 30 September Cameron had clinched his eighth gold World Cup medal of the year. He's a great sportsman for South Africa, but also – as Hanlie says – "a gracious sportsman – proudly South African!!"
Tweets from Cameron van der Burgh
First Gong in Hong Kong and its Gold! Stoked with the World leading time too! Was awesome seeing Saffas in the crowd tonight!

— Cameron van der Burg (@Cameronvdburgh) September 25, 2015
2 Golds in Hong Kong! So great seeing Saffas out here supporting the swimming! Thanks guys! ?????? pic.twitter.com/OO71T88008 — Cameron van der Burg (@Cameronvdburgh) September 26, 2015
First day of World Cup in Singapore cancelled due to haze! ?? ?? pic.twitter.com/2xzfVe94xH

— Cameron van der Burg (@Cameronvdburgh) October 3, 2015
Sorry boys! I think they deserve swim Caps for that effort! See you tomorrow! https://t.co/g3oJY3VHtt — Cameron van der Burg (@Cameronvdburgh) October 3, 2015
Beijing it's a wrap! 2 Golds and a Silver! Thanks to all the Chinese supports who made this stop unforgettable! ?? pic.twitter.com/bdKHCSpdZO

— Cameron van der Burg (@Cameronvdburgh) September 30, 2015