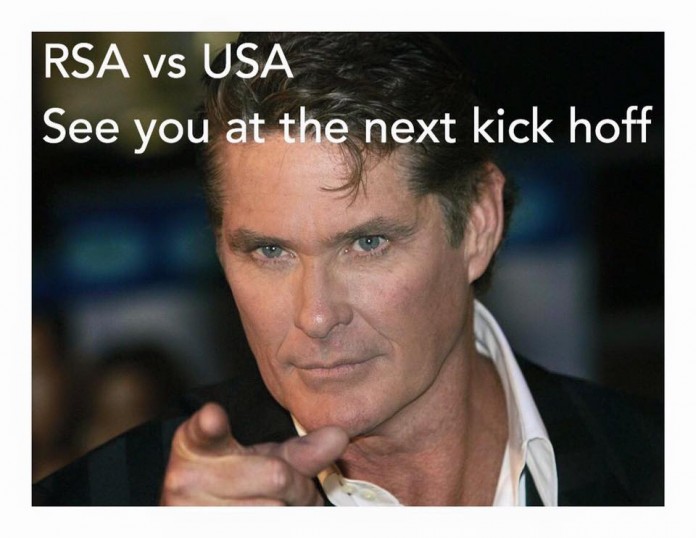 South African fans were celebrating the Springboks' 34-16 victory over Scotland at the Rugby World Cup today
South Africa powered past Scotland this evening in Newcastle, winning by more than just the predicted 10 points.
It was a physical match with intense playing from both sides. Handre Pollard was on fire, scoring four penalties, two conversions and a drop goal.
Tries came from Bismarck du Plessis, JP Pietersen and an awesome one from Bryan Habana in those last few minutes.
Two of the more memorable moments during the match however were not about the match itself – the first was when Pollard scored a penalty and the camera panned to Heyneke Meyer who appeared to be counting the points on his fingers.
And the other was when Welsh referee Nigel Owens told Scottish player Stuart Hogg – "If you want to dive, come back in two weeks and play football."
Here's Heyneke Meyer trying to figure out how many millions he'll be paid when we win the WC. #RWC2015 #RSAvSCO pic.twitter.com/d3VEgYmkso

— Mike Stopforth (@mikestopforth) October 3, 2015
South Africa is now top of the Pool B log after three matches with 11 points, followed by Scotland 10, Japan 8, Samoa 4 and USA 0 (only 2 games).
Pumela Salela from Brand SA was at the stadium and captured photos of the fans before the match, as well as video footage of Team SA dancing in celebration after the final whistle. Please see below.
South Africa's next match is against the USA! #GoBokke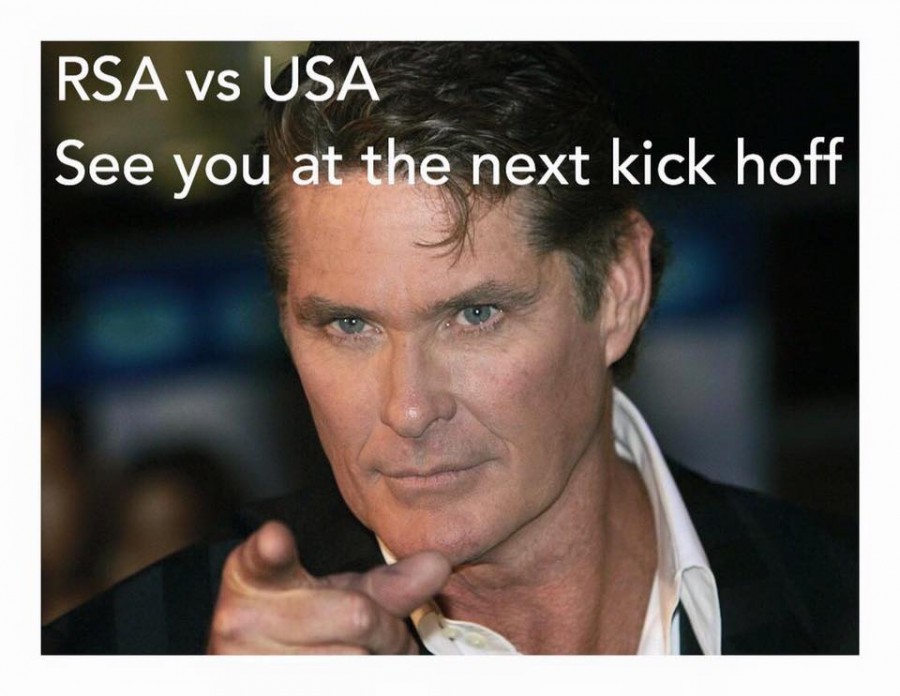 Team SA celebrating after today's match:
#Habashwe #SouthAfricans celebrating after the #SAvsSCO game in @NUFC @SkyNews @sapeople @SABCNewsOnline @Brand_SA pic.twitter.com/stziYy6CAf — Pumela Salela (@pumelasalela) October 3, 2015
@sapeople @glosaf @DIRCO_ZA @MbalulaFikile @eNCA @SAgovnews @ProudlySA #HomeGroundAdvantage @HomecomingRev @eNCA pic.twitter.com/gxNtWiLa79 — Pumela Salela (@pumelasalela) October 3, 2015
RWC: GO BOKKE!! SA expats in England unleash the gees
Chelsea Geach from IOL uploaded the following video of South African expats in England today, saying: "They might have moved to England, but the Springboks still own their hearts. Watch these expats unleash their Bok gees!" https://youtu.be/7IxkQluQGZU
Its our TRY and Conversion. #SouthAfrica10-Scotland 0.#Habashwe #HabashweLetsDoThis #HomeGroundAdvantage #SAvsSCO pic.twitter.com/86tBk6DtF3 — Pumela Salela (@pumelasalela) October 3, 2015
#NewcastleUponTyne is ready! Lots of South Africans about town. @glosaf #RWC0215 @ProudlySA @sapeople @Springboks pic.twitter.com/nPIKNShYQj — Pumela Salela (@pumelasalela) October 3, 2015
#SouthAfricans hosted by #NewcastleUponTyne @ProudlySA @sapeople @glosaf at @NEChamber #NewcastleUponTyne pic.twitter.com/g0cg8aGGja — Pumela Salela (@pumelasalela) October 3, 2015