In one of the most moving moments of the Rugby World Cup (RWC) 2015, former South African President Nelson Mandela was posthumously inducted into the World Rugby Hall of Fame on Saturday, ahead of the match between the Springboks and Scotland.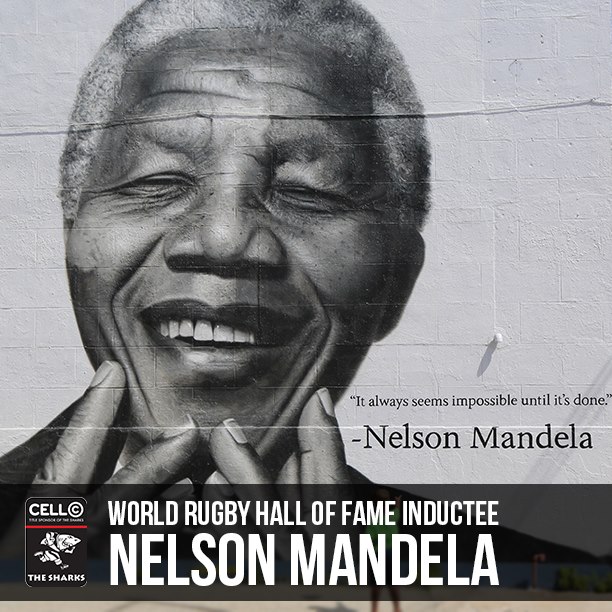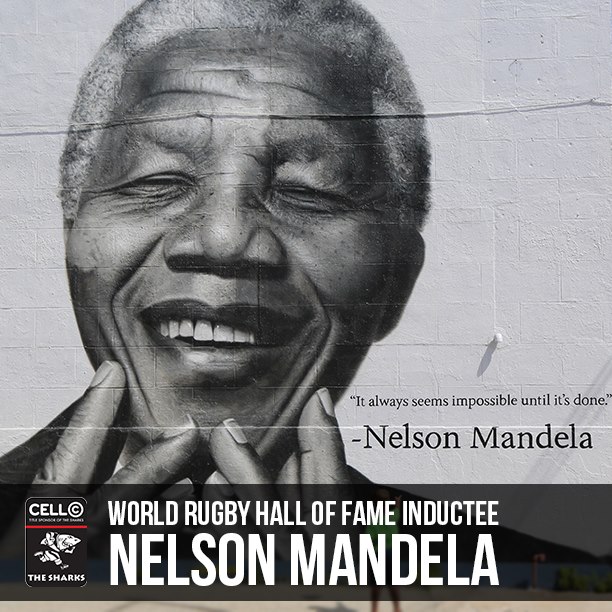 And it was his old ally and former Springbok captain Francois Pienaar who was there to induct South Africa's beloved Madiba.
Afterall, it was the two men together who helped unite and shape their country – through the power of sport – back in 1995…when Pienaar led his team to victory in the RWC on home soil, and Mandela pulled on a number 6 shirt and walked onto the field, showing the country and the world that he was rooting for all South Africans. (See videos below.)
The special ceremony took place at St James' Park in Newcastle on Saturday, before the Springboks beat Scotland 34-16.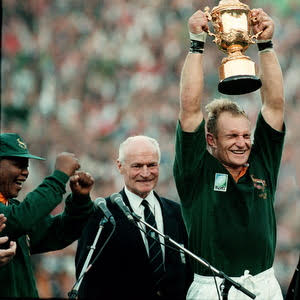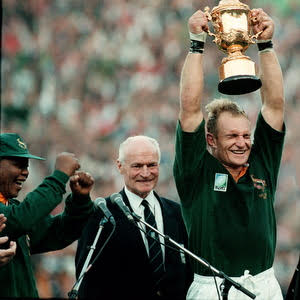 World Rugby Chairman Bernard Lapasset presented the coveted Hall of Fame cap to Pienaar and the Hon Deputy Minister of Sport and Recreation SA, Gert C Oosthuizen MP.
Lapasset said: "The World Rugby Hall of Fame recognises those who have made an indelible mark on our sport through feats on the field of play, displays of great character or through their tireless and inspirational work in driving forward our great game.
"Mandela certainly fits in that category. He was instrumental in turning Rugby World Cup 1995 into a momentous occasion that united the South African nation through the power of sport.
"By supporting the Springboks so passionately and publicly on their way to victory, Mandela helped to change attitudes, soften hearts and convince minds of the right course of history for his country to take and, in the process, became a wonderful example to us all…"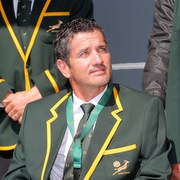 South African Rugby Union President and World Rugby Vice-Chairman Oregan Hoskins said: "Madiba was a great man of vision, determination and integrity who performed a miracle that amazed the world as much as it amazed his fellow countrymen.
"His name will rank among the greatest humanitarians and this induction reflects rugby's ever-lasting friendship and appreciation for a great man."
The previous week 25 of the greats of the game were inducted into the World Rugby Hall of Fame, including five Springbok legends – Naas Botha, Danie Gerber, Hennie Muller, Morné du Plessis and Joost van der Westhuizen.
The Mandela & Pienaar Videos…
Nelson Mandela inducted to Rugby Hall of Fame – RWC 2015
Uploaded by World Rugby: "Nelson Mandela handing South Africa captain Francois Pienaar the Webb Ellis after the Springboks' 15-12 victory over New Zealand [in 1995] was a glorious moment for the sport…"
Watch Video: Springbok tribute to Nelson Mandela
Uploaded by BokTube SARU the day after Mandela passed away on 5 December 2013 – "A tribute from SA Rugby, showing what a massive impact former President Nelson Mandela had on the world, South Africa and rugby in particular. We salute you, Tata Madiba."
Watch Video: Francois Pienaar remembers Nelson Mandela
Uploaded by News24 in 2008 – "South African rugby legend Francois Pienaar shares his thoughts on Nelson Mandela and reveals personal experiences he has shared with the icon."
Watch Video: Francois Pienaar on seeing Mandela wearing his Springbok rugby jersey
Uploaded by CNN (and featuring Christiane Amanpour) a few days after Mandela passed away – "When former South African rugby captain Francois Pienaar was getting ready to attend Nelson Mandela's memorial on Tuesday, his sons – godchildren to Mandela – told him there was only one thing he could wear: His team jacket."
MORE INFO
www.worldrugby.org/halloffame