OR Tambo International Airport in Johannesburg, South Africa, has confirmed it is currently experiencing delays following an "aircraft incident" in which a plane from Port Elizabeth crash landed.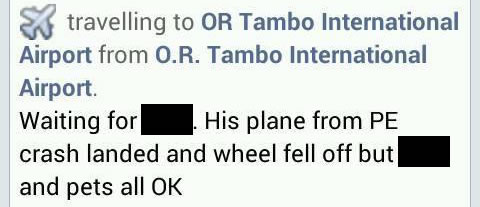 A press release issued by the airport stated that: "British Airways' (operated by Comair) BA6234 a 10:35 departure from Port Elizabeth, with 6 Crew and 94 Passengers on board, was involved in an incident on landing at OR Tambo International Airport just after 12:00 pm today.
"We can confirm that all passengers and crew safely disembarked with no reported injuries. Passengers have been taken to the terminal building where staff are on hand.
"Comair and the relevant authorities will be conducting the necessary investigation over the coming days and weeks."
The Daily Mail in the UK has reported that shortly before landing the pilot informed passengers that the landing gear on the left had "broken off". Passengers have described how the plane subsequently hit the runway at an angle, with sparks flying as it scraped the Joburg runway.
Fire and rescue crews reportedly rushed to the aircraft where it was sprayed down before passengers disembarked via an emergency staircase.
Flights from Cape Town and other cities have been delayed by at least three hours.
BREAKING Comair Boeing 737 suffers wheel collapse at Johannesburg OR Tambo International Airport (JNB) pic.twitter.com/p7YFqVTFEu

— AirLive.net (@airlivenet) October 26, 2015