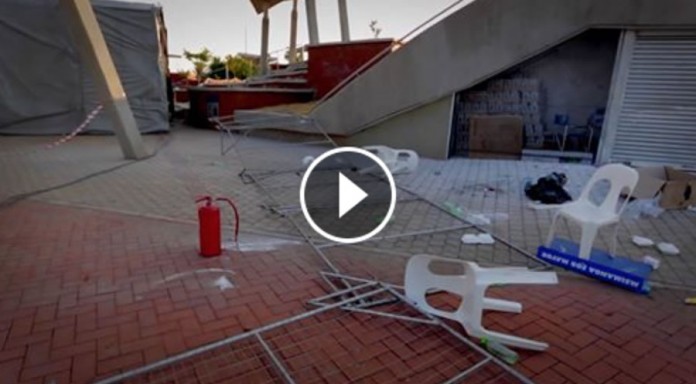 Late this afternoon the Democratic Alliance (DA) posted a message on Facebook declaring that "the DA will not be intimidated by the ANC's violence!" The message was accompanied by a video which allegedly shows ANC members attacking DA members during the set-up of a DA mayoral launch in Tshwane.
The event took place on Friday, 23 October 2015 at Solomon Mahlangu Freedom Square in Tshwane.
According to the message on facebook, the DA "activists and staff members were attacked by ANC members illegally assembling at the same venue."
The DA alleges that "ANC members – incited by current Tshwane Mayor Kgosientso Ramokgopa – threw stones, vandalised equipment and physically assaulted DA members with sjamboks."
They claim that "South African police remained absent despite numerous requests for help. Millions of Rands worth of damage to equipment. Women and children were among the injured."
The message ended with: "The DA is not intimidated. We proceeded with the launch of our campaign to bring change to Tshwane."
At the time of publishing, no statement had been released by the ANC in connection with this incident.
Watch Video – DA Tshwane Mayoral Launch
DA Tshwane Mayoral LaunchThe DA will not be intimidated by the ANC's violence! On Friday, 23 October 2015 at Solomon Mahlangu Freedom Square in Tshwane, while setting up for an event, Democratic Alliance activists and staff members were attacked by ANC members illegally assembling at the same venue. ANC members incited by current Tshwane Mayor Kgosientso Ramokgopa threw stones, vandalised equipment and physically assaulted DA members with sjamboks.South African police remained absent despite numerous requests for help. Millions of Rands worth of damage to equipment. Women and children were among the injured.The DA is not intimidated. We proceeded with the launch of our campaign to bring change to Tshwane.

Posted by Democratic Alliance on Thursday, 29 October 2015