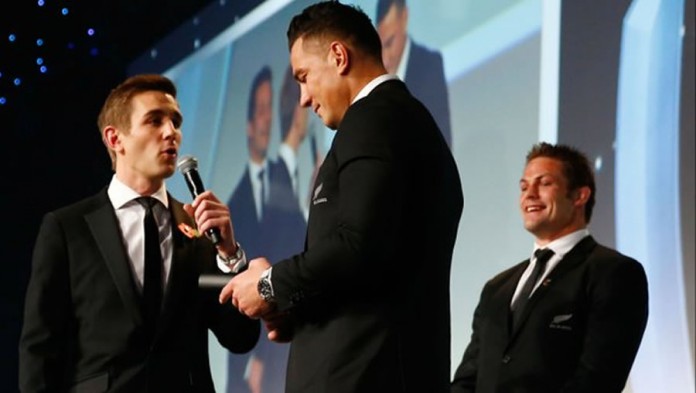 Sonny Bill Williams was awarded a second Rugby World Cup (RWC) winner's medal Sunday night at the RWC award ceremony in Battersea, London…after he kindly gave away his first gold medal to a young fan on Saturday night. (See videos below.)
The All Black (AB) player's gesture – which made headlines around the world – happened just moments after New Zealand beat Australia to win gold and become the RWC 2015 champion.
A young AB fan was tackled to the ground by a security officer, after he ran onto the field to congratulate his heroes. Sonny immediately went to his rescue.
In an interview after the match Sonny said he was worried for the boy, who appeared to be slightly hurt and scared, and so he walked him back to his family, and gave the boy the gold medal he had just won in the hope it would make the youngster feel better. Judging from the kid's smile – it worked!
Sonny told reporters he himself probably had enough medals on his walls already…but on Sunday night World Rugby decided he really deserved this one, the first time any country has won the RWC back to back.
World Rugby tweeted: "One gesture of generosity deserves another." Click to watch video here:
South Africans already had a soft spot for Sonny after he supported and helped a visibly upset Jesse Kriel back on his feet after the All Blacks knocked the Springboks out of the World Cup. When asked about that moment, Jesse Kriel told World Rugby: "It shows the kind of player and the kind of person he is, and shows what rugby is about."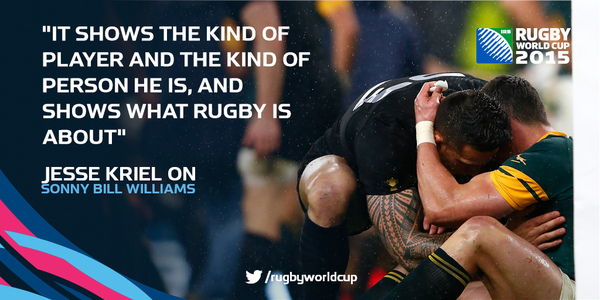 On Twitter, Sonny tweeted about the incident on Saturday night, saying: "For a kid 2 have that will and take that risk, you deserve a medal. Enjoy bro."
He also revealed at the awards ceremony that the 14-year-old boy – Charlie Line – had been in touch to offer to return the medal, but that he told him it was "for keeps".
For a kid 2 have that will and take that risk, you deserve a medal. Enjoy bro https://t.co/M0hyD7btdl

— Sonny Bill Williams (@SonnyBWilliams) October 31, 2015
Watch Video: Sonny gives an All Blacks fan his gold medal
Watch closely and you'll also see All Blacks Liam Messam takes his beanie off to put on the young boy's head, while coach Steve Hansen – who Springboks' coach Heyneke Meyer credits for supporting him after the Boks lost to Japan – also takes the time to chat to the 14-year-old.
https://youtu.be/o1efwKglwZU
Watch Video: Sonny Bill – I just wanted to put a smile on his face
Towards the end of this interview Sonny reveals what was going through his head, how he thought the young boy could've been his nephew or brother…
One gesture of generosity deserves another – @SonnyBWilliams receives his #RWC2015 winners' medal #WorldRugbyAwards pic.twitter.com/dAzJT5IOih — World Rugby (@WorldRugby) November 1, 2015
MORE
View World Rugby photos of Sonny Bill Williams and South Africa's Jesse Kriel.