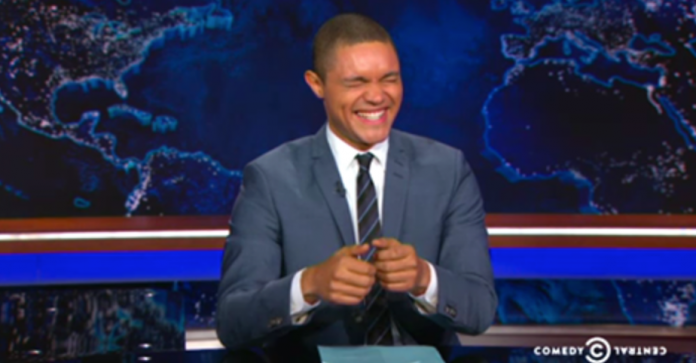 This week, after undergoing an emergency appendectomy, Trevor Noah discovered what many Americans already know – that their "health system sucks" (in the words of some US media).
After being admitted to hospital on Tuesday with abdominal pain, the South African comedian got his first real taste of the US health care system…and it was just like the movies where you see patients who are in agony, perhaps dying, and clearly in need of urgent care being forced to fill out forms first.
In his show last night – after what Trevor referred to as "the world's shortest vacation"- the new Daily Show host said he wasn't sure if 'emergency room' is the right term because they make you wait. He suggested there should be two rooms – "one for emergencies and another for people who can fill out forms".
Although he repeatedly informed the nurse that he felt like he was dying, she insisted that he fill out the forms first, and even told him – when he kept passing out in the waiting room, from the pain of a perforated appendix – "sir, you can't faint here sir". Apparently fainting is only permitted in the triage room.
When the nurse followed him in to a treatment room, where he was "trembling from pain", and asked how he would pay for this treatment, he said he replied: "With my life…clearly!"
Fortunately fame was on his side. The nurse recognised the SA star from New York City billboards and deduced he would be able to afford the treatment.
Although he joked about Comedy Central only giving him one night off, Trevor made it clear that it was he who insisted on returning to the show so quickly, and not his bosses who forced him back into the chair without enough time to recover.
He thanked his "fantastic, fantastic surgeons" and all his well-wishers from around the world.
In a report yesterday it was revealed that South Africa (and Gabon) have the least efficient health care systems in the world, followed by the USA.
Watch Video – Trevor Noah Recaps his Emergency Appendectomy
Comedy Central: "Trevor gets his first taste of the American health care system while in an emergency room with appendicitis."
If you can't view the video above, try this:
If you cannot view either video in your country, please try watch on CC's site here.
MORE
Trevor Noah has emergency appendectomy.