British actor Idris Elba – who starred as Nelson Mandela in 'Long Walk to Freedom' – has cancelled his trip to South Africa due to a confusion over the immigration laws.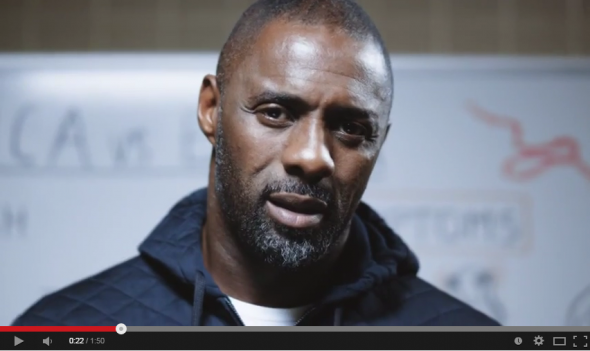 New laws governing children entering and leaving South Africa were implemented in June this year, but after a dramatic drop in tourism, some of the laws were relaxed for foreign travellers last month.
However, it appears not everybody knows exactly what is and isn't allowed at the moment concerning these amended immigration regulations.
According to Channel24, whilst waiting at Heathrow International Airport a couple of days ago, Idris was informed that his 14-year-old daughter, Isan (who was to have accompanied him on the trip) would be unable to enter the country because she didn't have all the necessary paperwork.
It has not been made clear exactly which paperwork she did not have, but under the 'old' (June) laws minors were required to travel with an Unabridged Birth Certificate and a signed affidavit from their missing parent if travelling with only one parent.
Last month Department of Home Affairs (DHA) Minister Malusi Gigaba announced that those regulations would no longer be applied to foreign passport holders…although it would still be "encouraged". (And these laws do remain in place for South African children entering and leaving the country).
Although Oscar-nominated Idris (43) starred as South Africa's most famous personality, he and his daughter are not South African (he's the son of a dad from Sierra Leone and mom from Ghana), so – according to Gigaba's latest announcements – Isan should not have been prevented from travelling, as long as she had a valid passport.
"Idris Elba" has trended on Twitter in South Africa all day, with mounting pressure for the DHA to comment on the incident.
Most tweeters were outraged and worried about the impact this would have on other would-be foreign visitors to our shores. Chris Rambo wrote: "For a country that has tourism contributing heavily to the GDP, denying a high profile tourist like Idris Elba entry is very detrimental."
Not all were sympathetic though. NeoKoza said it was "just more news for the privileged to debate and cry about" whilst another said "just bcoz Idris Elba got Mandela role in a movie is no licence 2 breach & slack our visa rules 4 him & his daughter 2 b here. Rules R Rules."
If only everyone knew what those rules were! Geoffrey York summed it up with his tweet: "Home Affairs on visas July 5: 'We won't change our minds.' SA govt on Oct 23: visa rules changed. Nov 23: Idris Elba blocked under old rules."
Idris, who is being tipped as the next James Bond, was due to arrive in South Africa yesterday to promote his latest personal film project – 'Mandela, My Dad and Me'. The  documentary follows his journey to produce his first music album 'Idris Elba presents mi Mandela', and reveals his quest to pay tribute to two inspirational men – Mandela and his father Winston, who passed away in 2013 just before he recorded the album.
The album was inspired by Idris' time researching for his role as Mandela and listening  to the music Mandela would've listened to. Under the name Driis, Idris has produced and performed music for years.
WATCH Video Trailer: Mandela, My Dad and Me
WATCH Video: Mandela – Long Walk to Freedom trailer